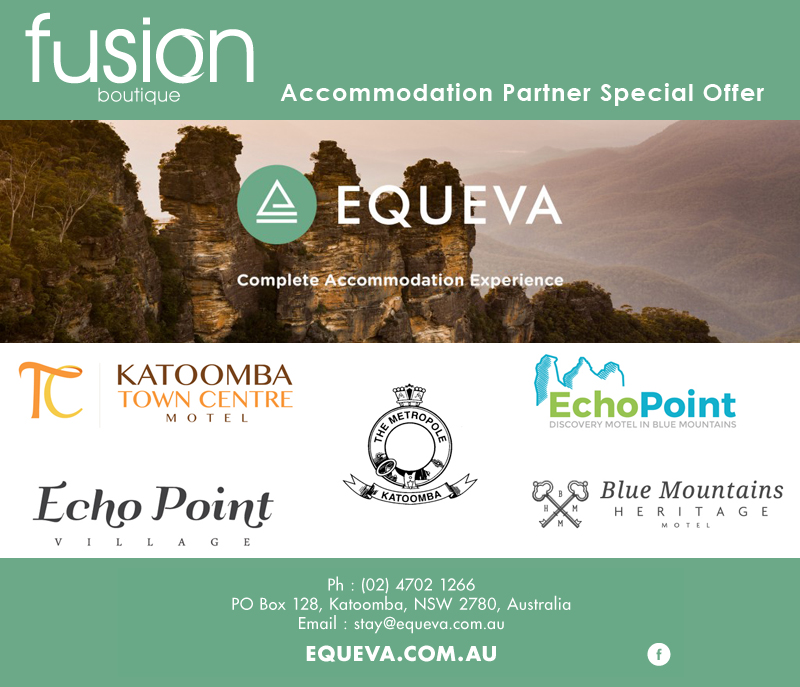 Accommodation partner special offer with Equeva Accommodation Group:
www.equeva.com.au
Receive a FREE Bottle of Wine on arrival or Complimentary Breakfast.
Present your Fusion Boutique ticket (to any Fusion Boutique event held at any Blue Mountains venue) on booking accommodation to redeem.
*Subject to availability and not to be used in conjunction with other offers.
Equeva Group provide a wide range of Blue Mountains accommodation options that encompass value for money and comfort, warm and welcoming customer service and great locations.
Properties include:
The Metropole Katoomba – old world historic charm guest house
www.metropolekatoomba.com.au
Katoomba Town Centre Motel – centrally located in Katoomba village
www.katoombatowncentre.com.au
Blue Mountains Heritage Motel – rich with history and in the centre of Katoomba, the capital of the iconic Blue Mountains
www.bluemountainsheritagemotel.com.au
Echo Point Village – self contained villas and cottages
www.echopointvillage.com.au
Echo Point Motel – affordable accommodation solutions at the closest motel to the three sisters
www.echopointmotel.com