Fusion Boutique Presents
MELBOURNE SONGWRITERS COLLECTIVE
Featuring CHEV PERSON + PIA NESVARA + STAV.
+ Special Guest MAIZY COOMBES
Live in Concert at Junction142
SATURDAY 29th October 2022
Doors Open 7:30pm | Show Start 8pm
Venue: JUNCTION142 (The Uniting Church)
142 Katoomba St, Katoomba, Blue Mountains NSW 2780


"3 talented female artists performing their individual songs together with
strong harmonies, beautiful instrumental arrangements and fun banter"

Melbourne Songwriters Collective presents 3 songwriters in the round: small but powerful Chilean-Australian artist Pia Nesvara, swirly bedroom producer Chev Person, and introspective and playful artist, STAV.
Their live showcases bring out each songwriter's unique story and are full of surprises. Spontaneously joining in on each other's songs with harmonies, their performances look like improvised instrumental melodies and subtle percussive grooves intertwined with intimate stories, of joy, sadness and life experiences with honest sharing of their song-writing processes.
As culturally diverse, female-identifying musicians, the Collective are aware of the importance to push and elevate their music and share their stories. MSC is community oriented and has an ethos of sharing musical expression, and sharing stories and cultures interactively with audiences.
The Collectives live set can be seen as a mix of folk/singer-songwriter and soul, combining guitars, keyboard and 3-part vocal harmony – written both individually and collaboratively.
Their debut performance via the Folk Alliance (Folk Unlocked) in Feb 2021 saw the group representing Melbourne songwriters on an International online stage, sharing each other's songs, song-writing insights and intimate stories of culture and experience. They have since set in stone the vision of this community – as one built from their individual artistry and love for song-writing.
As well as being ready to dive head first into recording their Debut Album, The Collective are fresh off the back of 2 highly commended debut festival shows at The National Folk Festival Canberra and are scheduled to play Dorrigo Folk and Bluegrass Festival in October 2022.
Linktree https://linktr.ee/melbournesongwriterscollective
Instagram/FB @melbournesongwriterscollective
www.facebook.com/melbournesongwriterscollective
www.instagram.com/melbournesongwriterscollective
. . . . . . . . . . . . . . . . . . . . . . . . . . . . . . . . . . . . . . . . . . . . . .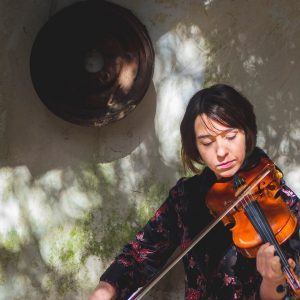 + Special Guest MAIZY COOMBES

Blue Mountain's based Maizy Coombes, is an endearing Violinist/Songwriter with a contemporary folk sound beneath wholesome lyricism. Her approach to life is equal parts adorable, resourceful and sneaky, all of which is reflected brightly in her music. Using a loop pedal to support herself, this unique sound scape has the ability to bring out tears as you apply make-up or brush your teeth, yet still leave you feeling contemplative and joyous.
We first encountered Maizy's gorgeous fiddle playing in "Lime and Steel". Don't miss this opportunity to see her subtle and solo.
All events will strictly follow COVID safe procedures, as outlined by NSW Health.
Please read the ATTENDANCE REQUIREMENTS before purchasing:
Fusion Boutique is a registered COVID-SAFE business.
The health of our staff, performers and guests are of the highest priority. Thank you for your understanding while we navigate these current times.
• It is crucial that if you are experiencing any COVID like symptoms (flu-like symptoms, fevers, sore-throats etc) that you please do not attend.
• Please maintain physical distancing measures of 1.5m where possible.
• Sanitising facilities will be available throughout the venue.
• There will be no entry to the venue for guests prior to the stated doors open time.
. . . . . . . . . . . . . . . . . . . . . . . . . . . . . . . . . . . . . . . . . . . . . . .
VENUE: JUNCTION142 (The Uniting Church)
142 Katoomba St, Katoomba, Blue Mountains NSW 2780
Junction 142 is a family friendly venue!
*Minors must be accompanied by a parent or guardian and supervised. This is a "listening space" concert and it is at carer's discretion as to whether the minor can maintain this requirement for the performance so that it is a respectful environment for the performers and guests. Minors do require a standard ticket for entry.
Please note that Junction142 is a smoke/drug/alcohol free zone.
Venue hire costs for the event supports Junction142 in their Earth Recovery program and other social enterprises services to the community.

. . . . . . . . . . . . . . . . . . . . . . . . . . . . . . . . . . . . . . . . . . . . . . .

Tickets $30 discount pre-sale OR $35 Cash on the Door from 7:30pm.
*YOUTH tickets 16 & under $15 discount pre-sale OR $20 Cash on the Door from 7:30pm. Must be accompanied by a parent or guardian and supervised.
Ticket Link: https://events.humanitix.com/fbmelb
This is an intimate capacity venue and tickets are strictly limited! *Door sales are only available if not sold out prior.
Discount show pre-bookings will close 7pm on the day of the event.
Tickets are General Admission.

ServiceNSW 'Parents NSW' Vouchers can also be redeemed for concert bookings. One voucher can be used in the payment process online through Humanitix or contact us prior to booking to discuss how a combination of vouchers can be redeemed together for bookings.
Guests can still book with confidence knowing that, while tickets are normally non-refundable, if a show needs to be cancelled for any reason then all tickets will of course be refunded. If a show needs to be rescheduled then tickets will be valid for the new dates. In the instance of guest illness tickets can be transferred on request.
RUN TIMES
Doors Open: 7:30pm (no guest entry prior)
Maizy 8:00PM-8:30PM (30mins)
15min change over
Melbourne Songwriters Collective 8:45PM-9:45PM (60mins) + encore
CONTACT DETAILS OF EVENT ORGANISER: Charity Mirow
For more information visit: www.fusionboutique.com.au