Shaun Kirk + The Timbers + Morgan Bain at Baroque Room, Katoomba, Blue Mountains

Fri 27th March 2015
BAROQUE ROOM
86 Bathurst Rd (Upstairs from 'The Harp & Fiddle' Irish Bar)
Katoomba, NSW 2780 Blue Mountains
Fusion Boutique is extremely pleased to present this amazing line up of touring artists for a once in a lifetime opportunity to experience them together in a terrific space in the Blue Mountains.

One-man-blues-band 'Shaun Kirk' wowed audiences at the 2013 Blue Mountains Music Festival and is touring from Melbourne.
High energy, party anthem, folk explosion 'The Timbers' are on a run from Adelaide.
Opening up the night will also be touring WA artist Morgan Bain. Known for his incredible vocals he blends alternative soul, blues and rock.
Shaun's profile and recognition as a talented performer has steadily grown over the past 18 months, supporting artists such as Joe Bonamassa, Big Bill Morganfield (son of the late great Muddy Waters), Diesel, Ash Grunwald and Mia Dyson as well as appearing in the line-up at many of Australia's top festivals; Woodford Folk Festival, St Kilda Festival, Port Fairy Folk Festival, Queenscliff Music Festival and Byron Bay Bluesfest. He was voted the 'Youth People's Choice Award' at the 2012 Blues at Bridgetown Festival, as well as winning the public's vote for 'Best New Artist' at the 2013 St Kilda Festival, substantiating his increasing popularity with the punters.
The forthcoming album 'Steer the Wheel' is Kirk's most experimental and electrified record to date, seeing him explore beyond the blues influences that have characterised his previous work. With influences ranging from rock, soul and rhythm & blues, 'Steer the Wheel' is a collaborative record, which has enjoyed an inclusive approach from conception to completion. As well as collaborating with ARIA award-winning rhythm section of Danny McKenna (drums) and Grant Cummerford (bass) to lay down the core of all tracks, Shaun has bought together some of Australia's finest musicians and vocalists to produce his most diverse release to date. Songs such as 'Give to the Needy' and 'No One Gonna Love You When You Love Like That' are a true example of the raw energy in Shaun's music whilst 'Twenty Two' is a ballad with a clear message. Country blues number 'Two Hands on the Wheel' features Shaun's good friends Kyle and Dan Lizotte (Halfway to Forth) and sounds like the soundtrack for many a road trip. 'Stitches' is packed with soul and demonstrates a vocal flexibility that Shaun has kept locked away until now. His blues influences are far from neglected, with songs like 'Blues for My Birthday', 'Find Me A Lady' and Tony Joe White's 'As the Crow Flies' reflecting the sound he has become recognised for in his relatively short but impressive time as a performer.
ACCOLADES:
#1 on the Australian iTunes Blues Charts – March 2014
Best Debut Album – 2010 VIC/TAS Blues Music Awards
Best New Artist – 2013 St Kilda Festival
Youth People Choice Award – 2012 Blues at Bridgetown
#1 on the Australian Blues/Roots Airplay Charts – January 2012 (Thank You for Giving Me the Blues)
"One of the finest blues voices this country has ever heard. If you're a blues fan there is no way you are going to stop listening once you have heard it." – Buzz Magazine
"A truly hot new artist on the blues scene" – Peter Noble (Director of Bluesfest)
"The blues is one of those funny things. We all have our ideas about what the blues is but as soon as we think we have a handle on the music, where it's come from and where it's going along comes someone like Shaun Kirk who blows away all our preconceptions."  – Mathew Frederick (PBS FM, Melbourne)
"Shaun Kirk is the real deal – a young bluesman in the tradition of the greats. Killer songwriter, great singer and can wield an axe, a harp and feet beats with the best of them. He's only going to get better and better. Long may he run!"- Mark Holden
www.shaunkirk.com
www.facebook.com/shaunkirkofficialmusicpage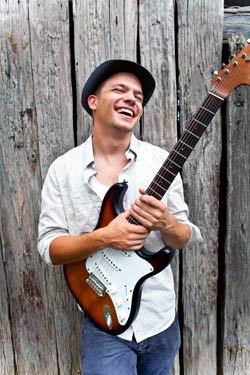 The Timbers (Adelaide) are an alternative, modern Australian, country, gypsy, bluegrass, party anthem, celtic, punk, folk explosion! They have toured and played festivals all over Australia and are hitting the Blue Mountains between this year's Yakandandah Folk and Folk In Broke Festivals.
THE TIMBERS' thumping rhythms and big misty mountain melodies will cast you away to a sweaty, smoky, melting-pot of folk, roots and Celtic bushman brassy punk. They rollick and hammer their way through live gigs with abundant energy and have become festival favourites throughout Australia. This Adelaide based band has an infectious desire to take their audience on a wild ride of non stop musical passion with no limits.
Their debut album "Lawless", released in 2014, received Triple J airplay and became a favourite on community radio stations Australia-wide. Rhythms magazine wrote "Imagine contemporary folk-rock bands such as Mumford & Sons and Graveyard Train, somewhere in the Australian bush or on the high seas and you have an idea of what The Timbers are about".
The versatility of the Timbers music has allowed them to share the stage and many festival line ups with acts such as John Butler Trio, Ball Park Music, Eskimo Joe, Xavier Rudd, Sasquatch, The Beards, Little May, and The Audreys. 2014 was a break through year for the Timbers seeing them play to large crowds at Caloundra Music Festival (Qld), Illawarra Folk Festival (NSW), and Gorgeous Festival (SA). The year was topped off by being invited to perform to a crowd of 40,000 people at Adelaide's New Years Eve event.
The Timbers were the 2013 winners of the Emily Borrows award from APRA. This accolade entitled them to be added to the illustrious list of SA winners including The Hilltop Hoods and The Beards.
In December 2014 the timbers set up a recording studio in a church in the Adelaide Hills and began recording their second album. Only 7 months after the release of their first album "Lawless". The band has taken their first eager steps in a bold project due for release in 2015.
Their explosive start in the Adelaide music scene is worthy recognition of this band's ability to marry exceptional musicianship with highly accomplished songwriting. Hailing from far away lands such as Mount Gambier, TAS, Ireland, and the Adelaide Hills, The Timbers have worked tirelessly together to create a unique high energy musical experience not purely confined to alternative folk. With songs soaked in male vocal harmonies, awash with intricate banjo and mandolin licks, soaring trumpet lines, on a foundation of solid piano and all held together by pounding dance rhythms from foot percussion, there is surely something for everyone in The Timbers repertoire.
www.thetimbersband.com
www.facebook.com/thetimbersband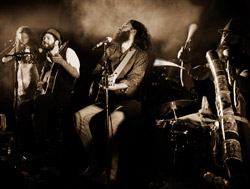 Morgan Bain is a multi award winning songwriter, performer and vocalist whose live performances are captivating and reveal a sensibility that showcases his skills in a fusion of style that is unmistakably his own with a mix of Soul, Funk, Blues and Rock. The charismatic multi-instrumentalist who at just 20 years of age is blowing audiences away with his talent has a few EP's under his belt, produced at The Wastelands with ARIA award winning producer Joel Quartermain (Eskimo Joe) and Soundbaker Studio with Rob Agostini. Bain's debut EP "Another Day" received rave reviews nationally and sold out in just 8 weeks with the award winning tracks gaining radio play. His next self titled release was toured to the East Coast, with award winning single "I Think I've Got You" gaining radio play around the Country, including high rotation in WA.
Following on from two sold out launches of his latest EP "What You Believe" he toured WA and Europe in 2014. Proving popular with European audiences, a tour in 2015 is already in the planning. The upbeat soul influenced single "In the Middle" from his latest release spent weeks in the AMRAP/AIRIT Top 10 Great Southern Charts and was co-written with Joel Quartermain, proving Bain's musical diversity and continuing to boost his fan base.
Bain's profile and recognition as a talented performer has steadily grown, supporting artists such as PETE MURRAY, MISSY HIGGINS, COLD CHISEL, ICEHOUSE, XAVIER RUDD, SARAH BLASKO, ESKIMO JOE, ASH GRUNWALD and THIRSTY MERC as well as being a regular on the festival circuit in Australia.
ACCOLADES:
Winner of the WEST AUSTRALIAN MUSIC INDUSTRY (WAM)
"2013 Blues and Roots Act of the Year"
Consecutive "WAM Song of the Year" awards
Reaching final status in the INTERNATIONAL SONGWRITING COMPETITION (USA) and UNSIGNED ONLY 2013 (USA)
Nationally selected as 1 of 3 songwriters in the TELSTRA ROAD TO DISCOVERY
The accolades continue with him recently winning the SingerUniverse "BEST VOCALIST OF THE MONTH" in California (USA)
All goes to prove he is one to watch!
"…one of WA's most inspirational and energetic talents…delivered the vocals worthy of some of soul's biggest names…his talents are unparalleled in local music today…" Tom Munday – COLOSOUL MAGAZINE
"Another strong single…the man's tones are superb and his voice contains a maturity well beyond his years. Keep an eye on him" – THE MUSIC.COM.AU
"With so much talent and musical promise his star looks set to shine as a songwriting troubadour …." Nat Salvo – FASTER LOUDER
"Morgan Bain is a rarity in the music world. While most musicians consider themselves fortunate to build a successful career over many years, Bain has accomplished more than contemporaries twice his age in half the time……he may be WA's most promising singer-songwriter." Jennifer Peterson-Ward – XPRESS MAGAZINE
www.morganbain.com.au
www.facebook.com/morganbainmusic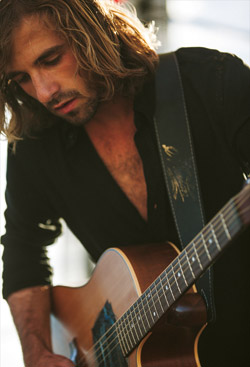 Doors Open 7:30PM
Morgan Bain 8:15 PM – 8:45 PM
The Timbers 9:00 PM – 10:00 PM
Shaun Kirk 10:30 PM – 11:30 PM
General Admission. Room configuration is a mix of cabaret seating and standing/dancing.
*Please note that the 'Baroque Room' is an over 18 years only venue. No minors will be granted entry to the event.
Tickets $15 pre-sale available from:
KATOOMBA MUSIC, 140 Katoomba St, Katoomba, NSW 2780 (Cash Only)
Or +$2 booking fee from Carrington Hotel Reception
15-47 Katoomba St, Katoomba, NSW 2780 Ph: 02) 4782 1111
Or Online $16.50 (Including booking fees):
www.trybooking.com/GZEN
Or $20 on the Door from 7:30pm (Unless Sold Out)