*** PLEASE NOTE THAT THIS EVENT IS NOW 'SOLD OUT'!
There are a fantastic range of other Blue Mountains events available at www.fusionboutique.com.au
We advise booking early to avoid disappointment.
Select + MAKEbeLIVE + Fusion Boutique Presents 'Metro Social' with 
ALL OUR EXES LIVE IN TEXAS live in Concert at the 1930's Metropole Guesthouse.
+ Special Guests Miss Eileen & King Lear

Sunday 9th Oct 2016, 6pm. Doors Open 5pm.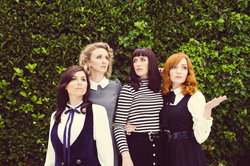 Things have been hotting up for All Our Exes Live in Texas, the most badass folkies around. Having completed their debut album, When We Fall, the fantasy draft of four-part harmony, indie-folk goddesses is pumped to hit the road and give you a taste of what's to come as they premiere their new single, The Devil's Part.
Fresh from taking the US by storm, not to mention sharing the stage with the Backstreet Boys, Passenger, Nathaniel Rateliff & the Night Sweats and Tiny Ruins, the Exes have been busy. They've been in the studio with Ryan Lewis of Macklemore fame, they're confirmed as the national support for Boy & Bear, but most importantly they are doing what they do best: lighting up a stage near you and tantalising your earholes with songs, tales and laughter.
All Our Exes Live in Texas features Sydney's finest singer-songwriters – Elana Stone, Katie Wighton, Hannah Crofts and Georgia Mooney – here combining in four-part indie-folk heaven. On mandolin, ukulele, accordion and guitar, the Exes deliver tunes that are tastefully crafted within the context of a playful and utterly charming live show.
With four songwriters and four unique voices, the Exes make music that draws from the traditional, creating a new brand of modern folk. Fair warning: You'll need your charisma sunnies or you'll walk away a little bit in love.
The Exes are a powerhouse of vocals, charm and song writing prowess.
"catch them before they're famous and only perform for royalty and astronauts" – The Brag
'All Our Exes Live in Texas have been touring over the past couple of years selling out venues all over Australia – its hard to feel sorry for someone singing a sad song when their talent is completely blocking any feelings of pity you could ever feel – they are the most badass girl folk group ever' – Hhhhappy.com
"Sweet and charming, All Our Exes Live in Texas were a festival highlight. Soaring vocal harmonies, tight melodies, an accordion and a set peppered by the girls' random audience banter left the audience in total adoration, with a standing ovation given to them – and rightly so" – The Music

"All Our Exes Live In Texas filled the Howler bar with incredible harmonies and a folky vibe. They clearly enjoy performing, and their talent combined with their relaxed and funny banter caused the audience to instantly fall in love with them. Their accordion and mandolin accompaniment in tandem with ukulele and classical guitar adds a unique dimension to their music, ensuring everyone who sees them play won't be able to forget them. These guys certainly make a big impression" – The AUreview
Featuring:
Elana Stone: Vocals, Accordion
Katie Wighton: Vocals, Guitar
Hannah Crofts: Vocals, Ukelele
Georgia Mooney: Vocals, Mandolin
www.allourexesliveintexas.com
www.facebook.com/allourexesliveintexas
. . . . . . . . . . . . . . . . . . . . . . . . . . . . . . . . . . . . . . . . . . . . .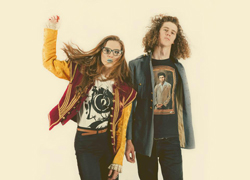 + Special Guests Miss Eileen & King Lear
Australian Brother/Sister Indie Folk Rock duo from Melbourne also known from the Perch Creek Family Jugband.
Lear's pulling out the braces, the red suede shoes and screen printed t-shirts, Eileen's donning her long vintage dresses and extensive collection of odd earrings in order to bust out with their brand new folk indie rock band!
There's something about a sibling relationship that creates the perfect musical dynamic. With indie folk duo Miss Eileen & King Lear this is certainly the case, as there is a clear sense of familiarity and warmth in their performance.
No strangers to the music industry, Eileen and Lear Hodgkins have been performing since childhood in the roots/vaudeville act The Perch Creek Family Jugband. It was one long night on the Hume Highway that the idea to form a duo was born. While cramped in an overheating tour van, the pair started writing a song line for line. They formed a melody, came up with a chord progression and had a brand new song in their hands. Since then, creative sparks have been flying and their repertoire of original songs has grown substantially.
Miss Eileen & King Lear have found themselves signed to Decibels Records with an EP on the way. "It has all fallen into place really rapidly," says Lear. "The co writing has been really organic and although we both have rather diverse musical tastes, there is a definite thread that seems to be stringing it all together." Eileen and Lear each lend their own unique lead vocals on songs penned both individually and collaboratively. Their songs can be epic and sweeping, fun and frivolous or anywhere in-between, and are always delivered with an honesty that is both direct and refreshing.
The duo is gearing up to release their debut EP 'Hungry Little Heart' in mid September. Produced by Joe Ferguson with creative direction from ARIA award winning producer Jimi Maroudas, the Sing Sing mixed and mastered EP has come up sparkling. It features a fine cast of some of Melbourne's hottest musicians including bassist; Grant Cummerford (Jeff Lang), violinist; Alex Burkoy (Tinpan Orange), keyboardist; Silas Palmer (Women in Docs), and guitarist; Sam Cooper (Sagamore, Fraser A Gorman and Big Harvest).
The future is looking bright for Miss Eileen & King Lear as the wheels are set in motion for the release of their 'Hungry Little Heart' EP. With a perfect balance of sweetness and sass, they're sure to make one hell of an impression.
www.facebook.com/MissEileenKingLear
http://youtu.be/iPmODWkj0Gc
. . . . . . . . . . . . . . . . . . . . . . . . . . . . . . . . . . . . . . . . . . . . .
VENUE:
METRO SOCIAL' Metropole Guesthouse Lounge Upstairs (lift available) Cnr of Lurline and Gang Gang Streets, Katoomba, Blue Mountains NSW 2780.
Opposite the Katoomba train station.
There is limited parking available at the rear of the property. Access can be made through the rear and the lift to the lounge is in the atrium.
If entering from the front the cocktail bar/restaurant is on the right and access to the upstairs performance space in the lounge is up the stairs or via the lift towards the back of the hotel.
The Metropole is a family friendly venue!
*Minors must be accompanied by a parent or guardian and supervised.
Children do require a ticket for entry.
There is also a retro cocktail bar downstairs and drinks and light meals will be available from the Metro Retro pop up bar.
Doors Open 5pm. Show Starts 6pm.
General Admission. Theatre Style Seating, cocktail lounge and some standing room.
Tickets $20 DISCOUNT pre-sale available from THE METROPOLE GUESTHOUSE (during reception hours) Cnr of Lurline and Gang Gang Streets, Katoomba, Blue Mountains NSW 2780. (Cash Only)
Or + b/f Card /Phone 02) 4782 5544 and Online $21.50 (Including booking fees): www.stickytickets.com.au/41785
Or $25 on the Door from 5pm Sunday 9th Oct 2016 (Unless Sold Out)
This is an intimate seating venue and tickets are strictly limited!

CONTACT DETAILS: Charity Mirow 0409 042 869
For more information visit: www.fusionboutique.com.au