BARRY MORGAN'S WORLD OF ORGANS
Home Organ Party Experience Tour in concert at the iconic Paragon.
***2nd DATE ADDED DUE TO POPULAR DEMAND***
(CONCERT + 3 COURSE GOURMET DINNER + A COCKTAIL + TEA/COFFEE, BISCOTTI & CHOCOLATES!)
Sat 3rd October 2015
Strictly limited tickets!
Barry Morgan (As Seen on Spicks and Specks) in an intimate concert and dinner package at the iconic Paragon, Katoomba, Blue Mountains.

Barry Morgan puts the Boss in Bossa Nova, the Yes in Polyester, he's the patron saint of the safari suit: he's Barry Morgan, and is the celebrity organ salesman who is wooing audiences with the golden syrup sounds of his vintage 1980s, Hammond Aurora Classic.
Barry Morgan is packing up his Toyota Crown, strapping the Hammond Organ to the roof and hitting the road to fulfil his personal mission to not only share the 'Joy Of The Organ' but to educate.
Barry will entertain, amaze and thrill audiences as he demonstrates all there is to know about hosting your very own organ party.
The rich and rollicking musical sounds of the Hammond are projected from a classic veneer speaker cabinet and the impressive array of the organ's keys, buttons and lights are caught on Barry's cockpit cam and displayed on screen as he performs. Barry's enthusiastic manner, contagious smile and musical skill all help convey his deep love of organs.
With enough cheese to match his infectious smile, the organ's various sounds and features are exploited by Barry to achieve velvet tones, luscious lounge, exotic tangos, and grooves "as modern as tomorrow". Barry's hilarious performance creates an utterly charming visual and aural experience that cannot be resisted.
Performed by musician Stephen Teakle, Barry Morgan was plucked from obscurity to appear on ABC's Spicks and Specks where he became an instant audience favourite. He was voted the third best Spicks and Specks moment in 2011 and trended #2 on Twitter after his Spicks and Specks Finale appearance. Barry has also graced our screens on Gordon Street Tonight, The Marngrook Footy Show and on ABC's New Years Eve Pub Quiz.
Barry has sold out live shows at Melbourne Comedy Festival, Sydney Comedy Festival, Melbourne, Adelaide and Perth Fringe, the famous Spiegeltent; and performed to adoring young crowds at Homebake and Falls Festival. In 2012, Barry travelled overseas to demonstrate his organ at NZ Comedy Festival and Edinburgh Fringe.
A career highlight to date was touring with international superstar Gotye, and Barry also showed through the release of his own album "The Touch of You" (2012) that he is not just one of Australia's most entertaining performers, but one of its most accomplished musicians.
Barry will be demonstrating his famous One Finger Method where you can experience the safest way to get the most out of an organ with just one finger!
Barry always likes to dress to impress so come along music lovers, don your best safari suit or evening gown, bring your friends and get down with Barry Morgan and his ultimate Home Organ Party Experience!
Don't miss out on tickets to the Barry Morgan's World of Organ's Home Organ Party Tour – get in quick or miss out.
"The show is a triumph of character comedy with a broad appeal. See it. Enjoy It. Buy an organ." **** Scotsgay, Edinburgh
"YOU'D have to have a heart of stone not to love a well-coiffed, safari-suited organist extraordinaire" **** Megan Miller, Herald Sun, Melbourne
www.mrbarrymorgan.com/events
www.facebook.com/mrbarrymorgan

SAT NIGHT EVENT DETAILS:
Arrive Shortly After Doors Open at 6:30pm for a cocktail followed by a gourmet Entrée and Main course.
Show / event begins at 8:00pm.
Dessert served during intermission.
Concludes with tea/coffee, Biscotti and chocolates!
General Admission. Room configuration for the performance in the Banquet Hall is theatre style.

Paragon's Chef David Povelsen spent his first 4 years working at Solitary which saw the restaurant maintain it's coveted position as a 'one hatter' in the Good Food Guide. In 2007 David realised a chef's dream when Solitary attained 2 hats and was one of only 2 two-hatted restaurants in the state.
We are delighted to be able to include David and his talented culinary skills in these unique experience events at the Historic Paragon Café.
The seasonal special event MENU will be an alternate drop, unless guests advise of preferences prior to the evening of the event. Please note that vegetarian options are also available by prior order.
Special Event 3 Course Gourmet SPRING MENU below: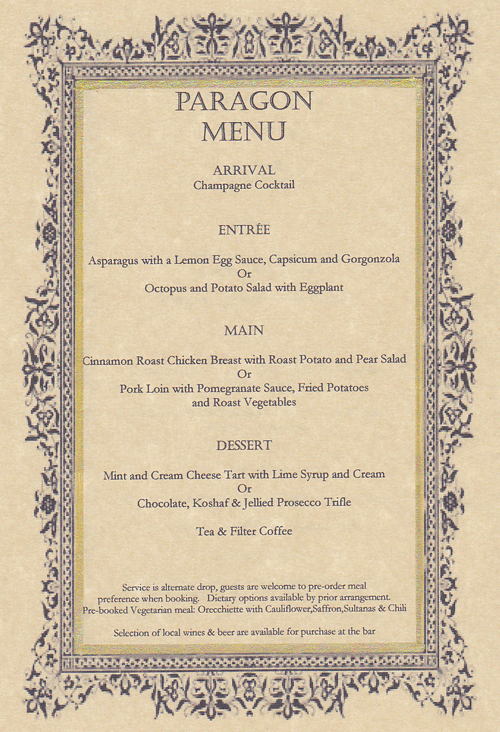 Established in 1916, The Paragon is Australia's oldest running and most original café and certainly one of the most opulent ever built in this country. Situated in the heart of Katoomba the Paragon is an iconic landmark that is an essential stop on any visit to the Blue Mountains. The three rooms that comprise the Paragon: Café, Formal Dining Room and Cocktail Lounge are some the finest and most richly detailed Art Deco interiors anywhere in the world.
VENUE: THE PARAGON CAFE
65 Katoomba St, Katoomba, Blue Mountains NSW 2780.
CONTACT DETAILS: Charity Mirow 0409 042 869
For more information visit: www.fusionboutique.com.au

Tickets $125 pre-sale available from PARAGON CAFE, 65 Katoomba St, Katoomba, NSW 2780, +$3.50 b/f via phone 02) 4782 2928 (10am-4pm daily)
Or online $128.50 (Including booking fees):
www.trybooking.com/IZFY
PRE-BOOKING ESSENTIAL.
This is an intimate seating and tickets are strictly limited!