Fusion Boutique Presents 'Metro Social' with 
CASS EAGER & THE VELVET ROPE
'Ain't No Stopping Me' Tour
+ Special Guest ANDIE
Live in Concert at the 1930's Metropole Guesthouse.
Sunday 22nd October 2017, 6pm. Doors Open 5pm.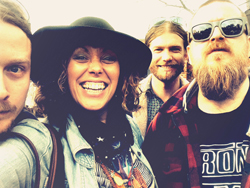 Named by folk-blog Timber and Steel as 'Janis Joplin and Ben Harper's love-child', Cass Eager's mix of raw soul, husky blues and light-hearted ditties are all punctuated with her unique whisky-soaked vocals. Emotive, slightly raspy, at times tender and at times powerful, Cass' authentic voice is always the driving force of her music.
Internationally renowned but defiantly grassroots, Cass Eager is one of those rare artists that's mastered everything from the foot-stomping blues to a sensual slow burner. She's been called 'one of the best female singers in Australia' by Richard Glover (ABC), 'the girl with the golden voice' (Daily Examiner), and Diesel claims 'she has a voice so sweet she could sing the phone book and you wouldn't get bored'.
Eager's music has taken her to some of the world's most far-flung places. She's done several 'tours of duty' entertaining Australian troops, from The Middle East to East Timor (with Paul Kelly and Peter Garrett). She's toured through North America and Canada – alone with her acoustic guitar; alongside Ash Grunwald; and with US musician Bob Egan (Blue Rodeo; ex-Wilco). She performed for Prince Harry during his Australian visit, and after being invited back for a repeat performance, ended up giving the prince guitar lessons.
More recently, Cass supported Michael Franti & Spearhead on their 2015 Bluesfest tour, sat in with Alabama-native Kristy Lee's Bluesfest sideshows and played alongside G. Love & Special Sauce and JJ Grey & Mofro. 2016 saw her perform with Canadian artist Irish Mythen at Bluesfest and national dates.
A finalist for Best Group and Best Female Vocalist in the Australian Blues 'Chain' Awards and Best Blues/Roots Artist in the MusicOz Awards, Cass' EP 'Down On My Knees' was voted one of the 'Top 10 Albums' of the year in Rhythms Magazine.
Cass Eager has a brand new beat and she's hitting the road with her band this October to send new single 'Ain't No Stopping Me' off into the world.
Strange Daddy produced the new track, which is somewhat of a stylistic departure from Cass' previous work. Lyrically, it's a testament to her resolve, and sonically it has a vintage Motown charm that hints at an Amy Winehouse swagger but sounds like she'd be more at home drinking tequila with Elle King. As always, Cass has got "more soul than heaven on a busy day". (Brag)
Her voice carries like the wind and slams you right in your gut where you want it to. She also loves a good story and a good laugh, and her shows are just as much about heart-warming and entertaining tales as they are about the music.
Some artists take a hiatus to write, some to travel, and others to re-ignite their creative inspiration. Cass Eager has done something a little more pragmatic with her recent years, and the result is two small children, Hank and Lois. But she's back – better than ever – and ready to tell the world to step aside with her new single.
"One to watch" – Sam Fell, Rhythms
. . . . . . . . . . . . . . . . . . . . . . . . . . . . . . . . . . . . . . . . . . . . .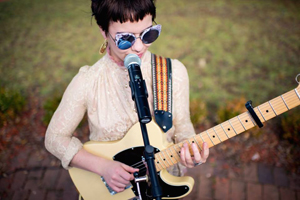 + Special Guest ANDIE
20 year old Andie has been busking and performing professionally in the upper-mountains villages of Leura and Katoomba since the age of 11 and is deeply connected to her local community and music scene, living and breathing the lifestyle of a young musician.
Electric guitar, an understanding of jazz, folk finger-picking and soaring vocals are brought together to create her unique flavour of soul.
www.andieisalie.com
. . . . . . . . . . . . . . . . . . . . . . . . . . . . . . . . . . . . . . . . . . . . .
VENUE:
'METRO SOCIAL' Metropole Guesthouse Lounge Upstairs (lift available) Cnr of Lurline and Gang Gang Streets, Katoomba, Blue Mountains NSW 2780.
Opposite the Katoomba train station.
There is limited parking available at the rear of the property. Access can be made through the rear and the lift to the lounge is in the atrium.
If entering from the front the cocktail bar/restaurant is on the right and access to the upstairs performance space in the lounge is up the stairs or via the lift towards the back of the hotel.
The Metropole is a family friendly venue!
*Minors must be accompanied by a parent or guardian and supervised.
Children do require a ticket for entry.
There is also a retro cocktail bar downstairs and drinks and light meals will be available from the Metro Retro pop up bar upstairs once doors open.
Doors Open 5pm. Show Starts 6pm.
General Admission. Theatre Style Seating, cocktail lounge and some standing room.
Tickets $20 DISCOUNT pre-sale available from THE METROPOLE GUESTHOUSE (during reception hours) Cnr of Lurline and Gang Gang Streets, Katoomba, Blue Mountains NSW 2780. (Cash Only)
Or + b/f Card /Phone 02) 4782 5544 and Online $21.50 (Including booking fees):
www.stickytickets.com.au/54905
Or $25 on the Door from 5pm (Unless Sold Out)
This is an intimate seating venue and tickets are strictly limited!

CONTACT DETAILS: Charity Mirow 0409 042 869
For more information visit: www.fusionboutique.com.au