Fusion Boutique Presents
CHARM OF FINCHES (Melbourne)
+ Special Guests BREATHING UNDERWATER
Live in Concert at Pigeon Lane @ ONE88
Unfortunately anxiety about travelling to and performing in a fire zone area got the better of the Charm of Finches girls on the way up from Sydney tonight and we had to cancel the show.
Thank you for your understanding and we wish you a very happy and safe holiday season and hope that you can join us for another show in the new year.
Saturday 21st December 2019, 7pm. Doors Open 6pm.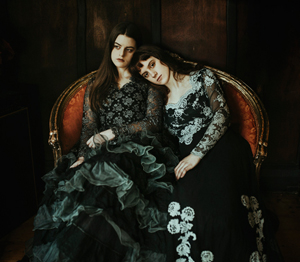 Melbourne's angelic sister folk duo, Charm of Finches, are touring their highly anticipated sophomore album 'Your Company'. They will be launching it at Pigeon Lane on Saturday 21st December as part of their national album launch tour.
It has been three years since the duo released their highly praised 2016 debut album 'Staring at the Starry Ceiling'. 'Your Company' has been born of a time of turbulence. Following the death of Ivy's best friend at the age of 14, the sisters' songwriting turned towards the theme of grief, longing and the celebration of those left behind. This genre-defying album is lush with the sisters' spacious string arrangements (cello and violin they play themselves), other worldly piano, a folky banjo and compelling ethereal vocal harmonies.
"There's also the simple beauty of family voices intertwining, with Charm of Finches' Mabel & Ivy – and even their names seem perfectly anachronistic for the folk purity of their music – providing the harmonies for Sky Watching… that slightly mystical alternate reality, maybe owing something to Joanna Newsom and that ilk. Despite – or perhaps because of – their youth, the music they make is affecting and emotional." — The Music
"Charm of Finches make gorgeous chamber pop…their harmonies are immaculate and stirring as they move through an honest and, well, charming lyric." – Tone Deaf
www.facebook.com/charmoffinchesband
www.charmoffinchesband.com
. . . . . . . . . . . . . . . . . . . . . . . . . . . . . . . . . . . . . . . . . . . . .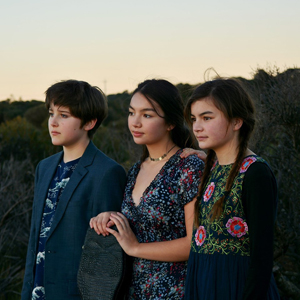 Hailing from Katoomba in the Blue Mountains, NSW, vocal trio, Breathing Underwater, has been singing together quite literally since they were small children. Hardly surprising, since the group consists of Aurora Li, aged 16, her younger sister, Tessa McKay, 13, and their 13 year-old cousin, Magnus Blomquist. Despite their youth, the three already have a string of performances behind them, including appearances at Katoomba Live and Local Festival, the Blue Mountains Winter Magic Festival, Narragunnawali Festival of Music and were featured artists at PULSE 2019 at the Sydney Opera House. Aurora Li's lyrically perceptive songs have been described as 'sophisticated beyond her years' as she takes her audience on an emotional ride through the highs and lows of life through her eyes. Throw in Magnus, Tessa, some fresh arrangements and lush harmonies, and you have a show that always manages to hit the sweet spot.
As well as performing Aurora Li's originals, the group enjoys an eclectic mix of pop, folk and alt country music, including Celtic-inspired, Bluegrass and some Dylan and Springsteen, and their own arrangements of contemporary artists such as Lorde, the Lumineers, Kacey Musgraves, the Paper Kites and more.

www.facebook.com/pg/Breathing-Underwater-343074843281160
. . . . . . . . . . . . . . . . . . . . . . . . . . . . . . . . . . . . . . . . . . . . .
VENUE:
PIGEON LANE @ ONE88 (Lower level of Gallery One88 which is at 188 Katoomba St)
Access to the performance space is via the graffiti Art Street walk of Beverly Place, Katoomba, Blue Mountains NSW 2780.
Pigeon Lane @ ONE88 is an intimate venue tucked away in the lower ground floor of art gallery ONE88 Fine Arts in the heart of Katoomba. The venue harks back to prohibition style speak easys where you could enjoy Jazz and Blues along with the atmosphere that the venues brought with it.
Pigeon Lane is an all ages venue however minors must be accompanied by a parent or legal guardian and must remain supervised and do require a standard ticket for entry. Please also keep in mind that the performance space is a listening room.
Dinner options, hot beverages including tea, coffee and hot chocolate and a variety of dessert cakes are available for purchase from the upstairs Art Gallery cafe, before and after the show and during intermission.
BYO alcoholic beverages for guests purchasing dinner from the upstairs cafe unless the liquor license is completed prior. Licensed Bar coming soon.
Doors Open via Beverly Place 6pm. Show Starts 7pm.
General Admission. Theatre style seating.
. . . . . . . . . . . . . . . . . . . . . . . . . . . . . . . . . . . . . . . . . . . . .
Tickets $25 DISCOUNT pre-sale available from GALLERY ONE88 (during opening hours)
188 Katoomba St, Katoomba, Blue Mountains NSW 2780. (Cash Only) For enquiries 02) 4782 1900.
Or Online $27.50 (Including booking fees):
www.stickytickets.com.au/7Q2UF
Or $30 CASH on the Beverly Place Door from 6pm (Unless Sold Out)
This is an exclusive intimate capacity venue and tickets are strictly limited!

CONTACT DETAILS: Charity Mirow 0409 042 869
For more information visit: www.fusionboutique.com.au