Fusion Boutique Presents 'Metro Social' with
DAVE GRANEY & CLARE MOORE
live in Concert at the 1930's Metropole Guesthouse.
Saturday 10th February 2018, 6:30pm. Doors Open 5:30pm.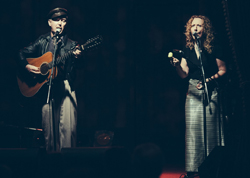 Dave Graney and Clare Moore will be playing material from across their vast and splendid songbook.
Performing songs from over 30 albums, film and tv scores including their work from The Moodists, Coral Snakes and The mistLY.
This will be a show about songs and lyrics. Minimal instrumentation and totally PRO delivery. Guitar, keys, percussion and vocals.
They have a songbook with hundreds of titles to choose from and they access songs they've written and recorded across the four decades which they've now been present and incorrect for.
Dave Graney was awarded 'Best Male Vocalist' at the ARIA Music Awards of 1996 for his work on The Soft 'n' Sexy Sound, while "Feelin' Kinda Sporty" won 'Best Video' in 1997 and he has received seven other ARIA Award nominations.
Graney and Moore specialise in delivering! Their schtick weighs a ton!
They will release yer soul!
They're just too hip, babe! Matey, From On High!
. . . . . . . . . . . . . . . . . . . . . . . . . . . . . . . . . . . . . . . . . . . . .
VENUE: 'METRO SOCIAL' Metropole Guesthouse Lounge Upstairs (lift available) Cnr of Lurline and Gang Gang Streets, Katoomba, Blue Mountains NSW 2780.
Opposite the Katoomba train station.
There is limited parking available at the rear of the property. Access can be made through the rear and the lift to the lounge is in the atrium.
If entering from the front the cocktail bar/restaurant is on the right and access to the upstairs performance space in the lounge is up the stairs or via the lift towards the back of the hotel.
The Metropole is a family friendly venue!
*Minors must be accompanied by a parent or guardian and supervised.
Children do require a ticket for entry.
There is also a retro cocktail bar downstairs and drinks and light meals will be available from the Metro Retro pop up bar upstairs once doors open.
Doors Open 5:30pm. Show Starts 6:30pm.
General Admission. Theatre Style Seating, cocktail lounge and some standing room.
Tickets $20 DISCOUNT pre-sale available from THE METROPOLE GUESTHOUSE (during reception hours) Cnr of Lurline and Gang Gang Streets, Katoomba, Blue Mountains NSW 2780. (Cash Only)
Or + b/f Card /Phone 02) 4782 5544 and Online $21.50 (Including booking fees): www.stickytickets.com.au/59547
Or $25 on the Door from 5:30pm (Unless Sold Out)
This is an intimate seating venue and tickets are strictly limited!

CONTACT DETAILS: Charity Mirow 0409 042 869
For more information visit: www.fusionboutique.com.au