Fusion Boutique & The Bootlegger Bar Present
Catherine Traicos (Perth) w/ Eyles & Sophia
"The Nashville Record" single release tour
Live at The Bootlegger Bar
FREE LIVE MUSIC
Saturday 13th January 2024
Show Starts 9pm

Venue: THE BOOTLEGGER BAR
92 Bathurst Rd, Katoomba NSW 2780, Blue Mountains.
Known for presenting unique and talented acts to the Blue Mountains over the last 14 years, Fusion Boutique is pleased to be working with The Bootlegger again to bring the upper mountains even more quality live music at Katoomba's hottest new live music restaurant and bar.
Bootleggers is a place of good old fashioned fun where people can eat, meet and greet and be human again.
Fully licensed bar offering a large selection of Wines, Beers, Whisky, Gin, Cocktails & Good Food – low and slow and vegetarian options available.
Kitchen closes approximately 10pm.
. . . . . . . . . . . . . . . . . . . . . . . . . . . . . . . . . . . . . . . . . . . . .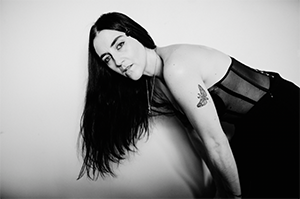 Catherine Traicos is a classically-trained pianist, self-taught guitarist, and visual artist hailing from Perth via Zimbabwe. She has also been known to haunt the cobblestoned backstreets of Melbourne, the picture-postcard city sunsets of Sydney, and the charming parks of Adelaide.
A critically acclaimed singer-songwriter, Catherine Traicos has graced the diverse stages of Nashville's iconic Bluebird Cafe, The Sydney Opera House Concert Hall, the Quarry Amphitheatre in Perth and the Junkyard in Maitland.
Catherine's passion for songwriting and her determination and commitment to music have seen her play International Arts Festivals around Australia, as well as appear overseas at the Americana Festival and the Live at Heart Festival in Sweden. Catherine has supported significant musical acts including Beth Orton, the Mountain Goats, Dirty Projectors, Rob Snarski, Simone Felice and Spiral Stairs. Catherine's work has been lauded by Rolling Stone Magazine, the Age, the Sydney Morning Herald, and she was named Unpaved's Female Artist of the Year (2012).
Catherine worked relentlessly through the pandemic, releasing a distance recorded double A side 7" record (Love Hz and Analog Heart Studios), an ep 'Choose Your Own Light' (Tiny Music Studios), culminating in recording a full length distance album, 'The Nashville Record' (out on August 25, 2023) in both Perth and Nashville. This was completed at The Doghouse Studios, where the likes of Dolly Parton and Alison Krauss have recorded. She swiftly followed this up with a new cycle of songs recorded with Anna Laverty in Perth earlier this year. Catherine is now set to release two studio albums within the space of a year. As well as this, she has engaged with the songwriting community in Perth through the APRA 321 sessions and also through the WOMPP (Women of Music Production Perth) music camp where she was one of a select few chosen to collaborate with Stella Donnelly, Jaguar Jonze and Sparrows.
Soaring on the back of strong yet vulnerable vocals, Catherine's work is raw and emotive, strikingly melodic and a perfect hybrid of the personal and professional craft of a unique voice in Australian music.
"…redolent in parts of the ragged, eerie estrogen blues of PJ Harvey or the gaunt bluegrass sonnets of Gillian Welch"
(Album of the Month) The Age, Melbourne Magazine
"These unsettling blues-influenced songs simmer with a sense of noir, an impressive meeting of the earthy song-writing of Beth Orton with the grim undercurrents of, say, Portishead."
Barnaby Smith, Rolling Stone Magazine
"This album may have been hard to make, but its eventual birth marks Traicos as an artist of exceptional poise and talent, as many of us have known for years." Samuel J Fell, Sydney Morning Herald
www.catherinetraicos.com
www.facebook.com/catherinetraicosmusic
Blue Mountains Dark Country Musician Eyles is a captivating figure crafting haunting narratives and melodies that draw listeners into the shadows of his world. With a genre-blurring sound that fuses elements of folk, blues, and a hint of eerie allure. His lyrical storytelling paints vivid sonic landscapes that linger long after the final chord has faded.
2 x sets from 9pm.
. . . . . . . . . . . . . . . . . . . . . . . . . . . . . . . . . . . . . . . . . . . . .
All events will strictly follow COVID safe procedures, as outlined by NSW Health.
. . . . . . . . . . . . . . . . . . . . . . . . . . . . . . . . . . . . . . . . . . . . .
VENUE: THE BOOTLEGGER BAR
92 Bathurst Rd, Katoomba NSW 2780, Blue Mountains.
www.bootleggerbar.com.au
www.facebook.com/bootleggerbar.com.au
This venue is 2 levels, the free live music upstairs is restricted to attendee numbers present at the time to adhere to the current social distancing requirements.
Dinner tables will need to be pre-booked online through www.bootleggerbar.com.au
For enquires call 02 4782 6368 or email . Please note that bookings made on the day after 5pm may not be able to be confirmed.
***Guests will need to make a note at the time of booking tables that you are there for the live music.***
FREE ENTRY – first in best dressed.
1st Set Starts 9:00pm

MUSIC BOOKING CONTACT DETAILS: Charity Mirow / Fusion Boutique
For more information visit: www.fusionboutique.com.au