Fusion Boutique & The Bootlegger Bar Present
Les Thomas w/ Bradley Christmas (VIC)
"All My Friends Are Superstars" album release tour
Live at The Bootlegger Bar
FREE LIVE MUSIC
Friday 10th November 2023
Show Starts 9pm

Venue: THE BOOTLEGGER BAR
92 Bathurst Rd, Katoomba NSW 2780, Blue Mountains.
Known for presenting unique and talented acts to the Blue Mountains over the last 14 years, Fusion Boutique is pleased to be working with The Bootlegger again to bring the upper mountains even more quality live music at Katoomba's hottest new live music restaurant and bar.
Bootleggers is a place of good old fashioned fun where people can eat, meet and greet and be human again.
Fully licensed bar offering a large selection of Wines, Beers, Whisky, Gin, Cocktails & Good Food – low and slow and vegetarian options available.
Kitchen closes approximately 10pm.
. . . . . . . . . . . . . . . . . . . . . . . . . . . . . . . . . . . . . . . . . . . . .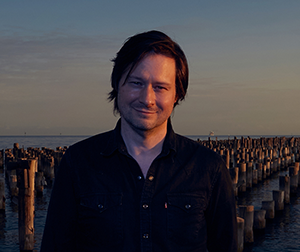 Les Thomas is a Truth-telling troubadour sharing stories and songs to move, enlighten and inspire.
"There are no riches but the riches of love. And there's nothing you can't rise above". Whether it's the sustaining invocation to his young son, or the pain and desperation of our forgotten peoples, Les Thomas sings true to the heart of every listener. His intense lyrical style, and impassioned musical presentation enthral with deftly woven stories that we can't walk away from. His songs remain on our lips for days after they are heard. Les Thomas is the champion of generations of Melbourne songwriters through his renowned Unpaved Songwriter Sessions. And the passion he brings to writing and presenting the songs of our times is an experience you will feel rewards your soul, making him a must-see artist.
Les Thomas sets his lyricism to the sounds of country-folk and Americana while drawing inspiration from the likes of Woody Guthrie, Bob Dylan, Leonard Cohen and Steve Earle as well as local legends like Archie Roach, Kev Carmody and Paul Kelly.
Coming from a culturally and racially diverse family background, and with decades of grass-roots activism as a unionist and social justice advocate, Les has a strong and direct connection to his community in Naarm/Melbourne and beyond.
His music has always been in solidarity with the oppressed, refugees, migrants, dispossessed, socially excluded and marginalised peoples and a good proportion of his live performances have been at rallies, picket lines and on the back of trucks at protests.
Over the years, Les has also shared a lot of music writing and interviewing, helping to promote local artists via the Unpaved website and songwriter sessions at The Old Bar and POME Richmond which got to feature people like Liz Stinger, Marlon Williams, Courtney Barnett, Van Walker and many others. He's interviewed a wide variety of local and international artists including Steve Earle, Jason Isbell, David Bromberg, Eric Bibb and Valerie June.
His debut single 'Song for Selva' is based on a letter from a Tamil asylum seeker who had been detained without charge for 37 months. After strong community radio support for the song in the first week after its release, Selva was removed from Broadmeadows detention centre into "community detention".
Les is preparing to release his new album "All My Friends Are Superstars" in September 2023 with production by Stephen Grady (The Ahern Brothers). He'll be touring and promoting the album extensively over the following months and into 2024.
www.facebook.com/lesthomasmusic
Support will be from Bradley Christmas of Sydney Alt country act "Copperline" who will also join Les on keys, for a one off unique show in the Blue Mountains.
Since cutting his teeth in the 90's with prog rockers Arkenstone, Brad's musical journey has taken him in some weird and wonderful directions. He's been a hired toured gun for Steve Kilby (the Church), Jeff Duff and Peter Fenton (Crow) and spent many years living and playing music in the U.K. and Japan, where he wrote and performed music for TV with the likes of Orlando Bloom and Marty Friedman (Megadeth).
With his latest project Copperline, Brad has indulged his life-long passion for classic narrative song writing, Americana and twang. Since releasing their debut record Rusty Fords and Weatherboards, the band has become a festival favourite with appearances at Tamworth, the Blue Mountains Music Festival and Country Rocks among many others.
2 x sets from 9pm.
. . . . . . . . . . . . . . . . . . . . . . . . . . . . . . . . . . . . . . . . . . . . .
All events will strictly follow COVID safe procedures, as outlined by NSW Health.
. . . . . . . . . . . . . . . . . . . . . . . . . . . . . . . . . . . . . . . . . . . . .
VENUE: THE BOOTLEGGER BAR
92 Bathurst Rd, Katoomba NSW 2780, Blue Mountains.
www.bootleggerbar.com.au
www.facebook.com/bootleggerbar.com.au
This venue is 2 levels, the free live music upstairs is restricted to capacity.
Dinner tables will need to be pre-booked online through www.bootleggerbar.com.au
For enquires call 02 4782 6368 or email . Please note that bookings made on the day after 5pm may not be able to be confirmed.
***Guests will need to make a note at the time of booking tables that you are there for the live music.***
FREE ENTRY – first in best dressed.
1st Set Starts 9:00pm

MUSIC BOOKING CONTACT DETAILS: Charity Mirow / Fusion Boutique
For more information visit: www.fusionboutique.com.au