Fusion Boutique Presents
MIDNIGHT TEA PARTY
'Electro Bazaar' EP Launch
+ Special Guests COOKING WITH CAUSTIC
Live in Concert at the Baroque Room, Carrington Hotel
SATURDAY 29th April 2023
Doors Open 7pm | Show Start 8pm
Venue: BAROQUE ROOM 15 Katoomba St, Katoomba, NSW 2780 Blue Mountains.
– Entry via the Carrington Hotel Driveway –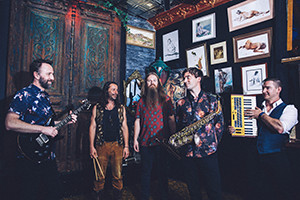 Hailing from Sydney's Inner West and Blue Mountains, Midnight Tea Party blend the hypnotic melodies of the Balkans with dubstep, jazz and rock. Now in their 10th year together as a band, their dynamic live sets are packed with irresistible energy, musical flair and party vibes.
"Midnight Tea Party dance through an infectious concoction of rock, gypsy and dub to craft a sound that belongs entirely to themselves." – Happy Mag
Since the release of their album "Massilia" in 2018 Midnight Tea Party have played festivals such as Woodford Folk Festival, Bellingen Winter Music and Gumball as well as touring up and down the east coast of Australia.
Come and celebrate the release of their latest EP 'Electro Bazaar'.
From the wonky, circus like intro of the title track to the mesmerising sound of the Greek "tsoura" on Monsieur Ouzo, the dubbed out sounds of Hatter's Hideout and the final assault of Glitterworm, this EP showcases the high energy, dance vibes that the group is renowned for, as well as the ingenuity of the band members and their mastery of the instruments.
Group members Ross Harrington – sax and keys, Rob Campbell – trumpet, Julian Curwin – guitar, Tom Wade – bass, Mick Stuart – drums
www.midnightteapartymusic.com
www.facebook.com/MIDNIGHTEAPARTY
. . . . . . . . . . . . . . . . . . . . . . . . . . . . . . . . . . . . . . . . . . . . . .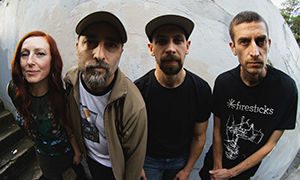 + Special Guests COOKING WITH CAUSTIC

Molecular Soup is the brand new album from Blue Mountains' Cooking with Caustic.
An expansive musical trip, inspired by 90s Boom Bap Hip Hop, Dub, Breaks, jazz icons and sci-fi monster movies, the album follows on from their debut long-player From Mercury to Pluto.
Cooking with Caustic features beats, keys and percussion by Caustic Yoda; turntablism by multi NSW DMC-champ DJ Cost; electric and double bass by Jarv Benaud; and trombone and trumpet by Marc Brown. The extended CwC family includes saxophonists Stephen Noble, Eugene Baker and Adrian Symes, and trombonist Tim Coggins.
Molecular Soup opens with the first single This Digital World. The track is an instrumental epic of heavy dub grooves and breaks, fusing sweeping horn-lines with adroit turntablism. This Digital World is inspired by our changeable society, and the way humans have adapted to a new digital world. It represents the juxtapositions in modern life like the dominance of digitized music platforms counterbalanced by the simultaneous rise of old-school physicality like vinyl. This also reflects the music created by CwC, which is built from modern technologies such as samplers, drum machines and turntables, but is organic at its core, and enriched by classic instruments like horns, bass, drums and percussion. The second track, Thoughts Manifest is a smoky jazz-inspired boom bap head-nodder, rolling along under triumphant strutting brass. The theme here is of collective minds working together. The third track, Murders in Wax, sees DJ Cost murdering the turntables over funky, science lab-themed breaks. With this album CwC have delivered some upbeat tunes with drastic tempo changes, really letting the instrumentation and musicianship come to the fore. The next tune, Blindside is a beautiful, chilled out downbeat. Think warm sunny mornings, god-rays coming through the trees, crickets chirping. The fifth track, The Mountain, is a quirky sub and bass-heavy boom bap inspired by the band's home-town clifftops. Molecular Soup concludes with another epic, Fifty Foot Mantis, brimming with nasty breaks and dynamic changes. Here, one of CwCs favourite themes gets a revisit, B monster movies. Giant mantis for world destruction.
Check out this latest release from CwC, out through Scratches Records. Available on 12" vinyl and digital.
www.facebook.com/cookingwithcausticproductions
https://cookingwithcaustic.bandcamp.com
. . . . . . . . . . . . . . . . . . . . . . . . . . . . . . . . . . . . . . . . . . . . . .

VENUE: BAROQUE ROOM 15 Katoomba St (entry via the Carrington Hotel driveway, through the 'Baroque Room' arch) Katoomba, NSW 2780 Blue Mountains
*** NEW ENTRY VIA THE CARRINGTON HOTEL DRIVEWAY KATOOMBA ST ***
Come and enjoy the refurbishments of this terrific room!
*This event is an over 18 years only. No minors will be granted entry to the event.
Please also note that the Baroque Room is a room that we hire, the Carrington Hotel will be operating the bar inside the room but there is no kitchen or food available at the venue. The Old City Bank also owned by the Carrington Hotel next door has hot meals available however guests are unable to bring outside food or drinks inside the Baroque room.
. . . . . . . . . . . . . . . . . . . . . . . . . . . . . . . . . . . . . . . . . . . . .
This show has been planned as a standing / dancing show.
Room configuration will be general admission standing / dancing on the dance floor and allocated seating for table bookings in Section B Bar and C Lounge. All table tickets require group bookings.
Table bookings for Section B will be allocated from the front of the room to the back, based on the order that they are received.
Guests who booked tables will be emailed their seat allocations prior to the event date.
Guests who book group tables will be able to move to the dance floor however general admission standing / dancing tickets will not have seats available.
*Please note that the event will proceed according to the public health order requirements current at the time. If seated alcohol consumption or no dancing is brought in for the event date then all Section A standing / dancing tickets will be converted to seated theatre style rows instead.
Section A – General Admission Standing / Dancing. No chairs available.
Section B – Bar Area Booth seating low tables (Please note that these low tables and chairs are close to the dance floor and the line of sight to the stage may be impacted if the dance floor is full) min booking of 4.
Section B – Bar Area High Tables & Stools (Please note that these are high tables and stools running along the wall of the bar area) min booking of 4.
Section C – Back Lounge Tables, limited group bookings of 3 or 4 only
(Please note that there are 2 stairs to access the lounge)
*Please refer to the floor plan for a layout reference guide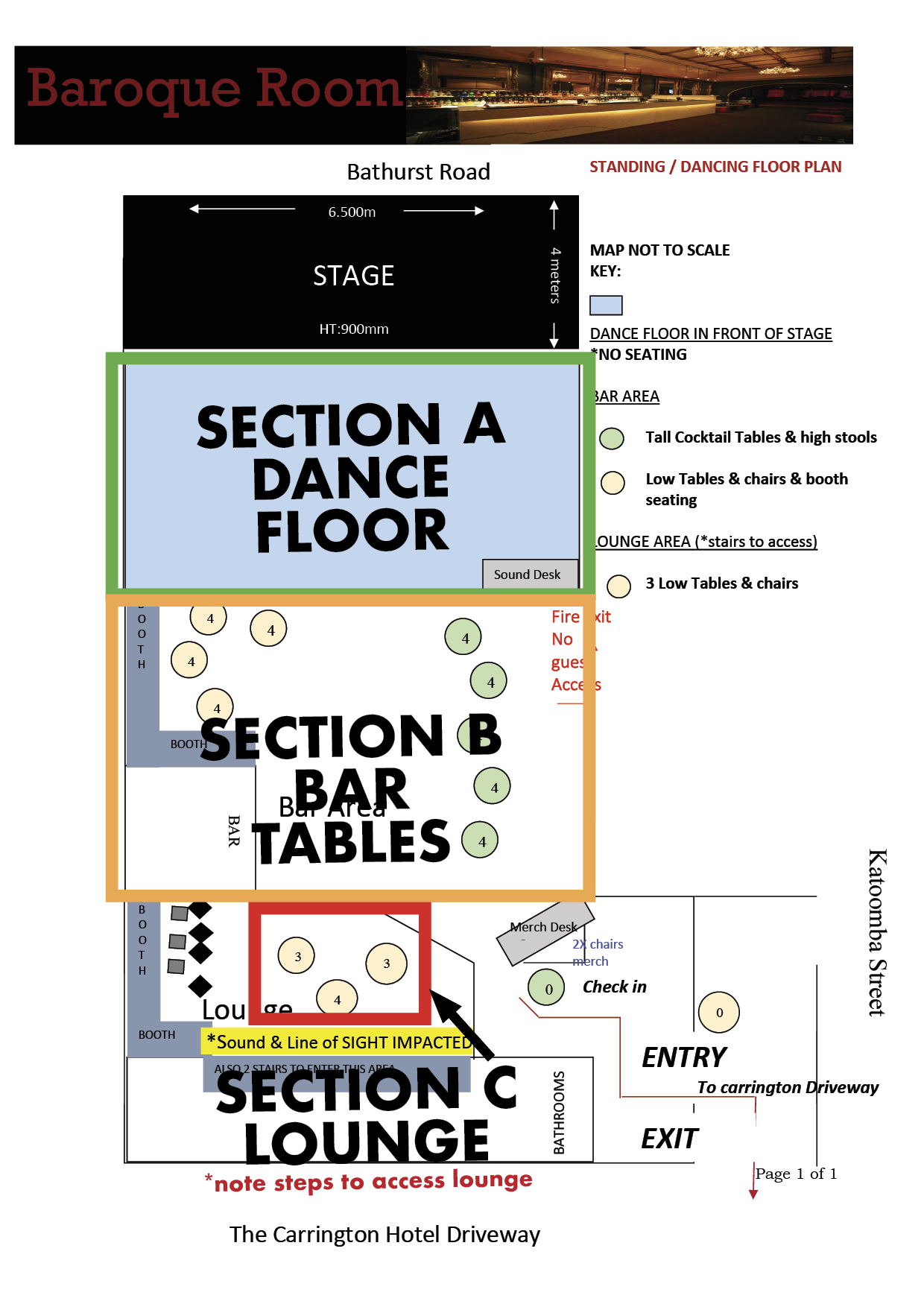 . . . . . . . . . . . . . . . . . . . . . . . . . . . . . . . . . . . . . . . . . . . . . . .
All events will strictly follow COVID safe procedures, as outlined by NSW Health.
Please read the ATTENDANCE REQUIREMENTS before purchasing:
Fusion Boutique & The Carrington Hotel are registered COVID-SAFE businesses.
The health of our staff, performers and guests are of the highest priority. Thank you for your understanding while we navigate these current times.
• It is crucial that if you are experiencing any covid like symptoms (flu-like symptoms, fevers, sore-throats etc) that you please do not attend.
• All table bookings will have allocated seating and require group bookings.
Individual group bookings are unlikely to be able to be placed together unless requested prior to the event date.
• Please maintain physical distancing measures of 1.5m where possible.
• Hand washing and sanitising facilities will be available throughout the venue.
• There will be no entry to the venue for guests prior to the stated doors open time.
. . . . . . . . . . . . . . . . . . . . . . . . . . . . . . . . . . . . . . . . . . . . . . .
Tickets $30 pre +bf / $35 door per person
Ticket Link: https://events.humanitix.com/fbmidnight
*Door sales only available if not sold out prior.
Discount show pre-bookings will close 7pm on the day of the event.
Guests can still book with confidence knowing that, while tickets are normally non-refundable, if a show needs to be cancelled for any reason then all tickets will of course be refunded. If a show needs to be rescheduled then tickets will be valid for the new dates. In the instance of guest illness tickets can be transferred on request.
RUN TIMES
Doors & Bar Open: 7:00pm (no guest entry prior)
Special Guests Cooking with Caustic: 8pm – 8:45pm
15mins intermission
Midnight Tea Party: 9:00pm – 10:00pm

CONTACT DETAILS OF EVENT ORGANISER: Charity Mirow
For more information visit: www.fusionboutique.com.au