Press Play & Fusion Boutique Presents
STEVE POLTZ 'The 22nd Time's A Charm' Australian Tour
Live in Concert at the Baroque Room, Carrington Hotel
FRIDAY 29th March 2024
Doors Open 6pm | Show Start 7pm
Venue: BAROQUE ROOM 15 Katoomba St, Katoomba, NSW 2780 Blue Mountains.
– Entry via the Carrington Hotel Driveway –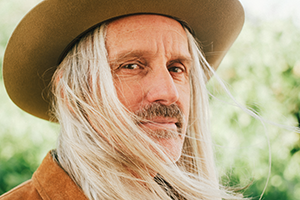 Steve Poltz (USA) is BACK !
'The 22nd Time's A Charm' Australian Tour
After flooring audiences at Bluesfest, Port Fairy Folk Festival, National Folk Festival, Blue Mountains Music Festival and ECHO Festival and club shows across the country in 2023, world renowned troubadour Steve Poltz returns to Australian shores for the 22nd time.
Some people start life with a plan. Not Steve. He opens himself up to the universe in a way most of us will never be loose enough to achieve, and the universe responds with a wink, a seemingly bottomless well of inspiration, and the talent to truly connect with an audience.
With a cult following that includes fellow musicians, regular folks and festival goers who stumble onto his performances, there's no common denominator to Steve's fans. Born in Halifax, Nova Scotia and raised in San Diego, CA Steve toured and recorded with San Diego cult favourites The Rugburns (they still play annual sold-out reunion shows). But it was through his creative partnership with Jewel that he vaulted into the national spotlight; co-writing her multiplatinum Billboard Hot 100-busting smash, "You Were Meant For Me," and continues to work with her to this day.
Over the years, the Nashville-based troubadour has built a fascinating solo catalogue, earmarked by his debut, 'One Left Shoe', 'Dreamhouse', 'Folk Singer', and 2019's 'Shine On'. No Depression crowned him, "A sardonic provocateur with a lighthearted acoustic-driven wit, suggesting at times a sunnier, less psychedelic Todd Snider, or maybe a less wan, washed Jackson Brown," while the Associated Press dubbed him "part busker, part Iggy Pop and part Robin Williams, a freewheeling folkie with a quick wit and big heart."
Among other collaborations, GRAMMY-winning bluegrass phenom Billy Strings tapped him to co-write "Leaders" on 2021's Renewal and he's co-written with Molly Tuttle, Sierra Hull, Nicki Bluhm, Oliver Wood and even Mojo Nixon.
… and when he comes to your town, he'll say, as he does every night, "This is the best show I've ever played." And hell, maybe it just is.
Ultimately, Steve never needed a plan.
He's something of a natural, after all.
Website: https://poltz.com/
Facebook: https://www.facebook.com/stevepoltz/
Twitter: https://twitter.com/stevepoltz
Youtube: https://www.youtube.com/user/polioboy23
Instagram: https://www.instagram.com/stevepoltz/
Soundcloud: https://soundcloud.com/steve-poltz
Spotify: https://spoti.fi/2qh4mX5
. . . . . . . . . . . . . . . . . . . . . . . . . . . . . . . . . . . . . . . . . . . . . .
VENUE: BAROQUE ROOM 15 Katoomba St (entry via the Carrington Hotel driveway, through the 'Baroque Room' arch) Katoomba, NSW 2780 Blue Mountains
*** NEW ENTRY VIA THE CARRINGTON HOTEL DRIVEWAY KATOOMBA ST ***
Come and enjoy the refurbishments of this terrific room!
*This event is an over 18 years only. No minors will be granted entry to the event.

Please also note that the Baroque Room is a room that we hire, the Carrington Hotel will be operating the bar inside the room but there is no kitchen or food available at the venue. The Old City Bank also owned by the Carrington Hotel next door has hot meals available however guests are unable to bring outside food or drinks inside the Baroque room.

The Carrington will be offering a pre-order cheese pack to be available for pick up from the bar on the evening.
Cheese packs $30 each, to pre-order visit: https://events.humanitix.com/baroquecheesepacksp
*Please note that due to ordering times needed for supplies this cheese pack pre-order option will only be available until 9am on the 22nd March (no further orders will be taken and no packs will be available for purchase on the night).
. . . . . . . . . . . . . . . . . . . . . . . . . . . . . . . . . . . . . . . . . . . . .

Room configuration will be seated and allocated and tables require group bookings.
Guests will not be able to move seating between sections or transfer from assigned seats.

Section A Theatre style seating will be allocated from the front of the stage to the back, based on booking types and the order that they are received.
Individual group bookings for section A are unlikely to be able to be placed together unless requested prior to the event date.
Guests will be emailed their seat allocations prior to the event date.

Section A – Theatre Style Seating $50 pre + bf / $60 door per person
Section B – Bar Area Cabaret Table Seating $50 pre + bf / $60 door per person
Section C – Back Lounge Cabaret Table Seating $45 pre + bf / $55 door per person
(Please note that there are 2 stairs to access the lounge)
Ticket Link: https://events.humanitix.com/fstevepoltz
*Door sales only available if not sold out prior.
Discount show pre-bookings will close 6pm on the day of the event.

. . . . . . . . . . . . . . . . . . . . . . . . . . . . . . . . . . . . . . . . . . . . . . .
• It is crucial that if you are experiencing any COVID like symptoms (flu-like symptoms, fevers, sore-throats etc) that you please do not attend.
• Guests can still book with confidence knowing that, while tickets are normally non-refundable, if a show needs to be cancelled for any reason then all tickets will of course be refunded. If a show needs to be rescheduled then tickets will be valid for the new dates. In the instance of guest illness tickets can be transferred on request.
• There will be no entry to the venue for guests prior to the stated doors open time.
RUN TIMES

Doors & Bar Open: 6pm (no guest entry prior)
Performance Start: 7pm
CONTACT DETAILS OF EVENT ORGANISER: Charity Mirow
For more information visit: www.fusionboutique.com.au