Fusion Boutique & Blackheath Bar & Bistro Present
'GIGS ON GOVETTS' showcase sessions with


SMITH & JONES (Bathurst)


FREE LIVE MUSIC
Friday 30th April 2021. 1st Set starts 8pm.

Venue: BLACKHEATH BAR & BISTRO
Shop 1, 35-41 Govetts Leap Rd, Blackheath, NSW, 2785, Blue Mountains.

Fusion Boutique and Blackheath Bar & Bistro are collaborating to bring the Blue Mountains a terrific range of touring artists in an open entry format for you to enjoy in this relaxed, family friendly venue.
Known for presenting unique and talented acts to the Blue Mountains over the last 11 years, Fusion Boutique is really looking forward to teaming up again with BB&B to bring the upper mountains even more quality live music at the Blue Mountains' hottest new live music restaurant and bar.
Bookings are highly recommended and if you don't want to miss out then secure your table using the online reservation system, with OpenTable by visiting the BB&B Facebook page, their website at www.blackheathbarandbistro.com.au or their google page and use the "Book Now" button. Alternatively you can call 02 4787 5787 or email to make an enquiry.
. . . . . . . . . . . . . . . . . . . . . . . . . . . . . . . . . . . . . . . . . . . . .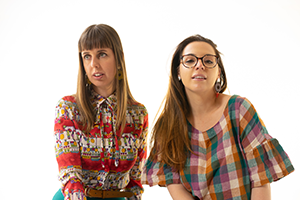 Smith & Jones, a duo from Bathurst, made up of keyboard player and vocalist Abby Smith, with guitarist and vocalist Sophie Jones, have never been ones to follow the pack. Though classified as alt-country, their goal has never been to remain within the confines of any genre, preferring to let their sound and their songs take them where they will.
In late 2016 Smith & Jones finished recording their debut album, 'Dark Gives Way', with Michael Carpenter at Love Hz in Sydney. This album's first three singles, 'Baby Blue', 'Small Town Woman' and 'Your Achin' Heart', all went to number one on the internet's Australian Country Radio charts and also charted in Tasmania over four weeks.
2018 saw Smith & Jones finish work on their highly anticipated second album, 'Something Worth Learning', which they recorded at Love Hz Studios and Linear Recording and will be released in March and toured for the remainder of 2019. Though 'Something Worth Learning' is still full of the charm and joy audiences have come to expect from Smith & Jones, their new work delicately balances themes of love and loss, friendship and isolation, emotional desire and freedom, fearlessly exploring the depths of their musical partnership with the listener by their side.
www.smithandjones.net
www.facebook.com/SmithandJones.music
. . . . . . . . . . . . . . . . . . . . . . . . . . . . . . . . . . . . . . . . . . . . .
VENUE:
BLACKHEATH BAR & BISTRO
Shop 1, 35-41 Govetts Leap Rd, Blackheath, NSW, 2785, Blue Mountains.
www.blackheathbarandbistro.com.au

Family friendly – minors must be accompanied by a parent or guardian and supervised.
General Admission. Room configuration is a mix of cabaret style tables and chairs and standing.
FREE ENTRY. Show Starts 8pm.
Fully licensed bar offering a large selection of wines by the glass and bottle as well as craft and tap beers, spirits and signature cocktails.
Full menu is available from midday through till 9pm. A limited bar menu is then offered until closing time.
Due to ongoing capacity restrictions, bookings are highly recommended and can be made online through OpenTable at www.blackheathbarandbistro.com.au
Or call 02 4787 5787 or email to reserve a table.
MUSIC BOOKING CONTACT DETAILS: Charity Mirow 0409 042 869
For more information visit: www.fusionboutique.com.au