Fusion Boutique & Blackheath Bar & Bistro Present
'GIGS ON GOVETTS' showcase sessions with
THE GROOVE (Illawarra / Shoalhaven)
FREE LIVE MUSIC
Saturday 12th October 2019. 1st Set starts 7:30pm.

Venue: BLACKHEATH BAR & BISTRO
Shop 1, 35-41 Govetts Leap Rd, Blackheath, NSW, 2785, Blue Mountains.

Fusion Boutique and Blackheath Bar & Bistro are collaborating to bring the Blue Mountains a terrific range of touring artists in an open entry format for you to enjoy in this relaxed, family friendly venue.
Known for presenting unique and talented acts to the Blue Mountains over the last 9 years, Fusion Boutique is really looking forward to teaming up with BB&B to bring the upper mountains even more quality live music at the Blue Mountains' hottest new live music restaurant and bar.
Craft beers, a great range of wine, cocktails, excellent food and entertainment awaits you.
Bookings are highly recommended and if you don't want to miss out then call 02 4787 5787 or email to reserve a table.
. . . . . . . . . . . . . . . . . . . . . . . . . . . . . . . . . . . . . . . . . . . . .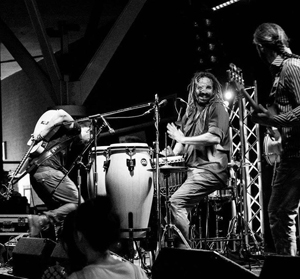 The Groove is a new fusion of old sounds emerging from the Illawarra / Shoalhaven. An amorphous shifting blend of Spanish / Classical acoustic guitar vibes with driving Afro percussive rhythms. From Roots to Latin, Blues to Middle Eastern and Eclectic flavours in between The Groove tweak your sense of fun and familiarity. They are versatile, vivacious and vibrant and their sound invariably gets your toes tapping and your hands clapping to 'The Groove'.
The Groove are Sako Dermenjian, Damion Stirling and Drewe Peard. Sako and Damion met jamming in the streets of Wollongong at the Honk Festival in 2016. There was an immediate spark and synergy of musical cultures. Sako, a brilliant guitarist, is a Syrian refugee who arrived in Wollongong just over three years ago. His grandmother gave him his first guitar at the age of seven and his passion and enthusiasm have lead him to now studying at the Conservatorium of Music in Sydney. Talented percussionist, Damion, grew up on the beaches of Woonona and found a passion for West African drumming and dance which he has been studying, teaching and performing for close to 20 years fusing traditional West African rhythms with Blues, Funk, Rock, Folk and all genres in between. Drewe is a solid talented bass player who has been performing in bands for decades. In his early teens he played the Belmore Basin Jazz band then later in high school band Ficus. He has since played with a number of bands including Swing Booty, Kenny Bartley and the Midnight Feast, Dear Samsara, Big Erle, Swamp n Beats and now The Groove.
The Groove's synergistic organic sessions have captivated audiences of all ages and cultures from the Northern Beaches of Sydney down to the peaks of the Snowy Mountains. They have played the Beer Day Out, Canberra 2018, the Peak Festival (Perisher) 2017/18/19, Culburra Beach Festival 2017/18/19 and Illawarra Folk Festival 2018/2019, The Stomping of the Grapes Festival 2018/2019, Seechange Festival 2018, Viva La Gong 2018.
The Groove have supported Caravãna Sun, Claude Hay and 19twenty during their east coast tours.
They have played sold out gigs at the Tea Club, the Dish and Spoon and The Groove Cruise and shared their unique grooves in roof top bars, whiskey bars, churches (the Fairlight folk acoustic lounge, Manly) and the Fresh Flix Indy film festival in Nth Sydney.
"It was a wonderful experience to watch you play and see how compelling the music was to children and adults alike."
"Have you heard these guys? They are awesome!! You'll love!"
www.facebook.com/thegroovetrio
. . . . . . . . . . . . . . . . . . . . . . . . . . . . . . . . . . . . . . . . . . . . .
VENUE:
BLACKHEATH BAR & BISTRO
Shop 1, 35-41 Govetts Leap Rd, Blackheath, NSW, 2785, Blue Mountains.
www.blackheathbarandbistro.com.au

Family friendly – minors must be accompanied by a parent or guardian and supervised.
General Admission. Room configuration is a mix of cabaret style tables and chairs and standing.
FREE ENTRY. Show Starts 7:30pm.
Fully licensed bar offering a large selection of wines by the glass and bottle as well as craft and tap beers, spirits and signature cocktails.
Full menu is available from midday through till 9pm. A limited bar menu is then offered until closing time.
Bookings are highly recommended. Call 02 4787 5787 or email to reserve a table.
CONTACT DETAILS: Charity Mirow 0409 042 869
For more information visit: www.fusionboutique.com.au