IRISH MYTHEN (Touring from Canada / Ireland) in concert at the iconic Paragon.
CONCERT + CHAMPAGNE COCKTAIL + 3 COURSE GOURMET DINNER + TEA/COFFEE, BISCOTTI & CHOCOLATES!
Sat 23rd Jan 2016
Strictly limited tickets!
Irish Mythen's music is so powerful and beautiful you can't help being instantly engaged.
Irish is a true entertainer who is known for her gripping live shows which are a thing of wild emotion as she pours heart and soul into every word she sings. She has a way of delivering her songs that leave you in awe of her vocal talent and remembering the show, the songs and the performer long after you've walked away.
She is the storyteller who will grasp your attention and who will bring you on an incredible and emotional journey, as well as the comedian with a joie de vivre who'll have you laughing from the very beginning until long after the end of her show.
Irish Mythen, award winning singer, songwriter and recording artist was born and raised in County Wexford Ireland. She has travelled the globe — playing in Europe, Australia, the Middle East and the UK. During her travels she has worked with a host of world-renowned artists like Tom Paxton, The Dubliners and The Pogues. She has shared stages with Emmylou Harris, Gordon Lightfoot, and Peter Yarrow, to name but a few.
Since her immigration to Canada in 2008 Irish has been honoured to create music and memories with Gordie Sampson, Joel Plaskett, Ron Hynes, Matt Andersen, Bruce Guthro and Dave Gunning. She has become an admired and respected artist on the Canadian scene.
Irish has proudly produced two EPs — Appreciate (2004) and Fallen Me (2006), as well as three full-length releases to her name — Sweet Necessity (2008), Open Here (2011) and Irish Mythen (2014). Open Here was nominated for the 2012 East Coast Music Awards (ECMA) Roots Traditional Recording of the Year. Her latest, self-titled album won her an ECMA in the same category in April 2015.
This vocal powerhouse will blow you away! You've heard the buzz, now hear the artist!
"I had no idea what to expect when this five foot nothing lady took the stage, all smiles and twinkling eyes and guitar. Then, she opened her mouth and out flew a voice that came straight from the Heavens with all the power and the glory and the truth of someone destined to be a singer. I've been blessed with seeing and hearing a lot of talented musicians in my life, but I have never experienced anyone quite like Irish Mythen. She is a force of nature and a gift from Almighty Herself." –  Lisa Schwartz, Philadelphia Folk Festival
"After seeing Irish perform live, you are left with a sense of wanting more. This girl has often been called the female version of ME." –  Matt Andersen
"By vote, the three most requested artists to return to Mariposa Folk Festival have been 1) Joni 2) Gordon, and 3) Irish Mythen" –  Amy Mangan, AD Mariposa Folk Festival
Arrive Shortly After Doors Open at 6:30pm for a Champagne Cocktail followed by a gourmet Entrée and Main course.
Show / event begins at 8pm.
Dessert served during intermission. Tea/coffee and Biscotti also available.
Concludes with a meet and greet and chocolates!
General Admission. Room configuration for the performance in the Banquet Hall is theatre style.
Paragon's Chef David Povelsen spent his first 4 years working at Solitary which saw the restaurant maintain it's coveted position as a 'one hatter' in the Good Food Guide. In 2007 David realised a chef's dream when Solitary attained 2 hats and was one of only 2 two-hatted restaurants in the state.
We are delighted to be able to include David and his talented culinary skills in these unique experience events at the Historic Paragon Café.
The seasonal special event MENU will be an alternate drop, unless guests advise the cafe of preferences prior to the evening of the event. Please note that vegetarian options are also available by prior order.
***Special Event 3 Course Gourmet alternating MENU below: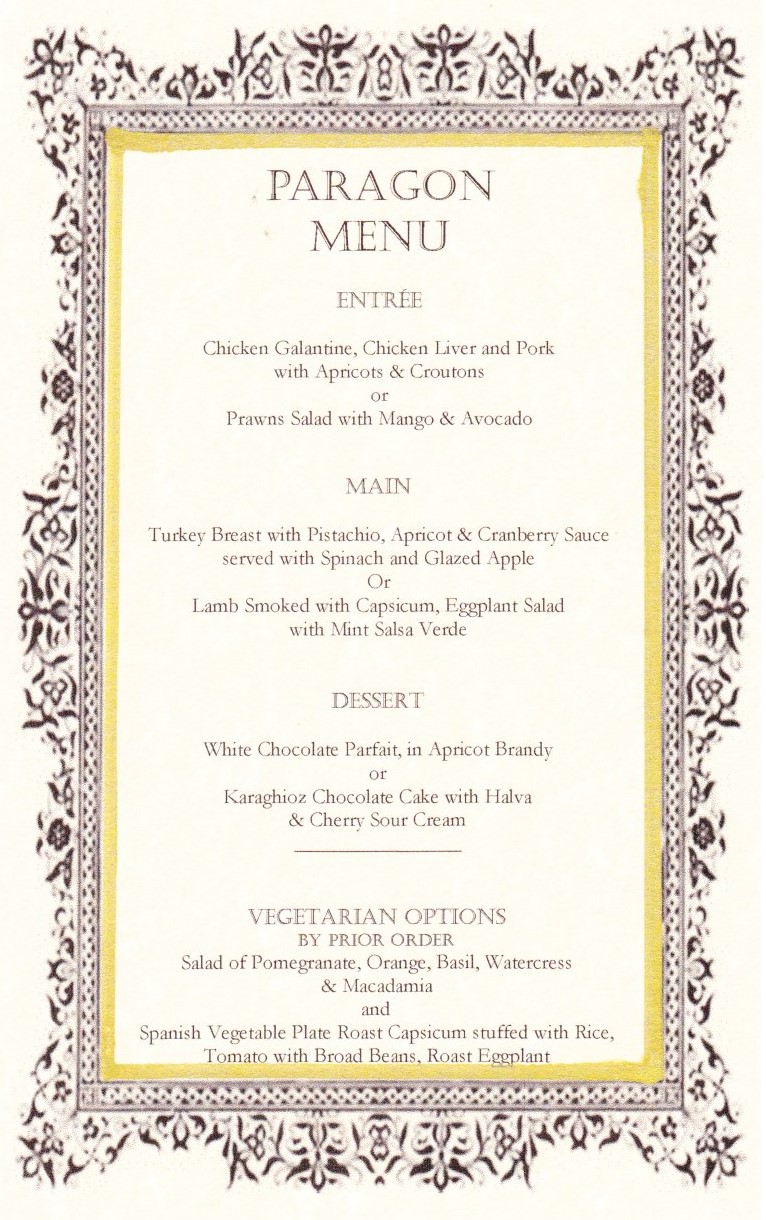 Established in 1916, The Paragon is Australia's oldest running and most original café and certainly one of the most opulent ever built in this country. Situated in the heart of Katoomba the Paragon is an iconic landmark that is an essential stop on any visit to the Blue Mountains. The three rooms that comprise the Paragon: Café, Formal Dining Room and Cocktail Lounge are some the finest and most richly detailed Art Deco interiors anywhere in the world.
VENUE: THE PARAGON CAFE
65 Katoomba St, Katoomba, Blue Mountains NSW 2780.
CONTACT DETAILS: Charity Mirow 0409 042 869
For more information visit: www.fusionboutique.com.au

Tickets $95 pre-sale available physically from:
PARAGON CAFE, 65 Katoomba St, Katoomba, NSW 2780
+$2.90 booking fee card/phone 02) 4782 2928 (10am-4pm daily)

Or online $97.90 (Including booking fees):
www.trybooking.com/IXWT
This is an intimate seating and tickets are strictly limited!