Fusion Boutique Presents 'Metro Social' with
IRISH MYTHEN (IRELAND/CANADA) Australian Tour
Live in Concert at the 1930's Metropole Guesthouse.
Saturday 9th February 2019, 6:30pm. Doors Open 5:30pm.
*** This show is now SOLD OUT!
For a fabulous range of other Blue Mountain events visit: www.fusionboutique.com.au
We advise booking early to avoid disappointment.  ***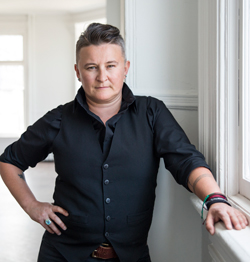 Irish Mythen's music is so powerful and beautiful you can't help being instantly engaged.
Irish is a true entertainer who is known for her gripping live shows which are a thing of wild emotion as she pours heart and soul into every word she sings. She has a way of delivering her songs that leave you in awe of her vocal talent and remembering the show, the songs and the performer long after you've walked away.
She is the storyteller who will grasp your attention and who will bring you on an incredible and emotional journey, as well as the comedian with a joie de vivre who'll have you laughing from the very beginning until long after the end of her show.
Irish Mythen was born in Ireland and now resides in Charlottetown Prince Edward Island Canada.
"This Island creates music and musicians, art and artists. I found a shift to take things more seriously when I moved here." And she did just that.
Her latest release, the self-titled Irish Mythen, gained her recognition around the globe with nominations and wins coming from Music PEI, East Coast Music Association, Folk Alliance International and SOCAN. Write-ups in Australian Guitar Magazine, the Rolling Stone, and a plethora of online publications world-wide have helped plant Irish firmly on the map of 'Must See Artists'.
"I had no idea what to expect when this five foot nothing lady took the stage, all smiles and twinkling eyes and guitar. Then, she opened her mouth and out flew a voice that came straight from the Heavens with all the power and the glory and the truth of someone destined to be a singer. I've been blessed with seeing and hearing a lot of talented musicians in my life, but I have never experienced anyone quite like Irish Mythen. She is a force of nature and a gift from Almighty Herself." – Lisa Schwartz, Philadelphia Folk Festival
"I was amazed at your ability to hold such a massive crowd as if it were a tiny one." – Dougie MacLean, Artist
"By vote, the three most requested artists to return to Mariposa Folk Festival have been 1) Joni 2) Gordon, and 3) Irish Mythen" – Mike Hill, AD Mariposa Folk Festival
www.facebook.com/irishmythenmusic
. . . . . . . . . . . . . . . . . . . . . . . . . . . . . . . . . . . . . . . . . . . . .
VENUE:
'METRO SOCIAL' Metropole Guesthouse Lounge Upstairs (lift available) Cnr of Lurline and Gang Gang Streets, Katoomba, Blue Mountains NSW 2780.
Opposite the Katoomba train station.
If entering from the front the cocktail bar/restaurant is on the right and access to the upstairs performance space in the lounge is up the stairs or via the lift towards the back of the hotel.
Access can also be made through the rear and the lift to the lounge is in the atrium.

The Metropole is an all ages venue however minors must be accompanied by a parent or legal guardian and must remain supervised and do require a standard ticket for entry. Please also keep in mind that the performance space is a listening room.
Drinks and light meals will be available from the Metro Retro pop up bar upstairs once doors open.
Doors Open 5:30pm. Show Starts 6:30pm.
General Admission. Theatre Style Seating, cocktail lounge and some standing room.
Tickets $25 DISCOUNT pre-sale available from THE METROPOLE GUESTHOUSE (during reception hours) Cnr of Lurline and Gang Gang Streets, Katoomba, Blue Mountains NSW 2780. (Cash Only)
Or + b/f Card /Phone 02) 4782 5544 and Online $27.50 (Including booking fees):
www.stickytickets.com.au/76811
Or $30 on the Door from 5:30pm (Unless Sold Out)
This is an intimate seating venue and tickets are strictly limited!

CONTACT DETAILS: Charity Mirow 0409 042 869
For more information visit: www.fusionboutique.com.au