Fusion Boutique Presents 'Metro Social' with
JOHN REISCHMAN & ELI WEST (NORTH AMERICA)
+ Special Guests EAGLE & THE WOLF
Live in Concert at the 1930's Metropole Guesthouse.
Thursday 1st November 2018, 6pm. Doors Open 5pm.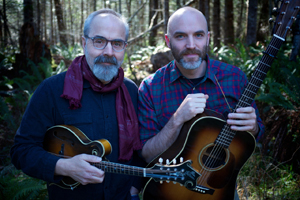 John Reischman is one of the premier mandolinists of his generation. He's a master instrumentalist capable of swinging between re-inventions of traditional old-time tunes, deconstructions from the bluegrass repertoire, and compelling original tunes, many of which have become standards. He's also a powerful bandleader, touring his band the Jaybirds all over Canada and the United States. But most of all, he's an understated visionary, the kind of master craftsman whose music is virtuosic without ever being flashy and who is renowned for his impeccable taste and tone as an artist. John Reischman embodies the true spirit of acoustic music in the 21st century.
Eli West is a Seattle-based multi-instrumental musician and interactive graphic designer. With an interest in angular phrasing and non-traditional improvisation within the historic precedents of bluegrass and old-time music, his playing both grounds and pushes the ensembles he is involved with. He has released three records as half of the new/old-time duo Cahalen Morrison & Eli West, which tours regularly throughout the US and Europe. Eli is an active ingredient playing guitar, banjo, and bouzouki with both Jayme Stone's Lomax Project and John Reischman and the Pine Siskens.
'Eli West is an exceptional singer, guitar player and musician, really deep stuff' – Martin Simpson
. . . . . . . . . . . . . . . . . . . . . . . . . . . . . . . . . . . . . . . . . . . . . .
+ Special Guests EAGLE & THE WOLF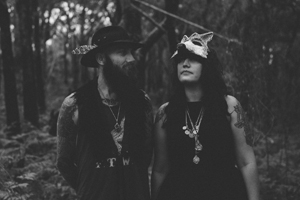 "Two of Australia's finest singer-songwriters, indie-pop goddess Sarah Humphreys and alt-country troubadour Kris Morris, met, fell in love and now they're making beautiful folk music together as Eagle & The Wolf." – Timber & Steel
"Separately Sarah and Kris are two of my favourite singer/songwriters ever but the first time I heard their voices together I was taken to a whole other place! The blend was like nothing I had ever heard before and broke my heart in the most beautiful way" – Kasey Chambers
Sarah Humphreys has spent the last last ten years opening her heart as she has grown into a woman, a mother and undoubtedly one of this country's finest singers and songwriters. Her third album 'New Moon' produced by Australia's finest, Kasey Chambers, received 4 stars from Rolling Stone Magazine who hailed it as 'a mature, meditative offering from an Australian folk nymph, as natural and as honest as they come. Soulful & unpolished.'
Kris Morris is forging a reputation as one of Australia's finest, and most honest, country & blues musicians. His songs cut to the heart and on stage with his guitar he can tear the house down. Audiences are at once captivated and blown away. Absolute truth and passion directed through a microphone and a cranked guitar amplifier. His record RUINS, a swampy heartbreaker also produced by Kasey Chambers, has opened his music up to audiences around the country. Recently, he has shared the stage with the likes of Kasey Chambers, Bill Chambers, Jeff Lang, The Alvin Brothers (USA) and been on tour with The Fumes.
. . . . . . . . . . . . . . . . . . . . . . . . . . . . . . . . . . . . . . . . . . . . .
VENUE:
'METRO SOCIAL' Metropole Guesthouse Lounge Upstairs (lift available) Cnr of Lurline and Gang Gang Streets, Katoomba, Blue Mountains NSW 2780.
Opposite the Katoomba train station.
If entering from the front the cocktail bar/restaurant is on the right and access to the upstairs performance space in the lounge is up the stairs or via the lift towards the back of the hotel.
Access can also be made through the rear and the lift to the lounge is in the atrium.

The Metropole is an all ages venue however minors must be accompanied by a parent or legal guardian and must remain supervised and do require a standard ticket for entry. Please also keep in mind that the performance space is a listening room.
Drinks and light meals will be available from the Metro Retro pop up bar upstairs once doors open.
Doors Open 5pm. Show Starts 6pm.
General Admission. Theatre Style Seating, cocktail lounge and some standing room.
Tickets $20 DISCOUNT pre-sale available from THE METROPOLE GUESTHOUSE (during reception hours) Cnr of Lurline and Gang Gang Streets, Katoomba, Blue Mountains NSW 2780. (Cash Only)
Or + b/f Card /Phone 02) 4782 5544 and Online $21.50 (Including booking fees):
www.stickytickets.com.au/72597
Or $25 on the Door from 5pm (Unless Sold Out)
This is an intimate seating venue and tickets are strictly limited!

CONTACT DETAILS: Charity Mirow 0409 042 869
For more information visit: www.fusionboutique.com.au