Fusion Boutique & Niche Productions Present
KIM CHURCHILL
'I Am Forgetting The End Again' 4th EP Launch Tour
Live in Concert at the Baroque Room, Carrington Hotel
*New Rescheduled Date – Sunday 5th December
EARLY SHOW: Doors Open 3pm
LATE SHOW: Doors Open 7pm
Venue: BAROQUE ROOM 15 Katoomba St, Katoomba, NSW 2780 Blue Mountains.
– NEW ENTRY VIA THE CARRINGTON HOTEL DRIVEWAY –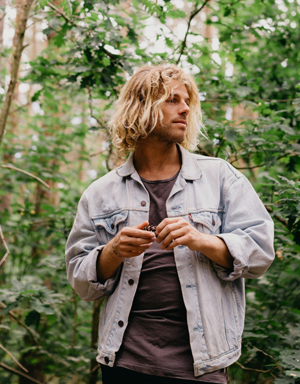 . . . . . . . . . . . . . . . . . . . . . . . . . . . . . . . . . . . . . . . . . . . .
Join us for an intimate show with Kim Churchill and his Cellist Joshua Luke Rea. 
It will be a night of storytelling, some soft moments of reflection and a deeper insight into where Kim's songs truly come from.
Australian folk, rock, and blues singer, songwriter Kim Churchill picked up his first guitar when he was 4 years old when his father promised him a guitar if he did well in school. He was trained in classical guitar for ten years. He accompanies his guitar with blues harp (harmonica), stomp box, drums, and percussion instruments. He also plays lapsteel and tambourine.
Churchill tours extensively and has become a venue and music festival favourite.
"Opening on this night was the young, barefooted Aussie, Kim Churchill. Churchill made the most of an acoustic guitar, kick drum, pedals and a harmonica. Creating a sound I can only describe as psychedelic whale music, ocean-side blues or countrified Nick Drake. Kim Churchill. Remember that name. He's going to impress a whole mess of people on this tour" – Vancouver Weekly
After almost four years in the making, Kim is set to release the final EP, 'Again', off his 4-part EP collection; 'I Am Forgetting The End Again'. Whilst the EP was recorded on the coast of Devon in England with a large UK/EU tour planned, the need to stay landlocked to Australia for the time being has led Kim to tour Australia wide and search out brilliant and beautiful places to perform the full body of work.
Hear songs from his travels to record in Berlin, Vancouver Island, Devon and the Blue Mountains and a beautiful night of stories and sonic adventures. On many of these shows Kim and his van will be rolling into town and playing in local parks, camp grounds and the town's favourite music venues from March until August and travelling Australia wide in search of the perfect backdrop for 'I Am forgetting The End Again'.
Some of the clips include:
After The Sun (Berlin) – https://www.youtube.com/watch?v=hi444evDdlo
Look Too (Berlin) – https://www.youtube.com/watch?v=XmY1pWXMrBY
Caught up in the Landslide (Quebec) – https://www.youtube.com/watch?v=hrlFB-tyiEU
Dark Horse (Vancouver) – https://www.youtube.com/watch?v=hyUuthbIGks
Nothing Nothing (Blue Mountains) – https://www.youtube.com/watch?v=BFBBAcew4u0
Outta Love (Blue Mountains) – https://www.youtube.com/watch?v=zgCIholY8cc
www.kimchurchill.com
www.facebook.com/kimchurchillmusic
. . . . . . . . . . . . . . . . . . . . . . . . . . . . . . . . . . . . . . . . . . . .
VENUE: BAROQUE ROOM 15 Katoomba St (entry via the Carrington Hotel driveway, through the 'Baroque Room' arch) Katoomba, NSW 2780 Blue Mountains
*** NEW ENTRY VIA THE CARRINGTON HOTEL DRIVEWAY KATOOMBA ST ***
Come and enjoy the new refurbishments of this terrific room!
*This event is an over 18 years only. No minors will be granted entry to the event.
Please also note that the Baroque Room is a room that we hire, the Carrington Hotel will be operating the bar inside the room but there is no kitchen or food available at the venue. The Old City Bank also owned by the Carrington Hotel next door has hot meals available however guests are unable to bring outside food or drinks inside the Baroque room.
. . . . . . . . . . . . . . . . . . . . . . . . . . . . . . . . . . . . . . . . . . . . .
All events will strictly follow COVID safe procedures, as outlined by NSW Health.
Table tickets must be purchased as part of a group booking.
Section A Theatre style seating will be allocated from the front of the stage to the back, based on booking types and the order that they are received.
Individual group bookings are unlikely to be able to be placed together
unless requested prior to the event date.
Guests will not be able to move seating between sections or transfer from assigned seats.
Guests will be emailed their seat allocations prior to the event date.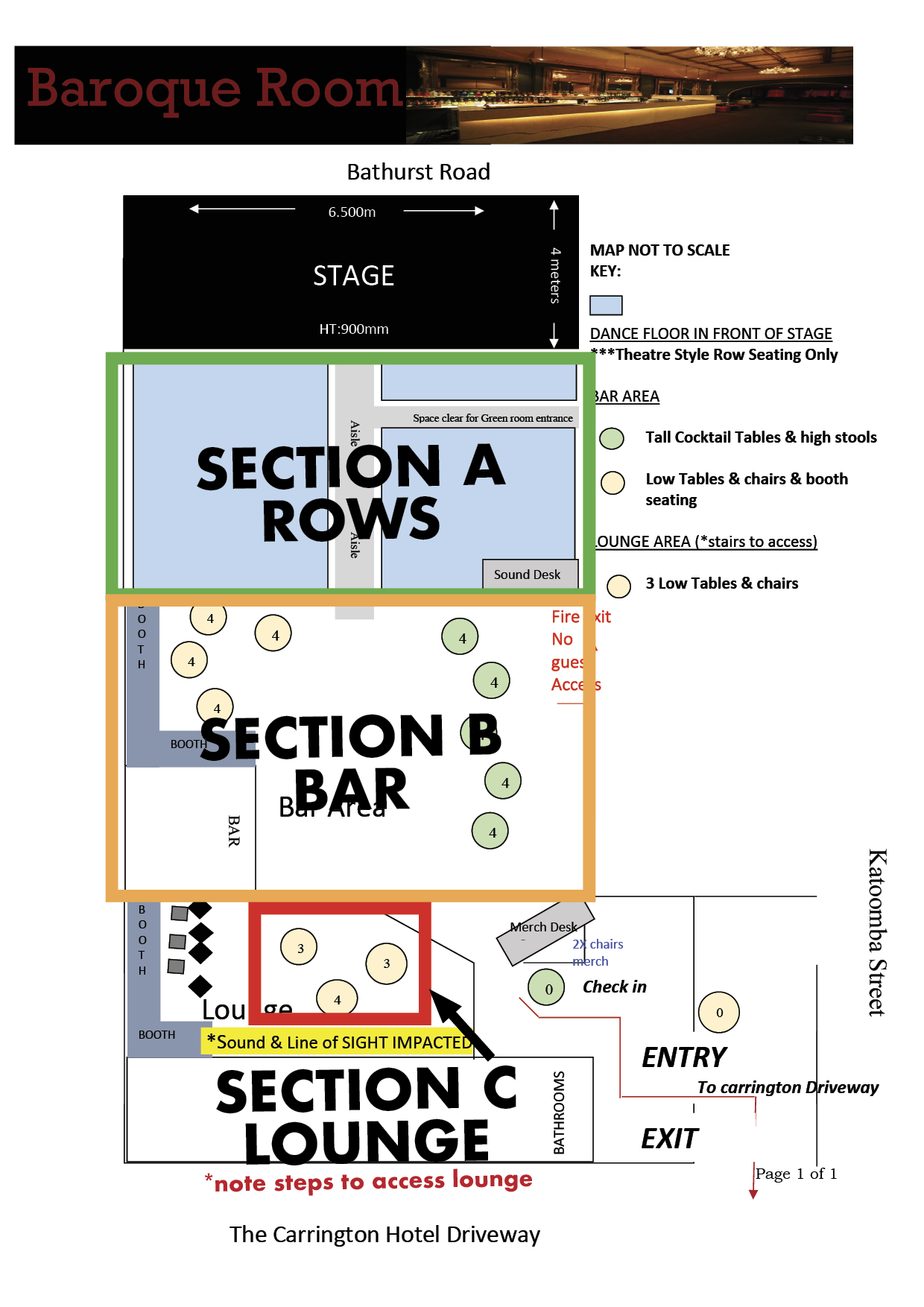 . . . . . . . . . . . . . . . . . . . . . . . . . . . . . . . . . . . . . . . . . . . . . . .
Please read the ATTENDANCE REQUIREMENTS before purchasing:
Fusion Boutique & The Carrington Hotel are registered COVID-SAFE businesses.
The health of our staff, performers and guests are of the highest priority. Thank you for your understanding while we navigate these current times.
• It is crucial that if you are experiencing any covid like symptoms (flu-like symptoms, fevers, sore-throats etc) that you please do not attend.
• All guests will have their temperature taken via a contact-less method on arrival.
• All guests will also have to sign in on a contact register when entering the venue. Sign-in must be done by providing accurate contact details (name and phone number or email address) and time of entry. Entry to patrons who will not provide valid contact information will be denied.
*** We will be providing contact-less check-in via QR code registration. To make this process smoother please download the Service NSW app prior to arrival: www.service.nsw.gov.au/campaign/service-nsw-mobile-app
When you arrive to the check in desk open the app and select "COVID Safe Check-in'. Once you have completed this process – show a Fusion Boutique staff member that you have signed in and then have your tickets verified.
• All bookings will have allocated seating and require group bookings.
Individual group bookings are unlikely to be able to be placed together unless requested prior to the event date.
• Please maintain physical distancing measures of 1.5m where possible.
• Hand washing and sanitising facilities will be available throughout the venue.
• Where possible, please use the COVIDsafe app.
• There will be no entry to the venue for guests prior to the stated doors open time.
Please note that there have been some changes to the health orders, as announced by the government on Tuesday 2nd November.
We will be complying with the NSW Health Orders and the dates of when further restrictions are eased have changed.
We are very pleased that from 8th Nov we will be back to being able to operate at 100 per cent fixed seated capacity.
Seating for these concerts are still allocated.
People who are fully vaccinated can now stand while consuming alcohol.
Singing and dancing is also permitted indoors from 8th Nov.
The current settings for masks, which apply to everyone, will remain in place until the State reaches the 95 per cent double vaccination target, or 15th December, whichever happens first. This was moved from the previous 1st Dec. As this concert is now likely to be before this new target date is reached, all guests will be required to wear a face mask while entering and attending the indoor area of this venue (unless eating or drinking or able to provide proof of a medical exemption). You need to wear your face mask again when the reason for taking it off has ended. *This may change if the 95% double vaccination rate is achieved prior to 15th Dec.
Those who are not fully vaccinated must still abide by pre-roadmap restrictions until the State reaches the 95 per cent double vaccination target, or 15 December, whichever happens first.
If you are not fully vaccinated you cannot visit an entertainment facility. Only the fully vaccinated (and those who can provide proof of medical exemptions) will be able to attend the venue and must show their evidence of full vaccination before entry will be granted.
Check in with the SeviceNSW app to the Baroque Room (which is a different area and venue to the Carrington Hotel and Old City Bank Hotel) will still be required on entry. Please try to check out promptly on departure too.
While we are progressing towards some sort of "normal" sooner than expected in many regards it is unfortunate that the government has changed some of the rules to a later date. As of last week we were at 93.65% for one dose and if the 95% double vaccination target is reached before 15th December, restrictions will ease to allow anyone to attend, and masks will no longer be required. We will update ticket holders with any further changes to attendance requirements that affect this show further as they are made.
Please remember as you prepare your return to venues, that the measures above have been put into place by the NSW Government to ensure all of our safety and staff are only doing their job as they try to follow these rules. Let's all treat each other with respect and enjoy the freedoms we have all been waiting so long for!
. . . . . . . . . . . . . . . . . . . . . . . . . . . . . . . . . . . . . . . . . . . . . . .
Room configuration will be seated and allocated and require group bookings.
Guests will not be able to move seating between sections or transfer from assigned seats.
Section A – Theatre Style Seating $40 pre + bf / $45 door per person
Section B – Bar Area $35 pre +bf / $40 door per person
Section C – Back Lounge $30 pre + bf / $35 door per person
(Please note that there are 2 stairs to access the lounge)
Ticket Link: https://events.humanitix.com/fbkimchurchill
*Door sales only available if not sold out prior.
Discount show pre-bookings will close 10am on the day of the event.
Your ServiceNSW Discover Vouchers can also be redeemed for concert bookings. One voucher can be used in the payment process online through Humanitix or contact us prior to booking to discuss how a combination of vouchers can be redeemed together for bookings.
Guests can still book with confidence knowing that, while tickets are normally non-refundable, if a show needs to be cancelled for any reason then all tickets will of course be refunded. If a show needs to be rescheduled then tickets will be valid for the new dates. In the instance of guest illness tickets can be transferred on request.

EARLY SHOW
Doors & Bar Open: 3pm (no entry prior)
Kim Churchill Set 1: 4pm – 4:35pm
15mins break
Kim Churchill Set 2: 4:50pm – 5:25pm
LATE SHOW
Doors & Bar Open: 7pm (no entry prior)
Kim Churchill Set 1: 8pm – 8:35pm
15mins break
Kim Churchill Set 2: 8:50pm – 9:25pm
CONTACT DETAILS OF EVENT ORGANISER: Charity Mirow
For more information visit: www.fusionboutique.com.au