Fusion Boutique Presents 'Live At The Attic' with
MISSY RAINES TRIO (Nashville) – Australian Tour
+ Special Guests WHOA MULE
Live in Concert, upstairs at Hotel Blue
Friday 18th October 2019, 6pm. Doors Open 5pm.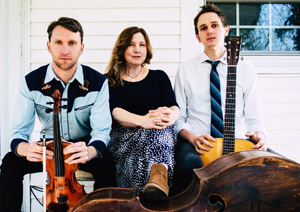 With a smoky and seductive alto, 7 Time International Bluegrass Music Association Bass Player of the Year, Missy Raines, heads up this all-acoustic ensemble. The territory the trio covers is broad and the compass is set by Raines, planted right in the centre of the stage directing with her bass every bit as much as she's playing it.
"Raines launches her well-tended craft off the bluegrass dock into the waters of jazz and folk, holding onto the anchor of bluegrass while pushing steadily at the boundaries of the music that engulfs her." – Country Standard Time.
In 1998 Raines became the first woman to win IBMA's Bass Player of the Year award and she went on to win the title more than any other bass player in the history of the organisation. She has proven herself without doubt, as an iconic bluegrass instrumentalist.
"The countless miles Raines has travelled are a gorgeous, weathered patina on her songwriting as well as the careful, intentional arrangements — and rearrangements — of these songs." — The Bluegrass Situation
"Her latest release, Royal Traveller, not only confirms her renowned instrumental status but also announces another first, as she debuts as a songwriter, 11 tracks that both reflect and reach beyond her bluegrass roots, to touch upon indie folk, jam grass and jazz-inspired material. " — Folk Radio UK
"It isn't often that a song will rope me into playing it on repeat. The title track of this album [Royal Traveller] though is one of those songs."  — Americana Highways
. . . . . . . . . . . . . . . . . . . . . . . . . . . . . . . . . . . . . . . . . . . . .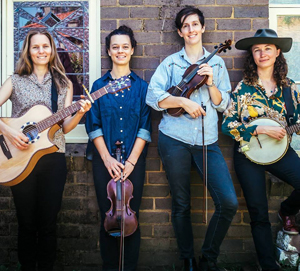 + Special Guests Whoa Mule

Whoa Mule brings you old time country ballads, original songs, and driving triple fiddle dance tunes. Inspired by the rapid weather changes of the Blue Mountains and the bustle of Sydney streets, these musicians deliver a performance characterised by both space and energy. With rich experience earned in bands such as Catgut and Golden Whistler, Whoa Mule puts a kick into old time music.
www.facebook.com/whoamulemusic
. . . . . . . . . . . . . . . . . . . . . . . . . . . . . . . . . . . . . . . . . . . . .
VENUE:
HOTEL BLUE 'LIVE AT THE ATTIC' Upstairs,
88 Lurline St, Katoomba, NSW 2780
Blue Mountains
The main entrance and reception are accessible via Merriwa St.
The upstairs performance space is in the function room on the top floor.
Access can be made up the stairs at the back of the lounge area.
Drinks and meals will be available for purchase from the bar downstairs.
*Please note that there is no bar on the level of the performance room.
Hotel Blue is an all ages venue however minors must be accompanied by a parent or legal guardian and must remain supervised and do require a standard ticket for entry. Please also keep in mind that the performance space is a seated listening room.
Doors Open upstairs 5pm. Show Starts 6pm.
General Admission. Theatre Style Seating.
Tickets DISCOUNT $30 pre-sale available from Hotel Blue reception (during reception open hours) 88 Lurline St, Katoomba, NSW 2780. (Cash Only)
Or + b/f Card /Phone 02) 4782 6922 and Online $32.50 (Including booking fees):
www.stickytickets.com.au/85995
Or $35 cash on the Door from 5pm (Unless Sold Out)
This is an intimate capacity venue and tickets are strictly limited!

CONTACT DETAILS: Charity Mirow 0409 042 869
For more information visit: www.fusionboutique.com.au