Fusion Boutique & Nomadic Fish Present
RORY McLEOD (UK) "Touring with Gusto! 2020"
Live in Concert at Pigeon Lane @ ONE88
Friday 24th January 2020, 7pm. Doors Open 6pm.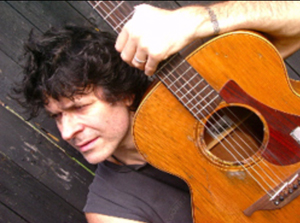 Fusion Boutique is very pleased to welcome one-man soul band, poet and storyteller Rory McLeod back to the Blue Mountains following his well received performances at the 2016 and 2019 Blue Mountains Music Festivals.
Tickets are extremely limited and we advise booking early to avoid disappointment.
Rhythmic storyteller and multi-instrumentalist Rory McLeod is a travelling troubadour toting stories and songs that are bold, percussive, lyrical and deeply personal. Wielding  guitars, harmonicas, trombone, spoons, stomp box, tap shoes, a big heart and a cheeky wit, his shows are enthralling and unforgettable.
"I've travelled to look for work, to mend a broken heart, to be with someone I longed for. I'd travel to visit friends and on the way I'd make new ones; I'd roam because I was curious to see what was around the next corner…"
He returns to Australia in Jan/Feb 2020, lugging a swag of new tunes, performing at Cygnet Folk Festival (TAS), Illawarra Folk Festival (NSW) plus some very special shows across Australia.
"McLeod is one of the most energetic, most generous performers I've seen." : Doug Spencer, ABC Radio.
"The charismatic British storytelling troubadour… tripped passionately through highly original and distinctive self-penned material." : Beat Magazine.
"…eloquently expressed ideas are set to vibrant, dynamic music with bouncy rhythms, infectious riffs and nifty tunes. McLeod transmitted a pure joy of music making …" : St Louis Post-Despatch (USA)
"A dynamic live performer – never still or silent, his shows radiate energy." : Venue magazine (UK)
www.rorymcleod.com
www.facebook.com/pg/rory.mcleodtalkativemusic
VIDEO :
The Quickest Way To Feel Rich : https://vimeo.com/312368339
I've Got No Use For A Gun : https://vimeo.com/312362447
Farewell Welfare  : https://youtu.be/om4rVKQ2mrM?t=105
The Wind is Getting Stronger : https://youtu.be/8MzL4jmKIpA
I Just Want to be Loved : https://youtu.be/8RglAzf83A4
When Mum and Daddy Made Me : https://youtu.be/L4XAJQlduiA
Sleep Tonight : https://youtu.be/m4vtsBCVUvU
Huge Sky : https://youtu.be/UBVfBL5qU6Q
. . . . . . . . . . . . . . . . . . . . . . . . . . . . . . . . . . . . . . . . . . . . .
VENUE:
PIGEON LANE @ ONE88 (Lower level of Gallery One88 which is at 188 Katoomba St)
Access to the performance space is via the graffiti Art Street walk of Beverly Place, Katoomba, Blue Mountains NSW 2780.
Pigeon Lane @ ONE88 is an intimate venue tucked away in the lower ground floor of art gallery ONE88 Fine Arts in the heart of Katoomba. The venue harks back to prohibition style speak easys where you could enjoy Jazz and Blues along with the atmosphere that the venues brought with it.
Pigeon Lane is an all ages venue however minors must be accompanied by a parent or legal guardian and must remain supervised and do require a standard ticket for entry. Please also keep in mind that the performance space is a listening room.
Dinner options, hot beverages including tea, coffee and hot chocolate and a variety of dessert cakes are available for purchase from the upstairs Art Gallery cafe, before and after the show and during intermission.
BYO alcoholic beverages for guests purchasing dinner from the upstairs cafe unless the liquor license is completed prior. Licensed Bar coming soon.
Doors Open via Beverly Place 6pm. Show Starts 7pm.
General Admission. Theatre style seating.
. . . . . . . . . . . . . . . . . . . . . . . . . . . . . . . . . . . . . . . . . . . . .
Tickets $30 DISCOUNT pre-sale available from GALLERY ONE88 (during opening hours)
188 Katoomba St, Katoomba, Blue Mountains NSW 2780. (Cash Only) For enquiries 02) 4782 1900.
Or Online $32.50 (Including booking fees):
www.stks.be/rorymcleod
Or $35 CASH on the Beverly Place Door from 6pm (Unless Sold Out)
This is an exclusive intimate capacity venue and tickets are strictly limited!

CONTACT DETAILS: Charity Mirow 0409 042 869
For more information visit: www.fusionboutique.com.au