Select Music & Fusion Boutique Presents 'Metro Social' with
ARCHIE ROACH
+ Special Guest SALLY DASTEY
Live in Concert at the 1930's Metropole Guesthouse.
Sunday 28th April 2019, 7pm. Doors Open 6pm.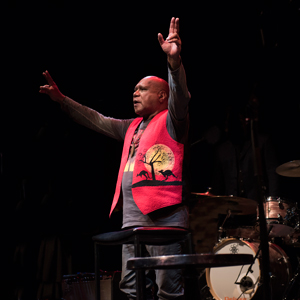 *** This evening show is now SOLD OUT! ***
DUE TO POPULAR DEMAND A 2ND & FINAL MATINEE SHOW HAS BEEN ADDED.
Doors Open 12pm Sun 28th April: www.stickytickets.com.au/82759
For a fabulous range of other Blue Mountain events visit: www.fusionboutique.com.au
We advise booking early to avoid disappointment.  ***
Australian singer-songwriter Archie Roach's music speaks the stories of his people, of this land and of the human condition. His voice – uniquely Australian and undeniably universal – continues to resonate for us all.
Archie emerged in the early '90s. His ARIA-winning debut album, Charcoal Lane, was named one of Rolling Stone Magazine's Top 50 albums of 1992. It centred around Archie's heartbreaking song, 'Took the Children Away'.
The song was a deeply affecting ballad about his own experience as one of the "Stolen Generations" of First Nations children who were often forcibly removed from their parents and communities and placed in non-indigenous institutions and homes.
The song's impact was immediate. It went on to receive a Human Rights Achievement Award; the first time such an honour had been bestowed upon a songwriter and in 2013 it was added to the National Film and Sound Archive's Sounds of Australia collection.
Archie's career has spanned three decades. His work has been recognised locally and internationally. He has shared the stage with some of the world's most iconic artists, including the late Leonard Cohen, Rodriguez, Bob Dylan, Tracy Chapman, Billy Bragg, Paul Simon, Joan Armatrading, Suzanne Vega and Patti Smith.
Archie will be performing songs from his new 3 CD box set of recent live shows, Into the Bloodstream 2012; Let Love Rule 2016 and Dancing With My Spirit 2018, marking the first time Archie has released recordings of his live concerts.
Archie has faced his fair share of difficulties over recent years. In early 2010 his long-time partner, collaborator and soul mate Ruby Hunter passed suddenly. He suffered a serious stroke in late 2010 followed by lung cancer surgery in 2012. Despite these challenges Archie continues to draw strength and healing from his music.
www.archieroach.com
www.facebook.com/archieroach
. . . . . . . . . . . . . . . . . . . . . . . . . . . . . . . . . . . . . . . . . . . . .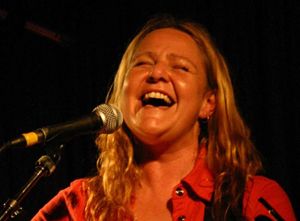 + Special Guest SALLY DASTEY

Sally Dastey is a much loved Australian performer.
In 2002 she released her first solo album Secrets To Keep after ten years as part of the highly successful and critically acclaimed Tiddas.
Since Secrets To Keep Sally has continued touring, supporting the likes of Eddie Reader (Scotland) & Boo Hewerdine (English) as well as local favourites such as Nick Barker, Sal Kimber & The Rolling Wheel, and The Rosie Burgess Trio.
Sally's second album Half A Wish, Half A Moon did not disappoint with a mix of new original material and the inclusion of the traditional Scottish folk song Wild Mountain Thyme.
December 2010 saw the release of her long-awaited children's CD 'Goodness!' which was greeted with enthusiasm and excitement. She has a new album in the works, with plans for release later in the year, and continues to make her mark as one of the country's finest female vocalists.
. . . . . . . . . . . . . . . . . . . . . . . . . . . . . . . . . . . . . . . . . . . . .
VENUE:
'METRO SOCIAL' Metropole Guesthouse Lounge Upstairs (lift available)
Cnr of Lurline and Gang Gang Streets, Katoomba, Blue Mountains NSW 2780.
Opposite the Katoomba train station.
The upstairs performance space in the lounge is on the first floor. Access can be made up the stairs if entering from the front or via the lift at the back of the hotel through the atrium.

The Metropole is an all ages venue however minors must be accompanied by a parent or legal guardian and must remain supervised and do require a standard ticket for entry. Please also keep in mind that the performance space is a listening room.
Drinks and light meals will be available from the Metro Retro pop up bar upstairs once doors open.
Doors Open 6pm.
Support Starts 7pm.
General Admission. Theatre Style Seating, cocktail lounge and some standing room.
Tickets $60 DISCOUNT pre-sale available from THE METROPOLE GUESTHOUSE (during reception hours) Cnr of Lurline and Gang Gang Streets, Katoomba, Blue Mountains NSW 2780. (Cash Only)
Or + b/f Card /Phone 02) 4782 5544 and Online $63.50 (Including booking fees):
www.stickytickets.com.au/82483
Or $65 on the Door from 6pm (Unless Sold Out)
This is an intimate capacity venue and tickets are strictly limited!

CONTACT DETAILS: Charity Mirow 0409 042 869
For more information visit: www.fusionboutique.com.au