Proudly presented and supported by Blue Mountains City Council in partnership with
Fusion Boutique Presents and Shelter Studios:
LOVE LOCAL LIVE Series 2 – a 2nd showcase of live streamed music performances by local artists held at a local recording and rehearsal studio with production by KFM Media.
Every Thursday 7:30-8:30pm for 5 weeks from 15th October.
Love Local Live

10) –

DEE (ANDIE)
Thursday 5th November 7:30-8:30pm
FREE LIVE STREAMED MICRO MUSIC CONCERT
Love Local Live was the Blue Mountains City Council's first-ever series of local events that was brought to the community via live streaming.
Blue Mountains Mayor Mark Greenhill said: "While restrictions are slowly easing, public gatherings are still limited and we understand many in our community are hesitant to venture out into crowds. That's why Council is still looking for creative and safe ways to engage with you. The new Love Local Live series will bring a little entertainment to you, wherever you are, while supporting and promoting local businesses and creatives."
Due to the overwhelming popularity of the first live streaming series a 2nd series of the Love Local Live streaming project is being presented.
Fusion Boutique's curator and producer Charity Mirow couldn't be happier to have the chance to showcase some more of our fabulous local talent and work with some of the wonderful creatives of our region, especially when the current climate remains so challenging surrounding venue capacities, national and international touring and live music in general.
More information on the upcoming artists will be posted on the Fusion Boutique Presents facebook page: www.facebook.com/FusionBoutiquePresents
. . . . . . . . . . . . . . . . . . . . . . . . . . . . . . . . . . . . . . . . . . . . .
Previously known as Andie Isalie, Dee, has chosen to rebrand herself amidst a new stage in life. Growing up in the Blue Mountains, Dee gained a hefty YouTube following throughout her teenage years under her old pseudonym, which brought opportunities of international touring and collaboration, crowd sourced projects and caught the eye of major players in the industry including SONY. Revaluating her career intentions and aspirations as a largely self-taught and immensely passionate soul/jazz/folk musician, Dee thought it best to turn a new leaf from a brand she felt was heavily tied to the YouTube sensibility, a mix of popular covers and original work. This change has been a weight lifted. While many fans of Dee's previous work have joined the cause in support of her current musical journeys, this is a new chapter as Dee opens the door to a sense of freedom to be able to create with no prior held expectation. Standing at 4'11 and half, with steel lungs, infectious laughs and a totally DIY kitted out school bus as a house, Dee is synonymous with her raw lyricism and relatable energy.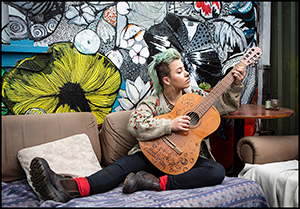 Images by Inertia Photography.
As part of the project each performer will have a photo shoot with Inertia Photography to provide them with images to add to their portfolio.
www.inertiaphotography.net
www.facebook.com/inertiaphotographybyLonaa
www.instagram.com/masala_madam
. . . . . . . . . . . . . . . . . . . . . . . . . . . . . . . . . . . . . . . . . . . . .
VENUE: SHELTER STUDIO
Unit 1 / 79 Barton St, Katoomba, NSW, 2780, Blue Mountains.
www.shelterstudio.com.au
Phone 0466 719 268 for recording and rehearsal bookings.
Show your support for the arts and join us online every Thursday night 7:30-8:30pm from 15th October for 5 weeks.
FREE VIEWING. Show 7:30pm-8:30pm.
More information on the upcoming artists will be posted on the Fusion Boutique Presents facebook page and you can set a reminder for the next week's stream: www.facebook.com/FusionBoutiquePresents

Visit the 'Live' tab to view all active and past streams:
www.facebook.com/FusionBoutiquePresents/live_videos
A season 1 highlights video along with the previous live mini concerts can also be viewed on our Youtube channel:

CONTACT DETAILS: Charity Mirow 0409 042 869
For more information visit: www.fusionboutique.com.au