The Green Mohair Suits Album Launch Tour
+ The Haywood Billy Goats (USA)

Sat 26th Nov 2016
Venue: HOTEL GEARIN, 273 Great Western Hwy, Katoomba, Blue Mountains NSW 2780.
The Green Mohair Suits are about much more than delivering new takes on old sounds. Their inspired musicianship has seen them compile a collection of quality original tunes – a solid mix of heartbreak and hangover, humour and humility – that are crying out to entertain a broader audience. Occupying a broad musical landscape between influences like Beck, Fleet Foxes, Hank Williams, Tom Waits, Portishead & Gram Parsons, band member Campeau labels their music "Garage-grass", adding fans should "expect sad songs and waltzes." He forgets to add that they should also prepare themselves for a harmonious blur of booze-soaked good times, mixed with schooner-loads of emotion and energy. "See us because we're super hot and our harmonies are like having an orgasm on a mountain top," Campeau declares. "The vibe onstage is always great – we focus much more on having a good time than being perfectionists."
We are very pleased to present the Green Mohair Suits for their latest Album Launch.
'This album gets into your head the way a green mohair suit would get all over your couch' – Tristian Lutze
"Green Mohair Suits make music for pleasure. Our Pleasure. If you don't find yourself smiling, tapping or joining in on one of those harmonies, you're leading a very sad life" – Bernard Zuel
"Their strength lies in their uber-tight harmonies that blend in virtuosic layers, equal parts Fleet Foxes and CSN. Like local alumni Little Bastard they've captured the vibe and mood of their live performances while granting their songs their moment in the studio spotlight. 'Wooden Duck ' is a rewarding blend of bluegrass and both modern and traditional folk music." – Chris Familton
www.greenmohairsuits.com
www.facebook.com/GreenMohairSuits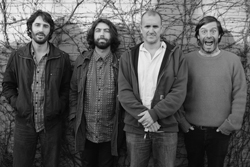 . . . . . . . . . . . . . . . . . . . . . . . . . . . . . . . . . . . . . . . . . . . . .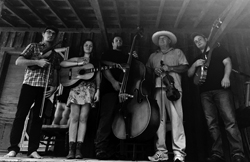 We are also extremely pleased to present Chatham County, NC based old time dance band The Haywood Billy Goats who are touring Australia for a lot of the summer festivals including the Dorrigo Folk Festival.
The Haywood Billy Goats have become one of the most respected string bands in the North Carolina old time music scene.
Their tight, hard-driving sound and repertoire of traditional NC dance music has earned the band top finishes in a number of reputable string band contests throughout the region as well as numerous ribbons for twin fiddling.
Members of the group have won blue ribbons at prestigious contests such as the Mt. Airy, Union Grove, and Fiddler's Grove Festivals as well as a first place finish at the 2015 Australian National Bluegrass Mandolin Championship. In addition to being in demand as a square-dance band across North Carolina, the Haywood Billy Goats have played for dance contests at various festivals throughout the region and have performed with legendary NC dance ensemble, the Green Grass Cloggers.
Holding great appreciation for older-generation musicians in the traditional music community, the Billy Goats have spent considerable time playing with and learning from many respected old time musicians from the Round Peak and Piedmont regions of North Carolina. Members of the Billy Goats have also performed with Sierra Hull, Ricky Skaggs, Jim Lauderdale, Chris Henry and the Hardcore Grass, and Mandolin Orange.
www.facebook.com/HaywoodBillyGoats
. . . . . . . . . . . . . . . . . . . . . . . . . . . . . . . . . . . . . . . . . . . . .
Venue: HOTEL GEARIN
273 Great Western Hwy, Katoomba
Blue Mountains NSW 2780.
*Please note that Hotel Gearin shows are over 18's only.
Doors Open 8:30pm. Show Starts 9pm.
General Admission. Room configuration is a mix of cabaret seating and standing/dancing.
Tickets DISCOUNT Early Bird pre-sale $15 available from:
KATOOMBA MUSIC, 140 Katoomba St, Katoomba, NSW 2780 (Tues-Sat. Cash Only) or the Hotel Gearin front Bar during open hours.
Or online $16.50 (Including booking fees): www.stickytickets.com.au/41355
*Please Note – there are a limited number of pre-sale discount tickets available!
Or $20 on the Door from 8:30pm (Unless Sold Out)