Fusion Boutique Presents 'Metro Social' with
LOLO LOVINA
live in Concert at the 1930's Metropole Guesthouse.
Friday 9th February 2018, 6:30pm. Doors Open 5:30pm.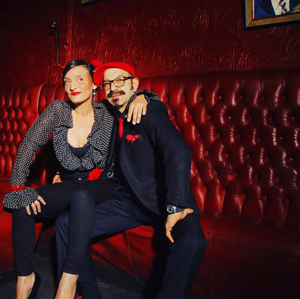 We are very pleased to welcome back Lolo Lovina ahead of their performance by invitation at one of the biggest festivals in the world – SXSW in Austin, Texas.

Lolo Lovina ('Red Beer') are an intoxicating, cosmopolitan virtuosic brew infused with Unza, Swing and Balkan Gypsy beats. The only ethnic Romani band in Australia, fronted by Hungarian Romani-Gypsy singer Sarah Bedak.
Lolo Lovina's music reflects the cosmopolitan identity of an artist, who grew up with three native tongues and cultures. The charming and passionate performance of the charismatic singer makes each of her concerts an unique experience. Featuring Serbian Rroma drummer and guitarist Nenad Radic, Stuart Vandegraaff on Sax, clarinet & Ney, David Carr on guitar and banjo & Nathan Gatt on double bass.
Lolo Lovina have played at the Opera House, Guca Festival Serbia, in New Caledonia, in Europe and to full houses wherever they go.
Their album Rroma Sapien received a 4 Star review in the London based World Music magazine Song Lines (June 2016) with Rroma Sapien and RromAntics both being featured on ABC Radio Nationals program, 'The Daily Planet'.
"(Lolo Lovina)…have created an album that swings from traditional to groundbreaking Rroma music, all imbued with a tremendous sense of fun" – Lucky Oceans, The Daily Planet ABC Radio National
'Excellent new, vibrant album (RromAntics!) from world-touring,  Sydney-based Rrom music band…' –  Lucky Oceans, The Daily Planet, ABC Radio National
"You have to listen to these people, this is the future of music" – Brian Eno, Luminous Festival, Sydney Opera House
"With musicians from Ukrainian/Romanian, Hungarian and Brazillian backgrounds, this music is authentic to its roots and played with vigour and precision." – Bradfield Dumpleton

"Musically and culturally Planet/MGM consider the group to be in the forefront of contemporary world music coming out of Australia. Their live performances are exciting, varied and professional with consummate performance skills from all members." – Graeme Regan, MGM the Planet Company

"…Traditional Gypsy tunes alternate with Lolo originals here, and the  arrangements are solid,    tight, classy and brassy…" – 4  STAR review of  Rroma Sapien by Seth Jordan in Songlines Magazine, London    UK. June 2016   
. . . . . . . . . . . . . . . . . . . . . . . . . . . . . . . . . . . . . . . . . . . . .
VENUE: 'METRO SOCIAL' Metropole Guesthouse Lounge Upstairs (lift available) Cnr of Lurline and Gang Gang Streets, Katoomba, Blue Mountains NSW 2780.
Opposite the Katoomba train station.
There is limited parking available at the rear of the property. Access can also be made through the rear. If entering from the front the bar/restaurant is on the right.
The Metropole is a family friendly venue!
*Minors must be accompanied by a parent or guardian and supervised.
Children do require a ticket for entry.
Drinks and light meals will be available from the Metro Retro bar once doors open.
Doors Open 5:30pm. Show Starts 6:30pm.
General Admission.
General Admission. Theatre Style Seating, cocktail lounge and some standing room.
Tickets $20 DISCOUNT pre-sale available from THE METROPOLE GUESTHOUSE (during reception hours) Cnr of Lurline and Gang Gang Streets, Katoomba, Blue Mountains NSW 2780. (Cash Only)
Or + b/f Card /Phone 02) 4782 5544 and Online $21.50 (Including booking fees):
www.stickytickets.com.au/62000
Or $25 on the Door from 5:30pm (Unless Sold Out)
This is an intimate seating space and tickets are exclusively limited

CONTACT DETAILS: Charity Mirow 0409 042 869
For more information visit: www.fusionboutique.com.au