Fusion Boutique Presents 'Metro Social' with
ÁINE TYRRELL
+ Special Guests SMITH & JONES
Live in Concert at the 1930's Metropole Guesthouse.
Friday 14th June 2019, 6pm. Doors Open 5pm.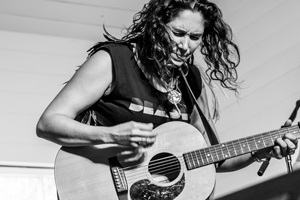 "Tyrrell's incredible journey is one you'd be well advised to follow… A purveyor of elegant yet seductively psychedelic folk songs…." – Iain Shedden, The Australian
"Áine Tyrell delivers anthems for humanity with her new album Return to the Sea" – HHHhappy Mag
Story is at the forefront for troubadour Áine Tyrrell whose rich song-writing practice draws deeply on her Irish roots. Her latest offering 'Return to the Sea' was written and recorded in her homeland but mastered and crowd funded with one boot in the red dirt of her adopted country of Australia. Fiercely independent Tyrrell is not one to bend to the demands of conventional production arrangements, and so with the help of Creative Arts Victoria, her long time musical producer Mark Stanley, and her international fan base, 'Return To The Sea' went rogue, recording in lounge rooms, front bars, old churches, and remote islands.
Return To The Sea has just been released with first song "In This House" gaining international attention as a finalist in the 2018 International Song-writing Competition and being used across schools in South Australia to reteach the history of colonisation. In This House along with 9 other tracks make an album that is a treasure trove of contemporary narratives and musical sojourns with a solid respect for tradition and a passion for adventure and travelling to new lands, both real, and musical. 'Return to the Sea' is a passionate journey as it draws from a number of styles and influences. Certainly, the traditional Irish folk is in her blood, but so too are elements of soul and rock 'n' roll, entwined within her lyrical testaments. 'Return To The Sea' is a call to arms, a siren's wisdoms and warnings, and most importantly the soundtrack of a woman who walks her own beat.
Her unwavering passion for justice and integrity has led to her supporting current Women's Rights and Indigenous Rights issues through performances, social media campaigning, song writing and public speaking engagements.
"'Return to The Sea' is about standing in power, owning your own skin and making sense of the shared responsibility we have as humans. The album embraces stories that have inspired me to do more than just sit and hope for change." Said Tyrrell of the album.
"It is my call to arms. Many observations between Australia and Ireland are scattered through the tracks, but the one common thread is that together we rise in strength when one human experience can mirror and then shape our collective understanding and action."
www.ainetyrrell.com
. . . . . . . . . . . . . . . . . . . . . . . . . . . . . . . . . . . . . . . . . . . . .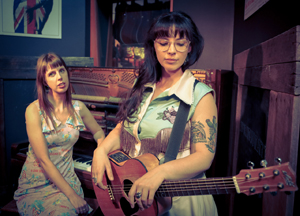 + Special Guests SMITH & JONES

Smith & Jones are a duo from Bathurst, made up of keyboard player and vocalist Abby Smith, with guitarist and vocalist Sophie Jones. They have never been ones to follow the pack. Though classified as alt-country, their goal has never been to remain within the confines of any genre, preferring to let their sound and their songs take them where they will. Nowhere does this desire for individuality shine brighter then on their newly released second album 'Something Worth Learning' which is still full of the charm and joy audiences have come to expect from them This new work delicately balances themes of love and loss, friendship and isolation, emotional desire and freedom, fearlessly exploring the depths of their musical partnership with the listener by their side.
Smith & Jones' first album, 'Dark Gives Way', released in 2017, was extremely well received with it's first three singles; 'Baby Blue', 'Small Town Woman' and 'Your Achin' Heart', all went to
number one on the internet's Australian Country Radio charts and received airplay around the country.
Though their roots will always remain in the foundations of country music, their originals have found an undefinable energy of their own. Part classic country ballads, part sweet jazz standards, and often with a tongue firmly planted in their cheek, their beauty is in their harmonic simplicity and lyrical power.
"They've taken the path of making music that they want to hear themselves, whether it's the catchy pop sounds as heard on the first single SecondHand Heart or Running from Something. A slice of fun with a bit of walking bass and finger snapping, singing a love letter to the "Boss" which was written after seeing him in concert: Last Night I saw Jesus. Then there's beautiful piano ballads "One Last Time" and "In The Middle of the Night" which could have easily echoed out around Laurel Canyon in the early '70s." – Pat Coomey
www.smithandjones.net
. . . . . . . . . . . . . . . . . . . . . . . . . . . . . . . . . . . . . . . . . . . . .
VENUE:
'METRO SOCIAL' Metropole Guesthouse Lounge Upstairs (lift available)
Cnr of Lurline and Gang Gang Streets, Katoomba, Blue Mountains NSW 2780.
Opposite the Katoomba train station.
The upstairs performance space in the lounge is on the first floor. Access can be made up the stairs if entering from the front or via the lift at the back of the hotel through the atrium.

The Metropole is an all ages venue however minors must be accompanied by a parent or legal guardian and must remain supervised and do require a standard ticket for entry. Please also keep in mind that the performance space is a listening room.
Drinks and light meals will be available from the Metro Retro pop up bar upstairs once doors open.
The downstairs restaurant bar will be open 1 hour prior to the upstairs performance space for pre-show drinks and early food orders.
Doors Open 5pm. Show Starts 6pm.
General Admission. Theatre Style Seating, cocktail lounge and some standing room.
Tickets $20 DISCOUNT pre-sale available from THE METROPOLE GUESTHOUSE (during reception hours) Cnr of Lurline and Gang Gang Streets, Katoomba, Blue Mountains NSW 2780. (Cash Only)
Or + b/f Card /Phone 02) 4782 5544 and Online $21.50 (Including booking fees):
www.stickytickets.com.au/85078
Or $25 on the Door from 5pm (Unless Sold Out)
This is an intimate capacity venue and tickets are strictly limited!

CONTACT DETAILS: Charity Mirow 0409 042 869
For more information visit: www.fusionboutique.com.au