Fusion Boutique Presents 'Metro Social' with
SCOTTISH FOLK:
ALAN REID (ex-Battlefield Band) and ROB van SANTE
+ Special Guests WOMBATS CROSSING
Live in Concert at the 1930's Metropole Guesthouse.
Friday 28th September 2018, 6pm. Doors Open 5pm.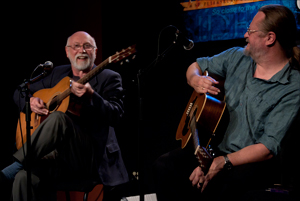 Alan Reid was a vital member of Battlefield Band from its inception in 1969 till his departure in 2010. In that time he toured all over the world and made almost 30 recordings with the band, working with such artists as Garrison Keillor, Van Morrison and Mike Oldfield. They won awards in Germany, Britain and the U.S. and throughout Alan was at the heart of the band, his keyboards underpinning the bagpipes and the fiddle. In being the first to use keyboards as an integral part of a traditional folk band Alan's contribution to the band's story has ensured its stature in Scottish culture as well as its influence on many of today's Celtic musicians.
Alan's singing has long been respected by his peers and his song writing has grown in stature ever since the 1980s when his songs first appeared in the band repertoire, lyrical songs steeped in history, strong in storytelling and rich in melody.
Dutch born Rob van Sante is a guitarist of skill and subtlety and a highly respected singer with a wealth of experience playing with a variety of prominent English folk and Celtic musicians.
His mother was a child prodigy on piano so it is no surprise that music has played an important part in his life.
Rob has appeared on many albums displaying his virtuoso vocal ability both as a lead and harmony singer, also showcasing his undoubted instrumental skills to a variety of projects. All these strands come together to make a perfect foil to Alan and his music.
Alan & Rob present an evening of old and new music, featuring Alan's compositions, Battlefield Band favourites and songs from Rob. The show combines open tuned lead and accompaniment guitar work from Rob, Alan's keyboard, guitar and accordion and fine harmony singing from both.
"Alan Reid…a singing voice which comes over as effortless, and undoubted ability as a songwriter. His emotion filled 'The Road of Tears' one of the highlights" – THE PERTHSHIRE ADVERTISER
"Robber Barons by Alan Reid, a song of quiet and thoughtful fury rather than furious polemic…" – ROBIN DENSELOW, BBC
"Rob van Sante provides beautiful guitar backing…with gentle passion eliciting harmonies and driving rhythms…delivering songs with heartfelt sincerity" – THE BEAT MAGAZINE, LONDON, ONTARIO
. . . . . . . . . . . . . . . . . . . . . . . . . . . . . . . . . . . . . . . . . . . . .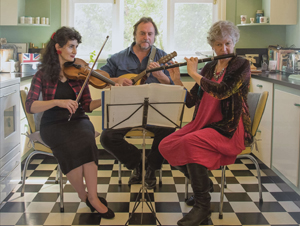 + Special Guests WOMBATS CROSSING

With a foot in Australian and Celtic music camps, singer Christine Wheeler leads her trio Wombats Crossing in a rich blend of delicacy, strength and beautiful melodies. Christine's classic folk singing style is amplified by Rebecca Daniel's distinguished experience as orchestral lead violinist and Leigh Birkett's capacity for harmonic invention on guitar, bouzouki and mandolin.
"Christine Wheeler's beautiful voice swirls and layers with her accomplished musical friends to inflate a venue with exquisite ripples of sound. This music is compassionate, powerful and joyful." – NSW Folk Federation Magazine
"Your performance as a singer and musician is delightful and I was completely taken by how you own this music. Your fellow musicians and singers are also superb in their performances." – Warren Daly, OAM
www.christinewheeler.net.au/wombats-crossing.html
. . . . . . . . . . . . . . . . . . . . . . . . . . . . . . . . . . . . . . . . . . . . .
VENUE:
'METRO SOCIAL' Metropole Guesthouse Lounge Upstairs (lift available) Cnr of Lurline and Gang Gang Streets, Katoomba, Blue Mountains NSW 2780.
Opposite the Katoomba train station.
If entering from the front the cocktail bar/restaurant is on the right and access to the upstairs performance space in the lounge is up the stairs or via the lift towards the back of the hotel.
Access can also be made through the rear and the lift to the lounge is in the atrium.

The Metropole is an all ages venue however minors must be accompanied by a parent or legal guardian and must remain supervised and do require a standard ticket for entry. Please also keep in mind that the performance space is a listening room.
Drinks and light meals will be available from the Metro Retro pop up bar upstairs once doors open.
Doors Open 5pm. Show Starts 6pm.
General Admission. Theatre Style Seating, cocktail lounge and some standing room.
Tickets $20 DISCOUNT pre-sale available from THE METROPOLE GUESTHOUSE (during reception hours) Cnr of Lurline and Gang Gang Streets, Katoomba, Blue Mountains NSW 2780. (Cash Only)
Or + b/f Card /Phone 02) 4782 5544 and Online $21.50 (Including booking fees):
www.stickytickets.com.au/71128
Or $25 on the Door from 5pm (Unless Sold Out)
This is an intimate seating venue and tickets are strictly limited!

CONTACT DETAILS: Charity Mirow 0409 042 869
For more information visit: www.fusionboutique.com.au