*** PLEASE NOTE THAT THIS EVENT IS NOW 'SOLD OUT'!
There are a fantastic range of other Blue Mountains events available at www.fusionboutique.com.au
We advise booking early to avoid disappointment.
Fusion Boutique Presents 'Metro Social' with 
FOURWINDS (Ireland) live in Concert at the 1930's Metropole Guesthouse.
Saturday 21st Jan 2017, 6:30pm. Doors Open 5:30pm.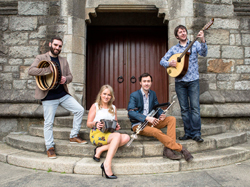 "FourWinds deliver their tunes and songs with sublime musicianship and conviction, you can only love this band's music" – Paddy Keenan
Deeply rooted in the tradition, FourWinds produce an exciting landscape of tunes and lyrics that present Irish traditional music in a modern and creative context.
Their influences include Begley and Cooney, The Bothy Band, Planxty, Brady and Irvine, Moving Hearts, Pink Floyd and even Elvis. This energetic quartet delivers a truly unique musical experience.
The band has been awarded the prestigious Danny Kyle Award, presented by the Celtic Connections festival board in recognition of outstanding emerging talent in Celtic music. FourWinds has also been chosen as one of three finalists in the Rising Stars Competition, held by The Gathering in Killarney, Ireland.
The band has performed as FourWinds since 2013 however Daoiri, Tom, Caroline and Robbie have toured extensively throughout Europe, Canada and America in both solo and group contexts (The Daoiri Farrell Band, Solid Clarity and Tom Delany and Caroline Keane duo) for many years, having shared stages with such renowned musicians as Paddy Keenan, The Chieftains, Tommy O'Sullivan, De Temps Antan, FullSet, Muireann NicAmhlaoibh, Karen Tweed and many more.
All four members have received awards at national level, Daoiri and Robbie having claimed the coveted All Ireland titles at Fleadh Cheoil na hÉireann. Daoiri's debut solo album 'The First Turn' received critical acclaim in 2010, while Tom and Caroline's debut 'Framework' was featured in Tradconnect's top selling list. The members also feature frequently on many mainstream Irish television channels, including RTÉ, TV3 and the Gaelic language television channel TG4.
FourWinds have just released their debut album, "FourWinds" and are looking forward to a long spring / summer of performances around Ireland, Canada, Europe, including Brittany, France, The U.K and Australia.
Featuring:
Daoiri Farrell: Vocals & Bouzouki
Caroline Keane: Concertina, Whistles & Backing Vocals
Tom Delany: Uilleann Pipes, Whistles & Backing Vocals
Robbie Walsh: Bodhrán, Percussions & Backing Vocals
www.fourwindsirishmusic.com
www.facebook.com/fourwinds.tradmusic
. . . . . . . . . . . . . . . . . . . . . . . . . . . . . . . . . . . . . . . . . . . . .
VENUE:
METRO SOCIAL' Metropole Guesthouse Lounge Upstairs (lift available) Cnr of Lurline and Gang Gang Streets, Katoomba, Blue Mountains NSW 2780.
Opposite the Katoomba train station.
There is limited parking available at the rear of the property. Access can be made through the rear and the lift to the lounge is in the atrium.
If entering from the front the cocktail bar/restaurant is on the right and access to the upstairs performance space in the lounge is up the stairs or via the lift towards the back of the hotel.
The Metropole is a family friendly venue!
*Minors must be accompanied by a parent or guardian and supervised.
Children do require a ticket for entry.
There is also a retro cocktail bar downstairs and drinks and light meals will be available from the Metro Retro pop up bar.
Doors Open 5:30pm. Show Starts 6:30pm.
General Admission. Theatre Style Seating, cocktail lounge and some standing room.
Tickets $20 DISCOUNT pre-sale available from THE METROPOLE GUESTHOUSE (during reception hours) Cnr of Lurline and Gang Gang Streets, Katoomba, Blue Mountains NSW 2780. (Cash Only)
Or + b/f Card /Phone 02) 4782 5544 and Online $21.50 (Including booking fees):
www.stickytickets.com.au/44465
Or $25 on the Door from 5:30pm Saturday 21st Jan 2017 (Unless Sold Out)
This is an intimate seating venue and tickets are strictly limited!

CONTACT DETAILS: Charity Mirow 0409 042 869
For more information visit: www.fusionboutique.com.au