Lolo Lovina 'RrOMaNTICS' Album Launch
+ Special Guests: Belle Jar

Sat 10th Dec 2016
Venue: HOTEL GEARIN, 273 Great Western Hwy, Katoomba, Blue Mountains NSW 2780.
Fresh from their European CD tour, Lolo Lovina launch their new album in the Blue Mountains.
We had the distinct pleasure of bringing this fabulous act to the Blue Mountains last time and now have the honour of hosting them again a little over two and a half years later!
Presenting again 2 fantastic acts in one night –
Tango, Swing, Jazz, Multicultural Gypsy Rhythms with a touch of Balkan & French Flavouring!
Lolo Lovina ('Red Beer') are an intoxicating, cosmopolitan virtuosic brew infused with Unza, Swing and Balkan Gypsy beats. The only ethnic Romani band in Australia, fronted by Hungarian Romani-Gypsy singer Sarah Bedak.
Lolo Lovina's music reflects the cosmopolitan identity of an artist, who grew up with three native tongues and cultures. The charming and passionate performance of the charismatic singer makes each of her concerts an unique experience. Featuring Serbian Rroma drummer and guitarist Nenad Radic, Stuart Vandegraaff on Sax, clarinet & Ney, David Carr on guitar and banjo & Nathan Gatt on double bass.
Lolo Lovina have played at the Opera House, Guca Festival Serbia, in New Caledonia, in Europe and to full houses wherever they go. Their album Rroma Sapien received a 4 Star review in the London based World Music magazine Song Lines (June 2016) and was played in full on National Australian radio.
'RrOMaNTICS' Lolo Lovina's 3rd album features Lolo Lovina originals, traditional Rroma (Gypsy)  tunes as well as signature 'Lolo-fied' covers. 'RrOMaNTICS' sees influences of Argentinian tango, Oz rock and deep Romanian Rroma. Expect soulful, fun, fresh, a little bit naughty and totally RrOMaNTIC! 
Highlights:
Rroma Sapien featured on The Daily Planet, ABC Radio National March 2015
Sydney Opera House 40 Anniversary Concert, 2013
Live En Aout Festival, New Caledonia 2014
Australian tour with the New York Gypsy All Stars, 2013
Guca Trumpet Festival, Serbia 2011
Brian Eno's Luminous Festival; The Opera House; 2009
Spiegeltent 2009
"(Lolo Lovina)…have created an album that swings from traditional to groundbreaking Rroma music, all imbued with a tremendous sense of fun" – Lucky Oceans, The Daily Planet ABC Radio National
"You have to listen to these people, this is the future of music" – Brian Eno, Luminous Festival, Sydney Opera House
"With musicians from Ukrainian/Romanian, Hungarian and Brazillian backgrounds, this music is authentic to its roots and played with vigour and precision." – Bradfield Dumpleton

"Musically and culturally Planet/MGM consider the group to be in the forefront of contemporary world music coming out of Australia. Their live performances are exciting, varied and professional with consummate performance skills from all members." – Graeme Regan, MGM the Planet Company

www.lololovina.wordpress.com
www.lolothegypsycaravanstage.com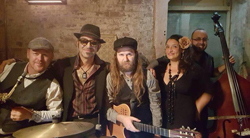 . . . . . . . . . . . . . . . . . . . . . . . . . . . . . . . . . . . . . . . . . . . . .
Ignited in the catacombs of Paris, Belle Jar brings you the madness and mayhem of infectious rhythms and manic fables.
They play an original blend of Gypsy, Klezmer, Swing and Pop styles, with English and French lyrics. They tell stories of anti-heroes trying to break out of the ordinary that will get you up and dancing.
Belle Jar's infectious energy has spread from festival to festival over the last few years. Their genuine interaction with people and their passion for what they do is evident. These guys will fire up your old country longings as wild boom-chak boom-chak rhythm meets bent melody.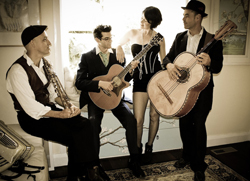 . . . . . . . . . . . . . . . . . . . . . . . . . . . . . . . . . . . . . . . . . . . . .
Venue: HOTEL GEARIN
273 Great Western Hwy, Katoomba
Blue Mountains NSW 2780.
*Please note that Hotel Gearin shows are over 18's only.
Doors Open 8:30pm. Belle Jar Start 9pm.
General Admission. Room configuration is a mix of cabaret seating and standing/dancing.
Tickets DISCOUNT Early Bird pre-sale $15 available from:
KATOOMBA MUSIC, 140 Katoomba St, Katoomba, NSW 2780 (Tues-Sat. Cash Only) or the Hotel Gearin front Bar during open hours.
Or online $16.50 (Including booking fees): www.stickytickets.com.au/40665
*Please Note – there are a limited number of pre-sale discount tickets available!
Or $20 on the Door from 8:30pm (Unless Sold Out)