The Rumjacks
+ Special Guests The Marquis

Sat 15th Oct 2016
HOTEL GEARIN
Venue: HOTEL GEARIN
273 Great Western Hwy, Katoomba
Blue Mountains NSW 2780.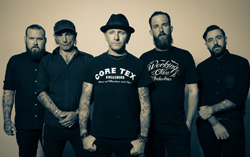 The Rumjacks take to the road to showcase material from their third studio album, Sleepin Rough, released worldwide through FOUR || FOUR records.
Following a 90-date tour of Europe and UK, the band are pumped to bring their blistering live set home to Australia, playing new album tracks alongside fan favourites. The Sleepin' Rough Tour is the band's most ambitious Australian tour to date – 35 dates taking in every nook and cranny of the country, from Darwin to Launceston, East Coast to West Coast!
They are one of this country's most successful live exports, becoming festival regulars throughout the UK and Europe and playing massive events such as Woodstock Poland, Punk Rock Holiday, Exit Festival, Lowlands, Rockmaraton and Mighty Sounds.
Bursting from the blue-stone streets of Sydney town in 2008, when frontman Frankie McLaughlin met bassist Johnny McKelvey, the band hasn't stopped running since. A couple of EPs – Hung, Drawn & Portered and Sound As A Pound in 2009 – cemented early promise, debut LP Gangs Of New Holland the following year, building upon that. The Rumjacks had something, rough and raw, visceral and real.
"Its like growing up with a tear in your eye and a storm brewing in your heart," muses McLaughlin on the musical heritage of the group. "We were raised on the Scottish and Irish music in our parents' record collection, before colliding head-on with punk/rock as we grew older and thought we knew everything."
Sober & Godless, their second full-length album was released in 2015, and saw the band really hit their collective straps. The touring stepped up and The Rumjacks have since shared stages with the likes of The Dropkick Murphys, Gogol Bordello, The UK Subs and The Aggrolites, amongst others.
Further, their various film clips have amassed a gargantuan 18 million YouTube views, 13 million of those for their phenomenally successful 'An Irish Pub Song'. During a successful tour of Europe last year (40 shows in 52 days), they headlined the Montelago Celtic Festival in Italy (playing to 15,000 people); played the Jarocin Festival in Poland; slayed 'em at clubs in Berlin, London, Prague and parts of Austria and the Netherlands, finishing it all up at the Boomtown Fair in Winchester, England.
The Rumjacks brand new studio album Sleepin' Rough is to be released early August. The quintet's third long-player, picks up where 2015's Sober & Godless left off. Booming from the get-go with 'Patron Saint Of Thieves', a thundering punk aesthetic intertwined through the group's Irish and Scottish musical heritage, this album is full throttle, all spit and bile, raucous and real.
But don't make the mistake of thinking The Rumjacks are just an angry bunch of punks. Far from it – their music, while hard and fast for the most part, carries with it an element of fun and frivolity, harking back to their Old Country roots, places where music is an integral part of community gathering, sound tracking the times with an almost savage joy.
As frontman Frankie McLaughlin has said, they're not trying to reinvent anything, they're just trying to produce the best songs they can in order to make a connection with the people listening. And that's what Sleepin' Rough is too – a clutch of real songs written and performed by real people, for other real people. Stories of life, love and loss, set to a throbbing beat. Sleepin' Rough sees The Rumjacks in career best form.
"Eight years in now, and The Rumjacks are a force. Their live shows have become legendary, their records lauded, their ethos and commitment second to none. They've put in the hard yards, and they're not done yet – this will be their year, the year of The Rumjacks." – Samuel J. Fell, Rhythms / Rolling Stone
Frankie McLaughlin: Vocals, tin whistle.
Johnny McKelvey: Bass, vocals
Anthony Matters: Drums, vocals
Gabriel Whitbourne: Guitars, vocals
Adam Kenny: Mandolin, banjo, bouzouki, bodhran, acoustic guitar, vocals
. . . . . . . . . . . . . . . . . . . . . . . . . . . . . . . . . . . . . . . . . . . . .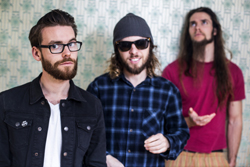 + Special Guests Picture Perfect
Trio Picture Perfect have been hard at work the last few years. 2013 saw the release of the band's debut single 'Faceless Man', which gained considerable praise and attention from community radio stations across the country. 2014 saw the release of the band's first EP "Well Alright!" – featuring the single 'I Know You Better', which was picked up for rotation by Triple J Unearthed radio and Triple M. After touring extensively in 2014, the band burst into 2015 with the single 'Stranger Than Fiction' – gaining it's radio debut on Triple M's Homegrown show.
After a short break to recharge and work on new material, Picture Perfect are back in action for 2016 with the release of their new single "One Desire" (out October 10th). In a time when the industry is saturated with songs of lust and indulgence, but have a loose grip on reality and even promote infidelity – "One Desire" boasts the allure of monogamy. Mostly recorded live in the studio, "One Desire" flaunts the trio's tight performance and treads new ground musically. The songs mid-tempo, groove-orientated feel accompanied with slinky guitar licks and laid back vocals, contrasts the band's previous, more straight-forward rock tracks, but keeps the conviction and edge of the band's sound.
With a live show described by TheMusic.com.au as "pure energy" and a steady collection of diverse singles – it's no wonder why Picture Perfect are making an unmistakable mark on the scene.
www.facebook.com/pictureperfecttheband
. . . . . . . . . . . . . . . . . . . . . . . . . . . . . . . . . . . . . . . . . . . . .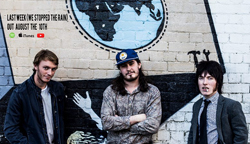 + Special Guests The Marquis
The Marquis are an alternative 3 piece band based in the Blue Mountains. Combining the likes of The Beatles, the Jam and Oasis, the punk aesthetic does not outshine the complex emotions and song writing quality on display.
The Marquis' sound is a playful yet melancholy whirlwind of autumn sadness and gritty determination sure to appeal to any emotion on any day.
www.facebook.com/TheMarquisbandaus
. . . . . . . . . . . . . . . . . . . . . . . . . . . . . . . . . . . . . . . . . . . . .
Venue: HOTEL GEARIN
273 Great Western Hwy, Katoomba
Blue Mountains NSW 2780.
*Please note that Hotel Gearin shows are over 18's only.
Doors Open 8:30pm.
Show Starts 9pm.
General Admission. Room configuration is a mix of cabaret seating and standing/dancing.
Tickets DISCOUNT Early Bird pre-sale $15 available from KATOOMBA MUSIC, 140 Katoomba St, Katoomba, NSW 2780 (Tues-Sat. Cash Only) or the Hotel Gearin front Bar during open hours.
Or online $16.50 (Including booking fees): www.stickytickets.com.au/36280
*Please Note – there are a limited number of pre-sale discount tickets available!
Or $20 on the Door from 8:30pm (Unless Sold Out)