RHYTHM HUNTERS – Salam Dunia tour
+ Special Guests Maizy Coombes & Samba Trombada
at Blackheath Community Centre, Phillips Hall

Fri 12th April 2019 from 6:30pm
Corner Gardiner Crescent and Great Western Highway, Blackheath, Blue Mountains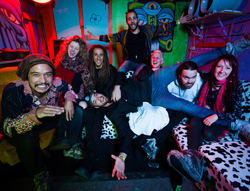 Rhythm Hunters are excited to be bringing their infectious dance grooves back to the Blue Mountains for a special show at beautiful Blackheath.
RHYTHM HUNTERS
A dynamite force in world roots music, adored for their frenetic drum choreographies and infectious dance grooves, Rhythm Hunters bring cutting edge physical percussion, western horns, Asian flute, deep grooves and electro beats, making them one of Australia's most exciting festival acts.
Rhythm Hunters is an assault on the senses and cannot be translated to an audio only experience. This is true for their visually captivating and signature all female Islamic percussive dance finale, renowned for leaving audiences screaming for more.
Drawing from the cultures of northern Australasia, to the traditional folk songs of Indonesia, and the electro beats of cyber culture, Rhythm Hunters is a unique musical and visual act that easily slides into many genres including world, folk, groove, electronic and cultural genres.
Rhythm Hunters have played alongside acts such as Nahko and Medicine for the People, Tash Sultana, Evermore, Blue King Brown, The Melbourne Ska Orchestra, Hot Potato Band and more. Festival slots include The Woodford Folk Festival, Peats Ridge, The Dreaming, The National Folk Festival, National Multicultural Festival, Winter Magic, Psyfari, Moomba, Jungle Love Festival, Subsonic, Mullumbimby Music Festival, Island Vibes, Illawarra Folk Festival, Cygnet Folk Festival, Dragon Dreaming, The International Reggae Festival (Malaysia), Granite Town and more.
Following a 14 month break, Rhythm Hunters returned to the stage for the 2019/19 Woodford Folk Festival to adoring fans and full crowds. In 2019 Rhythm Hunters look forward to releasing their highly anticipated new studio album; recorded by Robin Mai and produced by Nicky Bomba, as well as touring extensively around Australia and Indonesia throughout the year.
"Rhythm Hunters shone and inspired, the intensity of the drums, combined with the poetics of dance and martial arts was irresistible". ~ Lisa-Maree Botticelli (Australian Stage Online)
"Rhythm Hunters seems to be a force of nature rather than a grouping of musicians…a show that was so musically engaging and complex that it feels like you have slipped inside an ancient myth or other world. I was clearly unprepared for the power of this act." ~ Steve Gadd – Director Cygnet Folk Festival
+ Special guest Maizy Coombes
Maizy Coombes is an endearing Violinist and Singer/songwriter with a contemporary folk sound beneath wholesome lyricism.
Using a loop pedal to support herself, this unique sound scape has the ability to bring out tears as you apply make-up or brush your teeth, yet still leave you feeling contemplative and joyous.
We first encountered Maizy's gorgeous fiddle playing in "Lime and Steel".
Don't miss this opportunity to see her subtle and solo.
www.facebook.com/maizyj
VIDEO "Train Tracks" : https://youtu.be/3t0JCV-FxaE
+ Special guests Samba Trombada

Samba Trombada is a group based in the Blue Mountains, NSW. Formerly known as King Parrot Samba, Samba Trombada was established in 2007 by Javier Rodriguez.
The group specialises in carnival drumming, samba, which is played in Rio de Janiero across many neighbourhoods and towns.
Samba Trombada embraces the percussive aspect of Brazilian community drumming, collaborating with like minded Brazilian dancers and performers across Sydney.
Samba Trombada will get the dance floor warmed up before Rhythm Hunters take to the stage. So bring your dancing shoes (or kick your shoes off!) and let loose!
www.facebook.com/sambatrombada
www.sambatrombada.com
There will be bar facilities available for the purchase of beverages, and food and hot drinks will be available from the Bliss Beat Curry stand.
Delicious Authentic Vegetarian, Gluten, Dairy & Nut Free CATERING:
www.facebook.com/blissbeatcurry
RHYTHM HUNTERS + Special Guests
Friday 12th April 2019
Blackheath Community Centre, Phillips Hall
Corner Gardiner Crescent and Great Western Highway, Blackheath, Blue Mountains.
Doors Open 6:30pm
All ages, family friendly event.
Kids under 12 are FREE and must be reserved online.
Tickets $20 pre sale / $25 door (unless sold out)
Tickets on sale here: http://bit.ly/HuntersMountainsTix

Facebook Event: www.facebook.com/events/2204605423200491
Promo video online: https://youtu.be/nfEkHx5RntM
For more information: www.therhythmhunters.com
www.facebook.com/TheRhythmHunters