FRED SMITH 'Great' CD Launch Tour
Concert and stories at the Kindlehill School Performance Space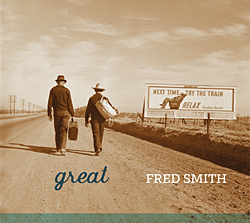 Sat 17th February 2018
Venue: Kindlehill School Performance Space, Wentworth Falls, Blue Mountains NSW 2782.
Renowned Australian singer-songwriter Fred Smith's new album 'Great' is a rollicking hayride through American history, politics and pathologies.
One of the few Australian songwriters who has both a US Marine Corps medal and a US merchant mariner's license, Smith's musical musings come with a lot of knowledge and experience. He spent four years in America, working cruise ships and touring the Eisenhower interstate system, and worked alongside American soldiers in southern Afghanistan. Now with the USA deeply divided, Fred Smith returns from the dust of Uruzgan to revisit his fascination for all things American.
The new double album features his brilliant balladry balanced with some raucous piss taking, and brings to the fore his reverence and comprehension of American music and mythology. Great is a remarkably eclectic double album collection of songs. The first disc includes 12 songs written and recorded in the classic American folk/country style – story songs, some funny, some sad, bringing to the fore Fred's gift for melody and lyric, and his talent for inhabiting other people's worlds.
On the second disc, Fred lets the band off the leash – drums, bass, electric guitars and horns. It's a riot and a romp through songs and stories with American settings – mostly wry but sympathetic accounts of characters fictional and otherwise. The lead single, What Could Go Wrong, lampoons the contradictions in the Trump platform while celebrating the mix of ebullience and bald faced egotism that makes it impossible to take one's eyes off Donald J Trump.
So what's an Australian songwriter doing writing American stories? "Fair question" says Fred. "Like most of us, I grew up steeped in American culture: writers from O'Henry to Steinbeck, television from CHiPS to the A-Team, and 20th Century America produced musical stylings so sublime they have become universal mediums of musical expression."  
In performance, Fred will be accompanied by Matt Nightingale on double bass, and one other eminent sideman.
"Great is a wonderful album…insightful, poetic and often personal…beautifully drawn vignettes of the human experience"… "outstanding and a must have. 'Great' is his best yet." – CD review By Ian Phillips; psnews.com.au
"…one of our finest lyricists…he shows true mastery of crafting melodies and marrying them to the words without recourse to a shotgun. Add his natural wit, keen powers of observation, unassuming delivery and understated accompaniment and he effortlessly draws you into the world of each of these character-driven songs." – John Shand, Sydney Morning Herald
www.fredsmith.com.au
. . . . . . . . . . . . . . . . . . . . . . . . . . . . . . . . . . . . . . . . . . . . .
Venue: KINDLEHILL SCHOOL Performance Space
8 Lake Street, Wentworth Falls, Blue Mountains NSW 2782.
The performance space has disabled access and disabled facilities.
Kindlehill Auditorium is a family friendly venue!
*Minors must be accompanied by a parent or guardian and supervised.
Children do require a ticket for entry.
There will be light meals, sweets and refreshments available on the night from Bliss Beat Curries before the show and during intermission located at the main entrance to the performance space.
Doors Open 6:45pm. Show Starts 7:30pm.
General Admission. Theatre Style circular seating with cushions in this unique performance space.
Tickets $25 Adult / $5 Minors under 18 pre-sale available from KATOOMBA MUSIC 140 Katoomba St, Katoomba, NSW 2780 (Tues-Sat. Cash Only)
Or + b/f Online $26.50 Adult (Including booking fees) / $6.50 Minors under 18 (Including booking fees): www.trybooking.com/TJUC
Or on the Door from 6:45pm (Unless Sold Out)
This is an intimate seating venue and tickets are strictly limited!