Fusion Boutique & Blackheath Bar & Bistro Present
'GIGS ON GOVETTS' showcase sessions with
TYDE (Brisbane / Gold Coast)
FREE LIVE MUSIC
Sunday 14th March 2021. 1st Set starts 6:30pm.

Venue: BLACKHEATH BAR & BISTRO
Shop 1, 35-41 Govetts Leap Rd, Blackheath, NSW, 2785, Blue Mountains.

Fusion Boutique and Blackheath Bar & Bistro are collaborating to bring the Blue Mountains a terrific range of touring artists in an open entry format for you to enjoy in this relaxed, family friendly venue.
Known for presenting unique and talented acts to the Blue Mountains over the last 11 years, Fusion Boutique is really looking forward to teaming up again with BB&B to bring the upper mountains even more quality live music at the Blue Mountains' hottest new live music restaurant and bar.
Craft beers, a great range of wine, cocktails, excellent food and entertainment awaits you.
Bookings are highly recommended and if you don't want to miss out then call 02 4787 5787 or email to reserve a table.
. . . . . . . . . . . . . . . . . . . . . . . . . . . . . . . . . . . . . . . . . . . . .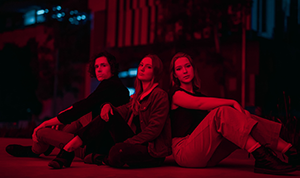 If you merged John Butler Trio, Florence + The Machine, and Matt Corby, you'd get newly formed 3-piece TYDE. Brandishing a rich soundscape that ebbs and flows between folk, funk and alternative rock, TYDE is a force to be reckoned with.
The trio is made up of Cole Clark Guitars-endorsed percussive finger-style guitarist Ella Belfanti, her 15-year-old sister and bass prodigy Zoe Belfanti, and West End drummer Josh Garnett.
Flavoured by each of the trio's unique musical tastes and backgrounds, TYDE will have you both grooving to infectious hooks and reflecting on your life choices with their introspective lyricism. TYDE's songs have been written and developed across the snowy mountains of Australia and Japan, the sunburnt Aussie East Coast.
"…all the polish of a well established band, yet all the emotion of someone sitting in their bedroom with a pen and paper, searching for catharsis." – Livewire Music Australia
"The influence of Florence + the Machine and Matt Corby shines through as well as that of London Grammar and the more sentimental side of Lorde's catalogue." – Beat Magazine
"Bursting with narrative and soul… TYDE is a trio ready to shake up the industry and re-write music as we know it." – Happy Mag
"The degree of songcraft and musical maturity on display… …is even more interesting when held up against the band members' ages: Ella at 21, drummer Josh Garnett 22, and bass play Zoe Belfanti the youngest at just 15 years old." – Blank GC
"TYDE seemingly has all the ingredients to be a name in everyone's mouth for years to come…" – Livewire Music Australia
"…ability to create beautiful harmonies on the fly with her loop pedal, while delivering a quality brand of songwriting is impressive. … just formed a new band named TYDE, so check them out." – Australian Musician
www.facebook.com/TydeBand
. . . . . . . . . . . . . . . . . . . . . . . . . . . . . . . . . . . . . . . . . . . . .
VENUE:
BLACKHEATH BAR & BISTRO
Shop 1, 35-41 Govetts Leap Rd, Blackheath, NSW, 2785, Blue Mountains.
www.blackheathbarandbistro.com.au

Family friendly – minors must be accompanied by a parent or guardian and supervised.
General Admission. Room configuration is a mix of cabaret style tables and chairs and standing.
FREE ENTRY. Show Starts 6:30pm.
Fully licensed bar offering a large selection of wines by the glass and bottle as well as craft and tap beers, spirits and signature cocktails.
Full menu is available from midday through till 9pm. A limited bar menu is then offered until closing time.
Bookings are highly recommended. Call 02 4787 5787 or email to reserve a table.
MUSIC BOOKING CONTACT DETAILS: Charity Mirow 0409 042 869
For more information visit: www.fusionboutique.com.au