ON THE STOOP LIVE IN CONCERT
+ Special Guests THE LOST MARIACHIS
Live in concert at the Baroque Room, Carrington Hotel
RELAUNCH NIGHT following recent refurbishments!

Sat 29th September 2018
Venue: BAROQUE ROOM 86 Bathurst Rd (Upstairs from 'The Harp & Fiddle' Irish Bar)
– NEW ENTRY VIA THE CARRINGTON HOTEL DRIVEWAY –
Katoomba, NSW 2780 Blue Mountains.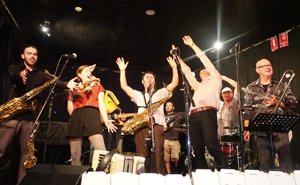 On The Stoop don't plan on sticking to the rules. Or expectations. Or the straight path.
Balkan Gypsy, Mariachi, New-Orleans Swing, Hot Jazz, Spaghetti-Western, Cabaret, Film Score, Cumbia, Ska, Punk-Rock and Funk and few other as yet unidentified genres are all represented in this magnificent ensemble. On The Stoop are making a mark with their own style of refreshingly unpredictable music.
On the Stoop are formed by an outstanding group of players who each bring their personal spark to the band. They share members with bands including Waiting For Guinness, Mikelangelo, The Rhythm Hunters, Watussi, Fat Yahoozah, Facemeat, Chronology Arts Ensemble and a host of others.
Recent times have been generous to the band with a bunch of festivals under their belt, some regional touring capped off with performing at the Sydney Opera House.
Their latest LP, 'Home', received extensive radio support in Sydney including album of the week on Eastside Radio and airplay on community radio stations 2SER, FBi, ABC Radio National and RRR in Melbourne.
"My new favourite Zappa-flavoured, Spaghetti Western, gypsy-eyed, banjo powered, 1920's/2040's, Newtown, Balkan band" – John Hardaker, Words About Music
"I described their self-titled 2016 debut album as "Eastern-European, Tango, Balkan, Spaghetti Western, Gypsy, Vaudeville, Theatre, Blues, Zappa meets Trad Jazz' and I was not kidding! On listening to their second album Home, I now have to add Mariachi, New-Orleans Swing, Cabaret, Film Score, Mexican Cumbia and Punk Rock. This is ludicrous I hear you proclaim. Well so is On the Stoop and I love them for it. Mariachi and Cumbia feature big time but not in their traditional forms.
On The Stoop bend and break the rules like no other Australian pop group and they do it in great style and with raucous abandon!
One moment they can summon up Frank Zappa in his zaniest moments and then next moment we're in New Orleans with a second line street jazz band and then off to Mexico with a modern mariachi band. But these wildly varied flights of fancy are always framed in excellent musicianship in the composition, the arrangements and the playing. The horn harmonies are smooth and slick at times and weird and atonal when the song is begging for bent.
Only a group of highly accomplished musicians could keep up with the mercurial Serge Stanley who leads the band on a very wild ride. Dirk Kruithof contributes guitar lines that are sometimes pure spaghetti western and at other times have the angular attack of a musical chain saw. The rhythm section of Tim Bradley on drums and Joe Manton on bass is completely capable of all the myriad grooves that Stanley's imagination demands. All the horn players are exceptionally good, playing in tight formation at times and in crazed cacophony at others." – Peter Winkler, Loud Mouth
"This could be eight different bands from eight different corners of the world except it's more like one fevered collective musical brain firing off ideas like skyrockets. Look, there's one exploding above you right now" – Bernard Zuel, Music Journalist

On The Stoop come to the Blue Mountains fresh from playing a bunch of regional shows including filling halls in the mid North Coast and electrifying the dance floor at local festivals.
They are excited to be bringing their energetic mix of genres for a super fun night in the newly refurbished Baroque Room with two sets guaranteed to give the new sound system a great work out!
 . . . . . . . . . . . . . . . . . . . . . . . . . . . . . . . . . . . . . . . . . . . .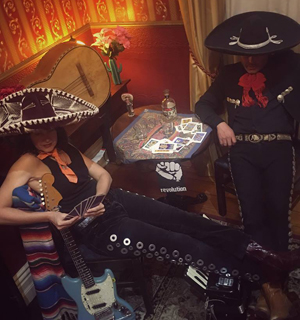 + Special Guests THE LOST MARIACHIS

Comprising of members from Waiting from Guinness and the now retired Belle Jar, The Lost Mariachis play originals in a Mexican and other Latin American style with both electric and acoustic instruments.
From cockroaches to butterflies
From giants to circus midgets
From donkeys to stallions
From Mexican jumping beans to cheesy tortillas
All under the cover of a sombrero
From the jingle jangle of the galas to the thunder of Aztec drums
The Lost Mariachis To be found at the Baroque bar.
 . . . . . . . . . . . . . . . . . . . . . . . . . . . . . . . . . . . . . . . . . . . .
Venue: BAROQUE ROOM
86 Bathurst Rd (Upstairs from 'The Harp & Fiddle' Irish Bar)
Katoomba, NSW 2780 Blue Mountains
*** NEW ENTRY VIA THE CARRINGTON HOTEL DRIVEWAY KATOOMBA ST ***
Come and be a part of the relaunch weekend following extensive refurbishments of this terrific room!
*Please note that this event is an over 18 years only. No minors will be granted entry to the event.
General Admission. Room configuration is a mix of standing/dancing and cocktail tables and lounges.
Tickets DISCOUNT Early Bird pre-sale $15 available from:
KATOOMBA MUSIC, 140 Katoomba St, Katoomba, NSW 2780 (Tues-Sat. Cash Only)
Or $17 (Including booking fees) from:
CARRINGTON HOTEL reception 02 4782 1111
15-47 Katoomba St, Katoomba
Or online $16.50 (Including booking fees): www.stickytickets.com.au/74466
Or $20 on the Door from 8pm (Unless Sold Out)