STRING THEORIES in concert at the iconic Paragon.
(
CONCERT + CHAMPAGNE COCKTAIL + 3 COURSE GOURMET DINNER + TEA/COFFEE, BISCOTTI & CHOCOLATES!

)

Fri 8th May 2015
Strictly limited tickets!

'Progressive Bluegrass', 'New Acoustic', 'Newgrass'. Call it what you will, String Theories do everything they can with Dobro, Guitar, Mandolin and Violin.

With Glenn Skarratt on Guitar and Mandolin, James Church on Dobro and Simon Watts on Violin and Viola, String Theories explore the boundaries of 'New Acoustic' music.
Largely instrumental and inspired by great acoustic players such as Bela Fleck, Jerry Douglas, Chris Thile and Edgar Meyer, the trio play music drawing on broad influences reminiscent of Classical, Jazz rock, Bluegrass, Irish and more, but falls in neither category. Both highly structured and highly improvised, they challenge themselves with each piece to create a wide scope of musical.

www.facebook.com/StringTheoriesTrio

Arrive 6:30pm for a Champagne Cocktail followed by a gourmet Entrée and Main course served in the formal back dining room.
Show / event begins at 8pm.
Dessert served during intermission.
Concludes with tea/coffee, Biscotti and chocolates!
General Admission. Formal dining for the entreé, main course and dessert in the Grand Dining "Blue Room". Room configuration for the Cocktail Lounge is theatre style.

Paragon's Chef David Povelsen spent his first 4 years working at Solitary which saw the restaurant maintain it's coveted position as a 'one hatter' in the Good Food Guide. In 2007 David realised a chef's dream when Solitary attained 2 hats and was one of only 2 two-hatted restaurants in the state.
We are delighted to be able to include David and his talented culinary skills in these unique experience events at the Historic Paragon Café.

The seasonal special event MENU will be an alternate drop, unless guests advise the cafe of preferences prior to the evening of the event. Please note that vegetarian options are also available by prior order.

Autumn Special Event 3 Course Gourmet MENU below: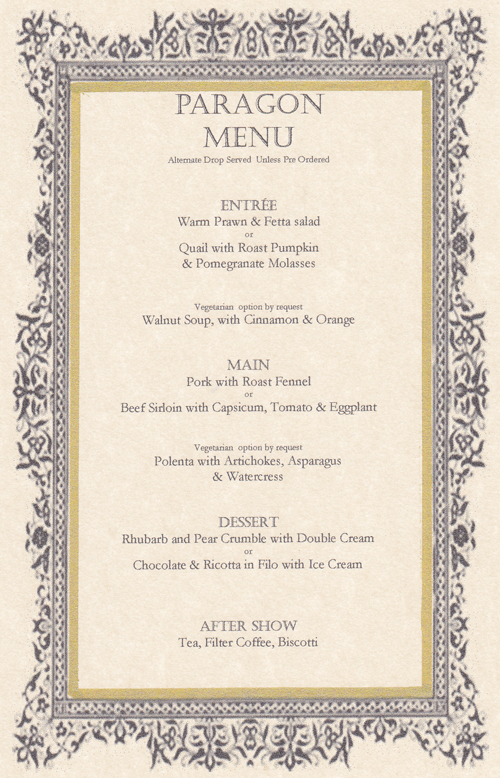 Established in 1916, The Paragon is arguably Australia's oldest Café and certainly one of the most opulent ever built in this country. Situated in the heart of Katoomba the Paragon is an iconic landmark that is an essential stop on any visit to the Blue Mountains. The three rooms that comprise the Paragon: Café, Formal Dining Room and Cocktail Lounge are some the finest and most richly detailed Art Deco interiors anywhere in the world.
VENUE: THE PARAGON CAFE
65 Katoomba St, Katoomba, Blue Mountains NSW 2780.
CONTACT DETAILS: Charity Mirow 0409 042 869
For more information visit: www.fusionboutique.com.au

Tickets $85 pre-sale available physically from:
PARAGON CAFE, 65 Katoomba St, Katoomba, NSW 2780 (10am-4pm daily)
Or online $87.90 (Including booking fees):
www.trybooking.com/GYHI
This is an intimate seating and tickets are strictly limited!