Fusion Boutique Presents
MICK THOMAS' ROVING COMMISSION
'Back in the Day' Tour 2022
+ Special Guests FULL POWER HAPPY HOUR
Live in Concert at the Baroque Room, Carrington Hotel
SATURDAY 3rd December 2022
Doors Open 7pm | Show Start 8pm
Venue: BAROQUE ROOM 15 Katoomba St, Katoomba, NSW 2780 Blue Mountains.
– Entry via the Carrington Hotel Driveway –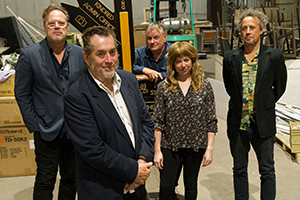 Raconteur, troubadour, balladeer and poet, Mick Thomas is best known as the song master of pub-rock icons Weddings Parties Anything.
His band The Roving Commission features Squeezebox Wally on Piano Accordion and a rotating schedule of talented performers to keep the party alive with Mick's unique mix of folk, roots and country.

Mick's ever-evolving talents as a writer and performer defines a career as intriguing as it is enduring. His knockabout image partly explains his close relationship with his audience. They see him as one of them. A loyal mob who have followed him from the Weddo's through his solo career, Mick's fans relate to his wistful, sentimental and nostalgic lyrics. Themes such as Australian history ('Dancing Man', 'Gallipoli Rosemary'); fleeting or lost love ('For a Short Time', 'Disrepair'); the bittersweet realities of life's merry-go-round ('Away, Away', 'Ticket in Tatts'); alienation ('The Lonely Goth'); and football ('Tom Wills','Monday's Experts'); are wrapped in a positive, triumph over adversity message. The characters in Mick's songs are everyday battlers, as are he and his fans.
Mick Thomas' Roving Commission are signed to Brisbane-based indie Coolin' By Sound, with a new album in the works and a new EP 'Back In The Day' coming in November, featuring new and old originals and unexpected covers of Cold Chisel, The Saints, Neil Young and Johnny Thunders.
While the group toils away on their next full length album which is going to be called 'Where Only Memory Can Find You' – which won't be out until 2023 – they've decided to christen the new relationship with a 7 track "maxi single" called 'Back in the Day'.
Unarguably the greatest Australian seven-track maxi single since Jo Jo Zep & The Falcons 1978 classic 'So Young', 'Back In The Day' will feature a mix of new and old originals and some great covers.
Mick and the Commission will be touring nationally November and December with a current line-up featuring old WPA pal Squeezebox Wally and alt-country songbird Brooke Taylor.
www.mickthomas.com
. . . . . . . . . . . . . . . . . . . . . . . . . . . . . . . . . . . . . . . . . . . . . .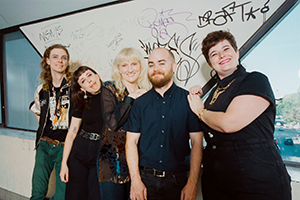 + Special Guests FULL POWER HAPPY HOUR

Meanjin alt-country/indie-folk five-piece.
They've had a busy 2022 so far, carving a path across south-east Queensland venues with taking their latest single 'Siblings' on tour as well as supporting Mick Thomas & His Roving Commission.
While on the surface the genesis of Full Power Happy Hour seems to trace directly back to the fertile Brisbane punk scene – where for years many of its members shared both bands and stages – it's heart dates back further, to singer-songwriter Alex Campbell's early infatuation with the female voices of the '60s folk scene. Having stockpiled a growing collection of heartfelt songs which didn't suit the punk aesthetic of her earlier bands, she pulled together some like-minded friends from both her past bands and immediate circle and together they set out to mould the Full Power Happy Hour aesthetic. The resultant unique melange mixes the intimacy and fragility of folk icons like Joni Mitchell and Joan Baez with the ramshackle bonhomie of The Pogues, tempered by a more modern indie-rock sensibility akin to The Clean. Having built a strong hometown following with their heartfelt, high-energy live shows rife with impassioned lyrics, joyful instrumentation and heart-stirring harmonies.
This will be Meanjin alt-country/indie-folk five-piece Full Power Happy Hour's own 'Bit of Brightness' album launch tour that has just been released through Coolin' By Sound too (along with MTRC).
www.facebook.com/fullpowerhappyhour
. . . . . . . . . . . . . . . . . . . . . . . . . . . . . . . . . . . . . . . . . . . . . .

VENUE: BAROQUE ROOM 15 Katoomba St (entry via the Carrington Hotel driveway, through the 'Baroque Room' arch) Katoomba, NSW 2780 Blue Mountains
*** NEW ENTRY VIA THE CARRINGTON HOTEL DRIVEWAY KATOOMBA ST ***
Come and enjoy the refurbishments of this terrific room!
*This event is an over 18 years only. No minors will be granted entry to the event.
Please also note that the Baroque Room is a room that we hire, the Carrington Hotel will be operating the bar inside the room but there is no kitchen or food available at the venue. The Old City Bank also owned by the Carrington Hotel next door has hot meals available however guests are unable to bring outside food or drinks inside the Baroque room.
. . . . . . . . . . . . . . . . . . . . . . . . . . . . . . . . . . . . . . . . . . . . .
This show has been planned as a standing / dancing show.
Room configuration will be general admission standing / dancing on the dance floor and allocated seating for table bookings in Section B Bar and C Lounge. All table tickets require group bookings.
Table bookings for Section B will be allocated from the front of the room to the back, based on the order that they are received.
Guests who booked tables will be emailed their seat allocations prior to the event date.
Guests who book group tables will be able to move to the dance floor however general admission standing / dancing tickets will not have seats available.
*Please note that the event will proceed according to the public health order requirements current at the time. If seated alcohol consumption or no dancing is brought in for the event date then all Section A standing / dancing tickets will be converted to seated theatre style rows instead.
Section A – General Admission Standing / Dancing. No chairs available.
Section B – Bar Area Booth seating low tables (Please note that these low tables and chairs are close to the dance floor and the line of sight to the stage may be impacted if the dance floor is full) min booking of 4.
Section B – Bar Area High Tables & Stools (Please note that these are high tables and stools running along the wall of the bar area) min booking of 4.
Section C – Back Lounge Tables, limited group bookings of 3 or 4 only
(Please note that there are 2 stairs to access the lounge)
*Please refer to the floor plan for a layout reference guide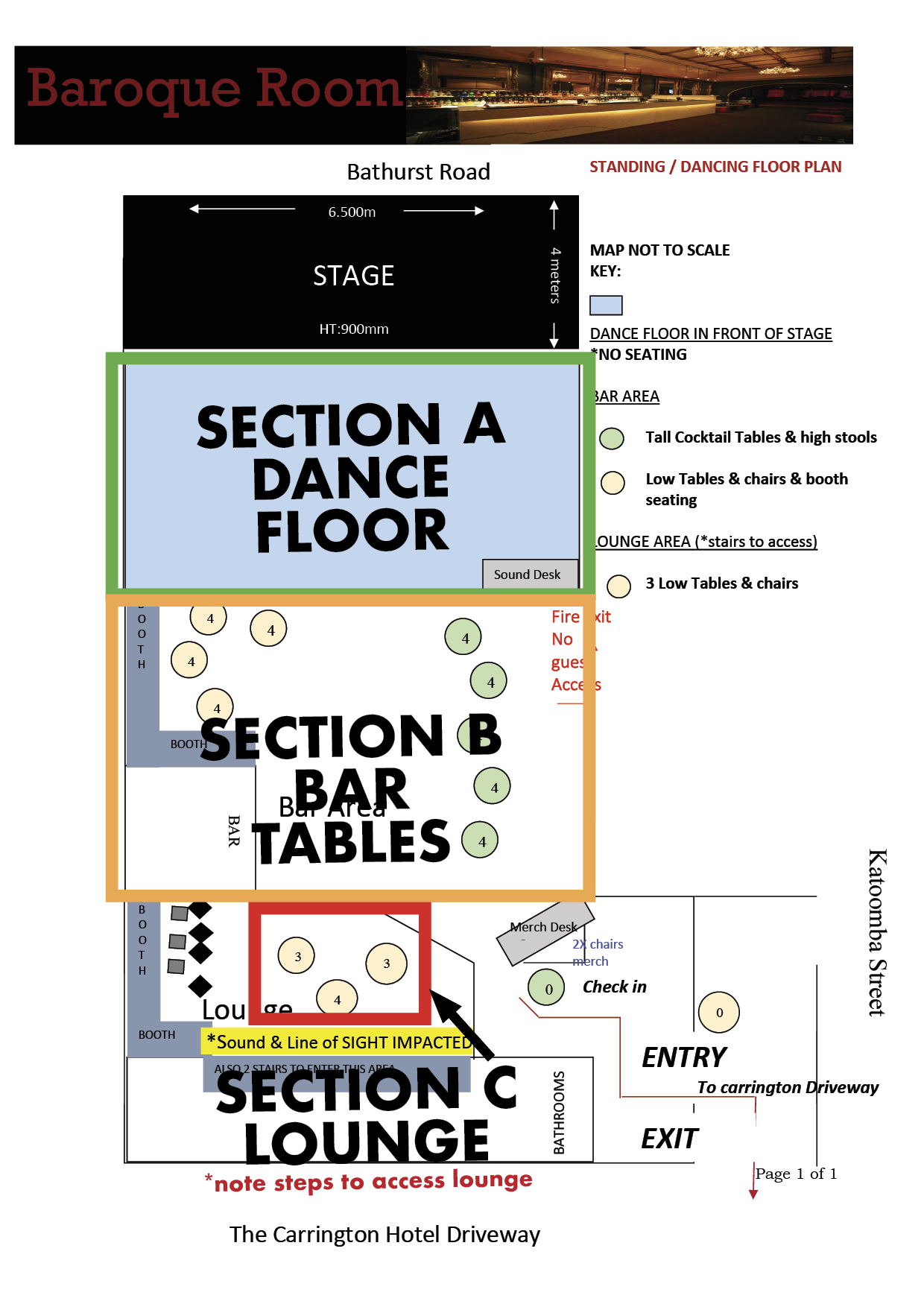 . . . . . . . . . . . . . . . . . . . . . . . . . . . . . . . . . . . . . . . . . . . . . . .
All events will strictly follow COVID safe procedures, as outlined by NSW Health.
Please read the ATTENDANCE REQUIREMENTS before purchasing:
Fusion Boutique & The Carrington Hotel are registered COVID-SAFE businesses.
The health of our staff, performers and guests are of the highest priority. Thank you for your understanding while we navigate these current times.
• It is crucial that if you are experiencing any covid like symptoms (flu-like symptoms, fevers, sore-throats etc) that you please do not attend.
• All table bookings will have allocated seating and require group bookings.
Individual group bookings are unlikely to be able to be placed together unless requested prior to the event date.
• Please maintain physical distancing measures of 1.5m where possible.
• Hand washing and sanitising facilities will be available throughout the venue.
• Where possible, please use the COVIDsafe app.
• There will be no entry to the venue for guests prior to the stated doors open time.
. . . . . . . . . . . . . . . . . . . . . . . . . . . . . . . . . . . . . . . . . . . . . . .
Tickets $35 pre +bf / $40 door per person
Ticket Link: https://events.humanitix.com/fbmickthomas
*Door sales only available if not sold out prior.
Discount show pre-bookings will close 7pm on the day of the event.
ServiceNSW 'Parents NSW' Vouchers can also be redeemed for concert bookings before 9th Oct.
One voucher can be used in the payment process online through Humanitix or contact us prior to booking to discuss how a combination of vouchers can be redeemed together for bookings.
Guests can still book with confidence knowing that, while tickets are normally non-refundable, if a show needs to be cancelled for any reason then all tickets will of course be refunded. If a show needs to be rescheduled then tickets will be valid for the new dates. In the instance of guest illness tickets can be transferred on request.
RUN TIMES
Doors & Bar Open: 7:00pm (no guest entry prior)
Special Guests Full Power Happy Hour: 8pm – 8:40pm
20mins intermission
Mick Thomas' Roving Commission: 9:00pm – 10:00pm

CONTACT DETAILS OF EVENT ORGANISER: Charity Mirow
For more information visit: www.fusionboutique.com.au