MY FRIEND THE CHOCOLATE CAKE
Launch the new album 'The Revival Meeting'

Friday 11th August 2017, 8pm. Doors Open 7:30pm.
The song writing genius of David Bridie combined with the glorious strings of Helen Mountfort's cello and Hope Csutoros' violin are high in the curious collision of elements that have made My Friend The Chocolate Cake a sure concert draw, triple ARIA winners and a vivid presence on countless film and TV soundtracks these last two and a half decades. Their seven-album history is a multi-dimensional mural of modern Australia that illustrates its geography, its political mores and its predominantly suburban identity, all by the kind of stealth that makes the most haunting, exhilarating and enduring pop music.
Be there to witness the birth of their 8th Studio album 'THE REVIVAL MEETING'.
"Abounds with beauty and life" – (Sunday Herald Sun)
"Beautiful, creative, sorrowful, masterful music by a bunch of lovely people…… Front man David Bridie cut a wry and sardonic figure, slagging off Kerri-Anne Kennerley, quoting Barry Humphries………………… it's a well-known fact that those who truly know excellent Australian music when they see it all support the Cake. The band certainly justified their cult following with this excellent performance – right from opening number MFTCC commanded a rapt and reverent hush from the heaving crowd. You could have heard a pin drop throughout the whole song." – Live review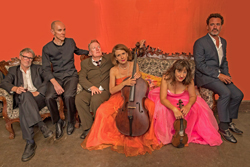 www.mftcc.com
www.facebook.com/mftcc
VENUE: BLUE MOUNTAINS THEATRE & COMMUNITY HUB
104-108 Macquarie Road, Springwood NSW 2777.
Ph: (02) 4723 5050
Monday – Friday 9am – 5pm
Email:
Web: www.bluemountainstheatreandhub.com.au/box-office

Ticket prices are Adult $49, Concession $45 and Child Under 14 $25.
Tickets can be purchased online at any time or over the phone or in person Monday to Friday 9am – 5pm from the Blue Mountains Theatre & Community Hub.
Ticket Link: http://bluemountainstheatreandhub.com.au/event/my-friend-the-chocolate-cake
CONTACT DETAILS: Charity Mirow 0409 042 869
For more information visit: www.fusionboutique.com.au