The Company Album Launch Tour
+ 10 String Symphony (USA)

Sat 29th Oct 2016
Venue: HOTEL GEARIN, 273 Great Western Hwy, Katoomba, Blue Mountains NSW 2780.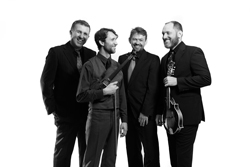 The Company are embarking on an Australian tour to release their third studio album 'Six and Five' and are returning to Katoomba, following their Blue Mountains Music Festival performance in 2015.
We are very excited to announce that they will also be joined by Nashville progressive acoustic Folk duo 10 String Symphony.
Boasting two Australian Bluegrass champions on guitar, fiddle and banjo, The Company have a passion for high-energy original and traditional acoustic music and have solidified themselves as one of the best bluegrass outfits in Australia. The playing and singing is crisp, melodic and soulful. In concert you witness the band's virtuosity but also a wry humour and engaging camaraderie. Highly regarded for their originality, they've appeared at major music festivals around Australia (Port Fairy, Woodford, Tamworth Country Music Festival, Queensland Music Festival, National Folk Festival, Mountain Grass Festival etc) and the UK (Hebridean Celtic Music Festival, Belladrum Music Festival) and have been featured on local ABC radio and ABC Radio National.
Members include Mick Patrick (Vocals/Mandolin/fiddle) National Folk Festival "Declan Affley" Award winner who grew up in a family band playing bush dances in North Queensland; Jamie Clark (Guitar/Vocals) CMAA Bluegrass Flatpicking Champion in 2011 and described as "a cracking guitarist" by Rolling Stone Magazine; now Nashville based George Jackson (Fiddle/Banjo/Vocals) a 7th generation fiddler and 2012 Golden Fiddle Award for "Best Fiddler"; and Norwegian born Markus Karlsen (Double Bass/Vocals) a highly sought after session bassist in Australia.
"A masterclass in bluegrass" – Sean Sennett, The Australian
"The quartet is at the pinnacle of the Australian acoustic country scene." – David Costello, Courier Mail
"Fantastic! … This band is raising the bar for acoustic musicians in Australia" – 3-time Golden Guitar winner, Hamish Davidson of the Davidson Brothers
www.thecompanybluegrass.com
www.facebook.com/thecompanybluegrass
. . . . . . . . . . . . . . . . . . . . . . . . . . . . . . . . . . . . . . . . . . . . .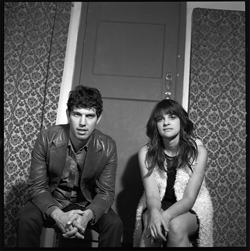 Nashville duo 10 String Symphony began as a partnership of mutual admiration­­ and a much needed creative release valve for Rachel Baiman and Christian Sedelmyer, two 5 ­string fiddle players and veteran sidemen of Nashville's music scene. Rachel, a former Illinois state fiddle champion in the old time tradition, needed an outlet for the new sort of songs she was writing, while Christian, originally a classically trained violinist, now a current touring member of the Jerry Douglas Band, was looking to get in touch the impetuous spirit of the rock bands he played in before his arrival in Nashville. With the love of the 5­ string fiddle and its musical possibilities as its focal point, the band's mission statement was as clear as it was expansive:
Two fiddles. Two Voices. Epic music.
And yet, 'Weight of the world,' the band's latest batch of recordings to be released on 23rd Oct, is not at all the record one might expect from a duo of seasoned Nashville fiddlers. This is not a record of showboating­­ no mere polished showcasing of technical virtuosity. Rather, at its core, 'Weight of the world' is raw and intimate­­ a nuanced and patient record with designs to move rather than merely impress its listeners. Rachel and Christian's musical prowess and chemistry is certainly on display for those in the know, but listening deeply reveals that these flourishes are always in service of reaching the listener emotionally­­ the spiritual earnestness of song­craft which keeps us perennially returning to the roots of American music.
ALL THINGS MUSIC has described the band's' sound as a "new take on old ideas," a concept and tension that the duo continues to explore throughout "Weight of the World." This is showcased on songs like "Someone to be Good For," where a timeless fiddle melody is underscored by Rachel's acutely personal and timely take on the search for romantic fulfilment in the midst of brokenness. Or in the searching harmonies and exploratory fiddle runs of a song like "I'm Not Lonesome"­­ While the title may hearken back to the tradition, Christian's haunting melodies and searching cadences bespeak of an artist that has spent as much time with Wagner and Pet Sounds era Beach Boys as he has with the Seeger brothers.
And perhaps this is what makes 'Weight of the World' such a brave record: Its the soundtrack of a process­­ a picture of a band striving to maintain the purity of purpose of the American old­time tradition, while simultaneously stretching its limitations with unique arrangements, unflinchingly personal lyrics, and a bravely progressive melodic palette.
'Weight of the World' is a snapshot of an impetuous band in mid­stride­­ old­souls who are passionately determined to speak to our contemporary moment. From the sounds of it, this is just the beginning. ­- James Wilson (Sons of BIll)
"They do things with fiddles you wouldn't expect" NPR All Songs Considered "The Newest and Most Promising Voices in Americana"
"…a dynamic musical stew that covers a wide spectrum of acoustic-based roots music, hitting on old-time, folk and bluegrass, all delivered with a dash of rock and roll spunk." – American Songwriter Magazine
"When each song ended, the two pressed tight into their microhphones, savoring the last strains of the harmony – and even the bartenders seemed to be leaning forward breathlessly, awaiting someone to clap first. Their self titled recording aptly demonstrates the power of a spare, tightly-connected acoustic performance that is given room to evolve – for bluegrass fans, the lightning fast harmonic runs on dueling fiddle is worth the price of admission alone. But it's the off-road experiments, especially from Christian's biting bow strokes that will make future audiences take note." – The Bluegrass Situation
"…Stirring together Old-Time flavors with the broader range of influences brought by an omnivorous musical appetite" – The Nashville Scene
"Really, really beautiful." – Ricky Ross, BBC Scotland
"An unassumingly intriguing record…something out of the ordinary" – Steve Hunt, fRoots Magazine (UK)

www.10stringsymphony.com
www.facebook.com/10StringSymphony
. . . . . . . . . . . . . . . . . . . . . . . . . . . . . . . . . . . . . . . . . . . . .
Venue: HOTEL GEARIN
273 Great Western Hwy, Katoomba
Blue Mountains NSW 2780.
*Please note that Hotel Gearin shows are over 18's only.
Doors Open 8:30pm. Show Starts 9pm.
General Admission. Room configuration is a mix of cabaret seating and standing/dancing.
Tickets DISCOUNT Early Bird pre-sale $20 available from:
KATOOMBA MUSIC, 140 Katoomba St, Katoomba, NSW 2780 (Tues-Sat. Cash Only) or the Hotel Gearin front Bar during open hours.
Or online $21.50 (Including booking fees): www.stickytickets.com.au/40698
*Please Note – there are a limited number of pre-sale discount tickets available!
Or $25 on the Door from 8:30pm (Unless Sold Out)