Due to the 2 week lock down running until midnight 9th July and the current situation surrounding COVID unfortunately Kelly is unable to complete the NSW portion of her tour and this show has been postponed.
Fusion Boutique & Blackheath Bar & Bistro Present
'GIGS ON GOVETTS' showcase sessions with


KELLY BROUHAHA (Adelaide, SA)


FREE LIVE MUSIC
Sunday 18th July 2021. 1st Set starts 6:30pm.

Venue: BLACKHEATH BAR & BISTRO
Shop 1, 35-41 Govetts Leap Rd, Blackheath, NSW, 2785, Blue Mountains.

Fusion Boutique and Blackheath Bar & Bistro are collaborating to bring the Blue Mountains a terrific range of touring artists in an open entry format for you to enjoy in this relaxed, family friendly venue.
Known for presenting unique and talented acts to the Blue Mountains over the last 11 years, Fusion Boutique is really looking forward to teaming up again with BB&B to bring the upper mountains even more quality live music at the Blue Mountains' hottest new live music restaurant and bar.
Bookings are highly recommended and if you don't want to miss out then secure your table using the online reservation system, with OpenTable by visiting the BB&B Facebook page, their website at www.blackheathbarandbistro.com.au or their google page and use the "Book Now" button. Alternatively you can call 02 4787 5787 or email to make an enquiry.
. . . . . . . . . . . . . . . . . . . . . . . . . . . . . . . . . . . . . . . . . . . . .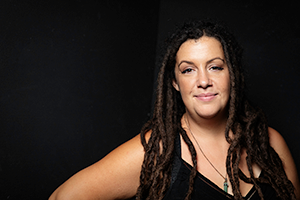 The South Australian Award Winning Songwriter is one of those artists who's unique style simply cannot be put into a box.
From big blues to soulful country, it is music that is real and raw and vulnerable.
Releasing her debut album in 2019, the Americana artist has had many a success including ABC radio rotation, #1 AMRAP radio charting and inclusion on hit country Spotify playlists.
A sought after session musician, she's also known for lending Backing Vocals, Percussion & Guitar duties to some of the countries finest including Beccy Cole, Jen Mize, Libby O'Donovan & Amber Joy Poulton.
Whether around a campfire, in RSLs or in the intimate setting of people's living rooms, this is an artist you simply need to hear. Her captivating live show will have you giggling one minute and in tears the next as she tells stories about her travels, her family and her much loved 1992 Toyota Hiace "Pamela Vanderson".
"She's known for having an extraordinarily rare voice" – CLARE BOWDITCH
"it's just so much fun, that girls got amazing pipes, she sounds like Amy Whinehouse – but with more of a soulful edge as opposed to a jazz hook" NKECHI ANELE – TRIPLE J ROOTS AND ALL
"I really don't know if we have anyone similar in Australia, I am pretty sure that we don't. She has similar elements of other artists from overseas, and maybe a touch of Renee Geyer, but basically, she is a one-off. In a close tunnel genre in Australia, Kelly is Queen. She is a no-nonsense, firebrand" – COWGIRL UP BLOG
"if the place isn't packed, this town needs to hang it's head in shame" – SCALA NEWS

www.kellybrouhaha.com.au
www.facebook.com/kellybrouhah
. . . . . . . . . . . . . . . . . . . . . . . . . . . . . . . . . . . . . . . . . . . . .
VENUE:
BLACKHEATH BAR & BISTRO
Shop 1, 35-41 Govetts Leap Rd, Blackheath, NSW, 2785, Blue Mountains.
www.blackheathbarandbistro.com.au

Family friendly – minors must be accompanied by a parent or guardian and supervised.
General Admission. Room configuration is a mix of cabaret style tables and chairs and standing.
FREE ENTRY. Show Starts 6:30pm.
Fully licensed bar offering a large selection of wines by the glass and bottle as well as craft and tap beers, spirits and signature cocktails.
Full menu is available from midday through till 9pm. A limited bar menu is then offered until closing time.
Due to ongoing capacity restrictions, bookings are highly recommended and can be made online through OpenTable at www.blackheathbarandbistro.com.au
Or call 02 4787 5787 or email to reserve a table.
MUSIC BOOKING CONTACT DETAILS: Charity Mirow 0409 042 869
For more information visit: www.fusionboutique.com.au