KRISTIN HERSH (USA) in concert at the iconic Paragon.
CONCERT + CHAMPAGNE COCKTAIL + 3 COURSE GOURMET DINNER + TEA/COFFEE, BISCOTTI & CHOCOLATES!
Fri 22nd April 2016
Strictly limited tickets!
Kristin Hersh is a founding member of the band Throwing Muses and 50 Foot Wave as well as having had an extensive and influential solo career.

Kristin Hersh returns to Australia, her home away from home, to perform material from across her catalogue interspersed with readings from her latest book  "Don't Suck, Don't Die".
"Don't Suck, Don't Die – Giving Up Vic Chesnutt" is a memoir of her good friend, US singer/songwriter Vic Chesnutt who sadly took his own life in 2009.
"Friend, asshole, angel, mutant," is the way that Kristin describes Chesnutt, a quadriplegic who could play only simple chords on his guitar but nevertheless recorded seventeen critically acclaimed albums and was named among the top five best living songwriters by NPR before his death. Hersh chronicles her friendship with Chesnutt in a book that shares insights into both their mutual bond and the pain and creativity that haunted Chesnutt. Hersh offers the most personal, empathetic look at the creative genius and often-tormented life of Chesnutt that is ever likely to be written.

Her memoir "Rat Girl" was widely praised from the New York Times to Rolling Stone which named it one of the top ten rock memoirs ever written.
Praise for "Don't Suck, Don't Die"
"Not only one of the best books this year, it's one of the most beautiful rock memoirs ever written." – Michael Shaub, NPR's Best Books of 2015
"A Stunning, difficult and beautiful chronicle. The true Vic comes alive." – Michael Stipe (REM)
"(Hersh's) observations… always ring with a harsh lyrical truth….an eloquent, breathtaking testament." – Pitchfork
"A raw, poetic memoir….a last, wonderful example of Chesnutt at his most charismatically mischievous." – The Guardian
"It paints a more honest, insightful picture of the late singer-songwriter than any biography could…Beautifully, poetically told." – MOJO
"The book's great sadness is matched by the skill and vitality of Hersh's writing; it will make treasured and troubled reading for fans of Chesnutt and the author alike." – Kirkus Reviews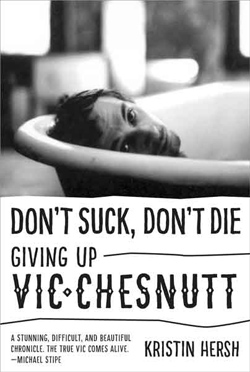 Arrive Shortly After Doors Open at 6:30pm for a Champagne Cocktail followed by a gourmet Entrée and Main course.
Show / event begins at 8pm.
Dessert served during intermission. Tea/coffee and Biscotti also available.
Concludes with a meet and greet and chocolates!
General Admission. Room configuration for the performance in the Banquet Hall is theatre style.
***Please note that the meal service is formal dining with allocated table numbers per bookings. If you have other guests who have booked separately that you wish to be seated with please let us know ASAP.
Paragon's Chef David Povelsen spent his first 4 years working at Solitary which saw the restaurant maintain it's coveted position as a 'one hatter' in the Good Food Guide. In 2007 David realised a chef's dream when Solitary attained 2 hats and was one of only 2 two-hatted restaurants in the state.
We are delighted to be able to include David and his talented culinary skills in these unique experience events at the Historic Paragon Café.
The seasonal special event MENU will be an alternate drop, unless guests advise the cafe of preferences prior to the evening of the event. Please note that vegetarian options are also available by prior order.
***Special Event 3 Course Gourmet alternating MENU below: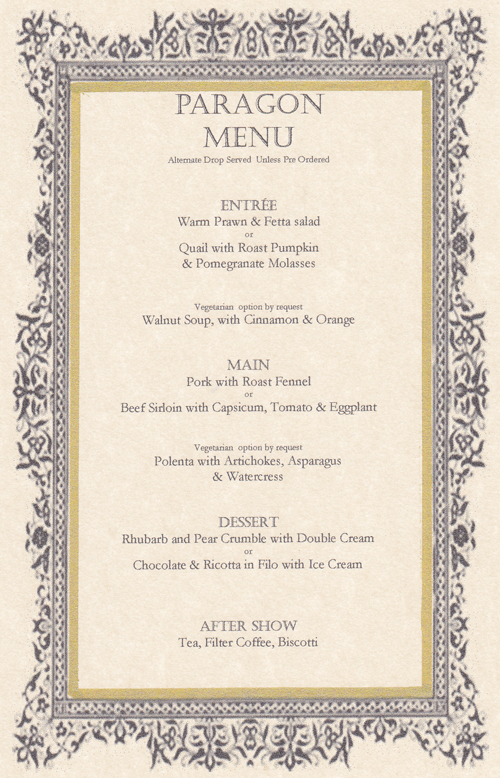 Established in 1916, The Paragon is Australia's oldest running and most original café and certainly one of the most opulent ever built in this country. Situated in the heart of Katoomba the Paragon is an iconic landmark that is an essential stop on any visit to the Blue Mountains. The three rooms that comprise the Paragon: Café, Formal Dining Room and Cocktail Lounge are some the finest and most richly detailed Art Deco interiors anywhere in the world.
VENUE: THE PARAGON CAFE
65 Katoomba St, Katoomba, Blue Mountains NSW 2780.
CONTACT DETAILS: Charity Mirow 0409 042 869
For more information visit: www.fusionboutique.com.au

Tickets $90 pre-sale available physically from:
PARAGON CAFE, 65 Katoomba St, Katoomba, NSW 2780
+$2.90 booking fee card/phone 02) 4782 2928 (10am-4pm daily)

Or online $92.90 (Including booking fees):
www.trybooking.com/KGYE
This is an intimate seating and tickets are strictly limited!