*** PLEASE NOTE THAT THIS EVENT IS NOW 'SOLD OUT'!
There are a fantastic range of other Blue Mountains events available at www.fusionboutique.com.au
We advise booking early to avoid disappointment.
Fusion Boutique Presents 'Metro Social' with
THE MORRISONS (Album Launch)
+ Special Guests LIME & STEEL
live in Concert at the 1930's Metropole Guesthouse.
Saturday 18th Feb 2017, 6:30pm. Doors Open 5:30pm.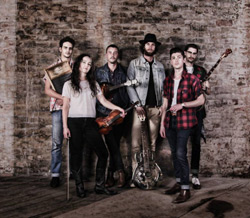 Winners of the 2014 folk/acoustic song of the year at the Australian Song Writers Association Awards, The Morrisons fuse Australian stories and sounds with the spirit and intensity of old time American bluegrass, country and folk. With high, lonesome singing, fast picking and original songs inspired by folklore, family and their lives as young Australians, they are a modern day string band like no other.
Featuring banjo, fiddle, mandolin, guitar, bass, washboard, harmonica, and 4 part harmonies, they deliver a live show full of raw energy and emotion. They have performed at major festivals around the country including The National Folk Festival, Out On The Weekend, Secret Garden, and supported highly acclaimed international artists Lindi Ortega (CAN) and Lake Street Dive (US). In 2014/15 they co-presented a bi-monthly night of country music in Sydney with Lost Highway (Universal Music's country label), where they hosted artists like Shane Nicholson, Catherine Britt and Emma Swift. Their show, 'Man of constant sorrow': A tribute to the music of Oh Brother Where Art Thou, has sold out three years in a row, with a cast featuring Ngaiire, All Our Exes Live In Texas, Luke Escombe, Brian Campeau & Tommy Dean. They have appeared regularly on ABC and FBI radio and recently performed Paul Kelly's two highly acclaimed bluegrass albums Smoke and Foggy Highway at Sydney's iconic venue the Basement (March 2015).
Their debut single 'Wild Eleanor' (ASA folk/acoustic song of 2014) was released in October 2015, with a full-length album to follow in 2016.
"The Morrisons play big band folk, like a mash up of both Inside Llewyn Davies and Oh Brother Where Art Thou's T-Bone Burnett" – Concrete Playground
"Gathered centre-stage around a single microphone, performing a consummate set of bluegrass music. Solos were aplenty and all band members showed their ability to shine in the spotlight before pulling their instrument back into the cohesive and brisk pluck and strum of their collective sound" – The Music
"An incredible bluegrass/country/folk 7 piece" – AU Review
"The Morrisons prove that Sydney bands can pick with the best of the them" – Timber & Steel
www.facebook.com/TheMorrisonsAustralia
www.themorrisonsband.com
. . . . . . . . . . . . . . . . . . . . . . . . . . . . . . . . . . . . . . . . . . . . . .
Lime and Steel's roots-down banjo fiddle grooves, dust kicking hoe-downs and original folk noir convict murder ballads brush on just enough paint to catch the darker side of the Australian soul: All cut with equal parts charm and cheap wine.
. . . . . . . . . . . . . . . . . . . . . . . . . . . . . . . . . . . . . . . . . . . . .
VENUE: 'METRO SOCIAL' Metropole Guesthouse Lounge Upstairs (lift available) Cnr of Lurline and Gang Gang Streets, Katoomba, Blue Mountains NSW 2780.
Opposite the Katoomba train station.
There is limited parking available at the rear of the property. Access can be made through the rear and the lift to the lounge is in the atrium.
If entering from the front the cocktail bar/restaurant is on the right and access to the upstairs performance space in the lounge is up the stairs or via the lift towards the back of the hotel.
The Metropole is a family friendly venue!
*Minors must be accompanied by a parent or guardian and supervised.
Children do require a ticket for entry.
There is also a retro cocktail bar downstairs and drinks and light meals will be available from the Metro Retro pop up bar.
Doors Open 5:30pm. Show Starts 6:30pm.
General Admission. Theatre Style Seating, cocktail lounge and some standing room.
Tickets $20 DISCOUNT pre-sale available from THE METROPOLE GUESTHOUSE (during reception hours) Cnr of Lurline and Gang Gang Streets, Katoomba, Blue Mountains NSW 2780. (Cash Only)
And KATOOMBA MUSIC, 140 Katoomba St, Katoomba, NSW 2780 (Tues-Sat. Cash Only)
Or + b/f Card /Phone 02) 4782 5544 and Online $21.50 (Including booking fees):
www.stickytickets.com.au/44726
Or $25 on the Door from 5:30pm Saturday 18th Feb 2017 (Unless Sold Out)
This is an intimate seating venue and tickets are strictly limited!

CONTACT DETAILS: Charity Mirow 0409 042 869
For more information visit: www.fusionboutique.com.au