Fusion Boutique Presents
MANUS McGUIRE – Irish Master Fiddle Player
with BEN STEPHENSON (Guitar & Flute)
Live in Concert at Pigeon Lane @ ONE88
Sunday 15th December 2019, 7pm. Doors Open 6pm.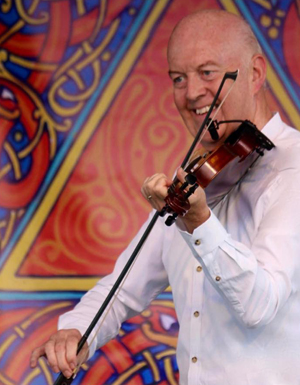 Manus McGuire is an acclaimed Irish fiddle player whose exceptional musical gift became widely recognised in 1970 when he won the prestigious Fiddler of Dooney, an Irish national fiddle competition at age 14.
He has performed with Buttons and Bows, Moving Cloud, Brock McGuire Band, and with his brother Seamus McGuire.
McGuire is honoured to have been voted "Male Irish Traditional Musician of the Year in the U.S." in 2006 by the Irish American News in Chicago and to have received the Bravo Award from Trad Magazine in France in 2007.
Manus continues to perform and teach fiddle music at the highest level, primarily in the United States and this year alone, he has taught fiddle at Swannanoa NC and at the Evergreen State College in Olympia, WA in addition to performing a series of spring concerts for the Irish American Cultural Institute. He continues to support the links between Irish Music and its historical journey into the United States.
Brock McGuire Band which he co-founded in 2000 was awarded "Irish instrumental band of the decade" by the Irish American News. That band's album, Green Grass Blue Grass (Compass Records 2012) is a collaboration with 14 time Grammy award winner Ricky Skaggs. It celebrates the musical connections between Irish traditional and American Appalachian music. It was awarded "Top of the World Album Award" by the prestigious U.K. world music magazine, Songlines in 2012. In 2014, a full orchestral scoring of their work was commissioned and they performed a programme with the Mississippi Symphony Orchestra in Jackson, Mississippi in March that year.
Earle Hitchner from the Irish Echo and Wall Street Journal in New York commented on Manus McGuire's solo album Fiddlewings (2006) saying it "exudes class from first to last note played. Variety, virtuosity and vitality are the lasting impressions created by this recording".
On his solo album Saffron and Blue, (2000) Bill Margeson, Music critic with The Irish American News, commented " when the buyer purchases this album, he or she is getting in on not only a wonderful piece of work, but a musician at the peak of his powers".
Manus will be accompanied by Ben Stephenson, a multi-instrumentalist who has risen to become one of Australia's most sought-after Irish musicians.
Ben is an extraordinarily versatile musician, he gained a fierce reputation for his driving and subtle DADGAD guitar work. His powerful flute playing and crisp whistle sound.
Ben has performed and toured with some of the cream of Irish traditional music including the legendary piper Paddy Keenan, flute maestro Alan Doherty and fiddler Louise Phelan. An accomplished Irish flute and bodhran player, Ben is also a member of the acclaimed Australian Irish Trad Band "Trouble In The Kitchen".
www.manusmcguiremusic.ie
. . . . . . . . . . . . . . . . . . . . . . . . . . . . . . . . . . . . . . . . . . . . .
VENUE:
PIGEON LANE @ ONE88 (Lower level of Gallery One88 which is at 188 Katoomba St)
Access to the performance space is via the graffiti Art Street walk of Beverly Place, Katoomba, Blue Mountains NSW 2780.
Pigeon Lane @ ONE88 is an intimate venue tucked away in the lower ground floor of art gallery ONE88 Fine Arts in the heart of Katoomba. The venue harks back to prohibition style speak easys where you could enjoy Jazz and Blues along with the atmosphere that the venues brought with it.
Pigeon Lane is an all ages venue however minors must be accompanied by a parent or legal guardian and must remain supervised and do require a standard ticket for entry. Please also keep in mind that the performance space is a listening room.
Dinner options, hot beverages including tea, coffee and hot chocolate and a variety of dessert cakes are available for purchase from the upstairs Art Gallery cafe, before and after the show and during intermission.
BYO alcoholic beverages for guests purchasing dinner from the upstairs cafe unless the liquor license is completed prior. Licensed Bar coming soon.
Doors Open via Beverly Place 6pm. Show Starts 7pm.
General Admission. Theatre style seating.
. . . . . . . . . . . . . . . . . . . . . . . . . . . . . . . . . . . . . . . . . . . . .
Tickets $25 DISCOUNT pre-sale available from GALLERY ONE88 (during opening hours)
188 Katoomba St, Katoomba, Blue Mountains NSW 2780. (Cash Only) For enquiries 02) 4782 1900.
Or Online $27.50 (Including booking fees):
www.stickytickets.com.au/92618
Or $30 CASH on the Beverly Place Door from 6pm (Unless Sold Out)
This is an exclusive intimate capacity venue and tickets are strictly limited!

CONTACT DETAILS: Charity Mirow 0409 042 869
For more information visit: www.fusionboutique.com.au