Fusion Boutique & Nomadic Fish Present
THE CROOKED FIDDLE BAND Album Launch
+ Special Guests BURRALOW
Live in concert at the Baroque Room, Carrington Hotel
Saturday 30th November 2019, 8:30pm. Doors Open 7:30pm.
Venue: BAROQUE ROOM 15 Katoomba St
– NEW ENTRY VIA THE CARRINGTON HOTEL DRIVEWAY –
Katoomba, NSW 2780 Blue Mountains.
*** This show is now SOLD OUT!
For a fabulous range of other Blue Mountain events visit: www.fusionboutique.com.au
We advise booking early to avoid disappointment! ***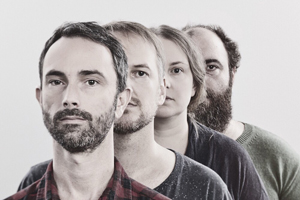 The Crooked Fiddle Band return to Katoomba to launch their brand new album!
Another Subtle Atom Bomb takes the band's blistering violin-led live show and creates soundtracks to their feelings around climate change.
From angsty and furious folk tunes to fantastical imagined worlds full of ecstatic hope, this is The Crooked Fiddle Band's most personal album yet.
The band's last show before an 18 month recording break was in Katoomba, so they can't wait to return for a wild night to show you what they've been cooking up!
The mesmerising and fiery acoustic 4-piece that is THE CROOKED FIDDLE BAND deliver high-energy Chainsaw Future-Folk. Post-Apocalyptic World Music. Celtic Energy. Swamp-Stomping Hoe down. Dance-Inciting Mayhem. Hardcore Gypsy Passion!
The Crooked Fiddle Band formed in 2006 through their mutual love of the energy and intensity of various traditional world music. Whilst writing and arranging, they discovered that this energy was shared by the other music they love: there seems to be a common thread between the frenetic accompaniment of gypsy, klezmer and punk rock; between the twisting rhythms of math-metal and balkan folk; between the clear tonalities of Scandinavian folk, Celtic folk, and cinematic post rock.
All these influences went into the mix, but what came out was The Crooked Fiddle Band. The sound they love is dark and often driving, but also writhing and ecstatic. They have jumped around with whirling crowds at festivals, bars and dirty warehouse parties throughout Europe and Australia and also played their more cinematic sounds in the Opera Theatre of the Sydney Opera House.
From whirling dances to intense battle-scene climaxes, this four-piece spurs the dance floor into a post-apocalyptic hoe down.
This music they have sometimes called 'chainsaw folk' – even though they are pro-conservation – but others have called it "14th century Romanian metal", "thrash folk", "whirlwind gypsy" and even "what Sepultura would sound like if they provided the soundtrack to a hyperactive version of O Brother Where Art Thou." So whilst the search continues for a name for their genre, they are mainly concerned with making music with melody, energy and intensity.
Driven by the beautiful and furious fiddling of Jess Randall (also on Lennart Lovdin Nyckelharpa), and underpinned by a rhythm section featuring Gordon Wallace (Gilet guitar, a Wheeler Custom Lutherie guizouki and a Fylde mandolin and cittern), Mark Stevens (double bass, Appalachian dulcimer, charango) and Joe Gould (drum kit, hand percussion, garbage bin, vocals) the Crooked Fiddle Band sound blasts, rocks and grooves to the point of dementia, compelling listeners into a joyous frenzy.
Their music has been described by Brian Eno as "…completely surprising: the music is original and quixotic. I can't say I've ever heard anything else like it!"
"This band really is a national treasure and testament to the infinite talent that keeps manifesting in our backyard… this group have re-invented folk music as it is known… The Crooked Fiddle Band charmed the audience into submission." – Vanessa Lahey, Australian Stage
"When The Crooked Fiddle Band took to the stage, it was as though someone had put 10,000 volts through the dance floor." – BEAT magazine.
www.crookedfiddleband.com
www.facebook.com/crookedfiddleband
. . . . . . . . . . . . . . . . . . . . . . . . . . . . . . . . . . . . . . . . . . . . .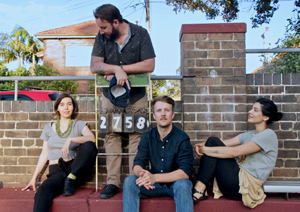 + Special Guests BURRALOW
Burralow is an indie folk outfit fronted by the song writing duo, Sarah Heydon and Ryan Sheridan. Together these two hopeless-romantic songwriters have penned and orchestrated a collection of stories from life on the road and living in the Blue Mountains.
With a sound inspired from artists such as Cat Power to The Beatles, their shows are dotted with instrument changes and striking melodies.
Sarah sings and performs from behind a stripped-down drum kit and glockenspiel combination, while Ryan sings and wrangles a guitar. The band's timbre teeters between acoustic and electric with Alex Sherdan fretting double and electric basses, Andrew Provan duelling between guitar and mandolin, and Maizy Coombes striking the fiddle.
www.facebook.com/pg/burralow
. . . . . . . . . . . . . . . . . . . . . . . . . . . . . . . . . . . . . . . . . . . . .
VENUE:
BAROQUE ROOM
15 Katoomba St (entry via the Carrington Hotel driveway, through the 'Baroque Room' arch)
Katoomba, NSW 2780 Blue Mountains
*** NEW ENTRY VIA THE CARRINGTON HOTEL DRIVEWAY KATOOMBA ST ***
Come and enjoy the new refurbishments of this terrific room!

Doors Open 7:30pm. Show Starts 8:30pm.
General Admission. Room configuration is predominately standing/dancing with some cabaret style tables and chairs and cocktail lounges.
*Please note that this event is an over 18 years only. No minors will be granted entry to the event.
Tickets DISCOUNT Early Bird pre-sale $20 available from:
KATOOMBA MUSIC, 140 Katoomba St, Katoomba, NSW 2780 (Tues-Sat. Cash Only)
Or (Cash/card) CARRINGTON HOTEL reception
02 4782 1111
15-47 Katoomba St, Katoomba.
Or online $21.50 (Including booking fees):
www.stickytickets.com.au/90068
Or $25 (CASH) on the Door from 7:30pm (Unless Sold Out)
CONTACT DETAILS: Charity Mirow 0409 042 869
For more information visit: www.fusionboutique.com.au