Fusion Boutique Presents 'Metro Social' with
TANGENTS
+ Special Guest BROKEN CHIP
Live in Concert at the 1930's Metropole Guesthouse.
Saturday 1st Sept 2018, 6pm. Doors Open 5pm.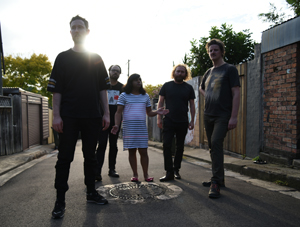 Tangents incendiary live shows are driven by live drums and electronic beats, with processed performances on cello, electric guitar and piano/Rhodes electric piano. Their live show is a natural extension of their recorded work – unique and unrepeatable, featuring an instinctual, organic sense of time & space, rhythm & melody between the five musicians.
Their new album, New Bodies is set to be released by legendary Brooklyn based label Temporary Residence (Mogwai, Explosions In The Sky, Hauschka, My Disco) in mid 2018.
After an eventful year of touring throughout their native Australia – including runs with labelmates MONO and like-minded pioneers Tortoise – and featuring alongside the work of artist David Hockney at the National Gallery of Victoria, Tangents return with their new album New Bodies, another stylistic detour that continues their rummage through countless varieties of electronics, rock, dub, noise and jazz that defines the group's acclaimed aesthetic.
Celebrating the release of New Bodies, the group make a stop at the Metropole for an intimate evening of beautiful melodies, intricate grooves and exhilarating improvisation.
"Tangents artfully mix acoustic instruments and electronics in pieces that combine improvisation with careful processing." – Pitchfork
"The quintet are so comfortable working with jazz, folk music, post-rock and electronic music that the track comfortably hangs in a space between them all." – FACT Magazine
"an exercise in beat-laden serenity" – Treble (listing Stateless in their 10 Best Jazz Albums of 2016)
Adrian Lim-Klumpes – piano, Rhodes, vibraphone, marimba, pedals
Evan Dorrian – drum kit, percussion
Ollie Bown – computer
Peter Hollo – cello, effects
Shoeb Ahmad – guitar, pedals
www.tangentsmusic.com
www.facebook.com/TangentsSydney
. . . . . . . . . . . . . . . . . . . . . . . . . . . . . . . . . . . . . . . . . . . . .
+ Special Guest BROKEN CHIP

With a contempt for conventionality and a love for experimentation, Broken Chip creates music that is electronic yet organic, machine yet human. Traditional instruments and homemade software are used for this expedition into the sonic wilderness; this Australian artist conducts an orchestra of fat wet boots crunching through snow, of dark leaky basements, of wind whispering through winter wastelands. It's a lesson in evoking mood.
www.facebook.com/brokenchip
. . . . . . . . . . . . . . . . . . . . . . . . . . . . . . . . . . . . . . . . . . . . .
VENUE:
'METRO SOCIAL' Metropole Guesthouse Lounge Upstairs (lift available) Cnr of Lurline and Gang Gang Streets, Katoomba, Blue Mountains NSW 2780.
Opposite the Katoomba train station.
If entering from the front the cocktail bar/restaurant is on the right and access to the upstairs performance space in the lounge is up the stairs or via the lift towards the back of the hotel.
Access can also be made through the rear and the lift to the lounge is in the atrium.

The Metropole is an all ages venue however minors must be accompanied by a parent or legal guardian and must remain supervised and do require a standard ticket for entry. Please also keep in mind that the performance space is a listening room.
Drinks and light meals will be available from the Metro Retro pop up bar upstairs once doors open.
Doors Open 5pm. Show Starts 6pm.
General Admission. Theatre Style Seating, cocktail lounge and some standing room.
Tickets $20 DISCOUNT pre-sale available from THE METROPOLE GUESTHOUSE (during reception hours) Cnr of Lurline and Gang Gang Streets, Katoomba, Blue Mountains NSW 2780. (Cash Only)
Or + b/f Card /Phone 02) 4782 5544 and Online $21.50 (Including booking fees):
www.stickytickets.com.au/70132
Or $25 on the Door from 5pm (Unless Sold Out)
This is an intimate seating venue and tickets are strictly limited!

CONTACT DETAILS: Charity Mirow 0409 042 869
For more information visit: www.fusionboutique.com.au