Fusion Boutique Presents 'Metro Social' with
CHAIKA
Live in Concert at the 1930's Metropole Guesthouse.
Saturday 27th April 2019, 6:30pm. Doors Open 5:30pm.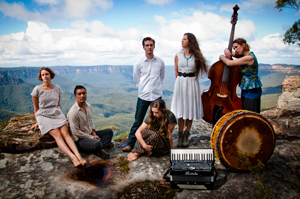 Described as "spine-tingling" (Rhythms) and "extraordinary" (Fine Music FM), Chaika create worldly rhythmic textures inspired by Balkan vibrancy, Turkish markets, Celtic stories, and Australia's own stunning landscapes. Fans have branded their genre blending sounds as 'Nomadic Folk-Jazz'. Employing ethereal harmonies (in several languages), a myriad of instruments and a dynamic ability for discovery, Chaika re-imagine and create their own exuberant music traversing incredible landscapes with jazz-like dexterity.
This April, 2019, they will release their third LP 'Arrow' – an almost completely original suite of work injected with the compositional personalities of all 6 members. Chaika comprises of musicians who have written for and performed with a truly diverse roster, including Monsieur Camembert, Nahko and Medicine for the People, Nicky Bomba, The Brandenburg Orchestra, Riley Lee, Mara! & The Martenitsa Choir, The Song Company, The Rhythm Hunters, Kevin James, Baby et Lulu, Marais Ensemble, Elysian Fields, Miriam Lieberman Trio, Alireza Ghorbani, Great Waitress, Tángalo, Klezmer Divas, The London Bulgarian Choir, and The Renaissance Players, on major national and international stages.
At home wherever appreciative ears assemble – from dirt-stomping blues, roots, and folk festivals to the world-class environs of Sydney's City Recital Hall – Chaika surprise, thrill and move the unsuspecting listener. Decidedly "outside the norm" (Timber & Steel) Chaika traverse another age, journeying an unidentifiable era and landscape, in a manner simply referred to by The Australian as "enchanting."
'Extraordinary.' – Fine Music 102.5FM
'Spine-tingling.' – Rhythms Magazine
'Enchanted.' – The Australian
'Outside the norm.' – Timber And Steel
'A rich depth… such a young and talented group of musicians.' – Eastside Radio
MEMBERS
Laura Altman – clarinet, vocals
Laura Bishop – percussion, piano, accordion, vocals
Susie Bishop – violin, guitar, vocals
Johan Delin – double bass, vocals
Rendra Freestone – percussion, guitar, vocals
Emily-Rose Sarkova – accordion, piano, vocals
www.chaikaband.com
www.facebook.com/chaikaband
. . . . . . . . . . . . . . . . . . . . . . . . . . . . . . . . . . . . . . . . . . . . .
VENUE:
'METRO SOCIAL' Metropole Guesthouse Lounge Upstairs (lift available)
Cnr of Lurline and Gang Gang Streets, Katoomba, Blue Mountains NSW 2780.
Opposite the Katoomba train station.
The upstairs performance space in the lounge is on the first floor. Access can be made up the stairs if entering from the front or via the lift at the back of the hotel through the atrium.
The Metropole is an all ages venue however minors must be accompanied by a parent or legal guardian and must remain supervised and do require a standard ticket for entry. Please also keep in mind that the performance space is a listening room.
Drinks and light meals will be available from the Metro Retro pop up bar upstairs once doors open.
Doors Open 5:30pm. Show Starts 6:30pm.
General Admission. Theatre Style Seating, cocktail lounge and some standing room.
Tickets $20 DISCOUNT pre-sale available from THE METROPOLE GUESTHOUSE (during reception hours) Cnr of Lurline and Gang Gang Streets, Katoomba, Blue Mountains NSW 2780. (Cash Only)
Or + b/f Card /Phone 02) 4782 5544 and Online $21.50 (Including booking fees):
www.stickytickets.com.au/81287
Or $25 on the Door from 5:30pm (Unless Sold Out)
This is an intimate capacity venue and tickets are strictly limited!

CONTACT DETAILS: Charity Mirow 0409 042 869
For more information visit: www.fusionboutique.com.au