Fusion Boutique Presents 'Metro Social' with
DANIEL CHAMPAGNE
+ Special Guest Chris Gillespie
Live in Concert at the 1930's Metropole Guesthouse.
Saturday 1st June 2019, 6pm. Doors Open 5pm.
*** This show is now SOLD OUT!
For a fabulous range of other Blue Mountain events visit: www.fusionboutique.com.au
We advise booking early to avoid disappointment! ***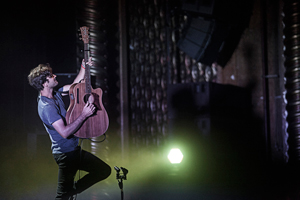 We are very pleased to welcome Daniel back to the Blue Mountains and after the last SOLD OUT show we advise booking early to avoid disappointment!
Daniel Champagne exudes a natural ease on stage, as he sings poignant lyrics and beautifully crafted melodies that invariably whisk the heart up with grand romanticism. Coupled with an exhilarating guitar talent that transcends mere acoustic playing to replicate a whole band, Champagne is just magical' – themusic.com.au
The story goes that the young Australian singer, songwriter and one-of-a-kind guitar virtuoso first picked up his instrument of choice as a five-year-old following in the footsteps of a musical father. He began writing songs at 12, training classically throughout his teens and performing solo wherever he could, honing his craft and developing what would become the dynamite live show that he is renowned for today. At 18 he left school, turned professional and hit the road.
The next several years saw him traversing North America, the United Kingdom, Europe, New Zealand and of course, his homeland Australia playing such festivals as California WorldFest, Winnipeg Folk Fest, Vancouver and Mariposa Folk (Canada), Belgium's Labadoux Festival and Australia's Woodford, Falls Festival, Port Fairy Folk Festival and the legendary Byron Bay Bluesfest. He has toured and shared stages with Jake Shimabukuro, Jesse Cook, Roderigo Y Gabriela, Richard Shindell, The Ragbirds, The Waifs, Lucinda Williams, Judy Collins, INXS, John Butler, KT Tunstall and Ani DiFranco.
As one reviewer recently wrote, "still in his early twenties, the distances he has been would be more frequently associated with veterans of the Folk scene" – The Dwarf
Daniel has accomplished all of this while writing, producing and independently releasing two Eps, Gypsy Moon Volumes 1 and 2, his first long player 'Pint of Mystery' (2011) 'My Own Design' (2009), 'Wide Eyed and Open' (2010), 'Real Live' (2012), and 'The Heartland Hurricanes' (2014). His latest release "Fault Lines" is available now, and is receiving airplay and accolades globally.
A review of his two Gypsy Moon releases said the following: "Champagne has gone a step further this time, it's like he's realised his own potential, his confidence is sky-high and he's truly ready to explore" – Australia's roots music bible Rhythms Magazine
He is now regarded as a leading light in acoustic music, with a firm reputation for making festivals buzz, holding crowds in his palm, dropping jaws and breaking guitars wherever he goes. Daniel Champagne has relocated to North America where he continues his exciting career as an international touring and recording artist.
PRESS QUOTES
"Daniel Champagne is a crossroads. Fusing the strong traditions of Blues, Folk and other roots art with pop showmanship and admirable lyrical ability. I firmly believe that he will become an ambassador for roots music in a time where it desperately needs representation."
 – The Indie Blender, Canada
"One of the more amazing young percussive guitarists touring the world right now"
 – Blank, Gold Coast, Australia
"Today I saw the future of Folk – Festival goers flocking in their thousands towards the main stage to witness the young musical phenomenon from Australia dish out an absolute show-stopper at the evening's end."
 – Firefly Column, USA
"Watching Daniel Champagne perform is a once in a lifetime experience. He is a true prodigy that plays like no one else could possibly play unless they spent at least two lifetimes studying the art."
 – BW Review, New Zealand
"The word Prodigy seems to entirely fall short of this soft-spoken young man's skills, he coaxes sounds and melodies out of his instrument that literally drop jaws."
 – The Calgary Herald, Canada
"The superb talent of Daniel Champagne can't be explained by mere words; it must be seen to be believed."
 – FasterLouder, Australia
"There's a reason Champagne has an amazing reputation as a live performer."
 – Timber And Steel, Australia
"Within the boundaries of Folk, Champagne is an expert"
 – Tone Deaf
"Champagne has proven that he's a talent you can't possibly ignore. His live shows have drawn rapturous responses from all corners"
 – Rhythms Magazine
https://youtu.be/9d_unCtXtCw
https://youtu.be/x-D09HnQr-0
www.danielchampagnemusic.com
. . . . . . . . . . . . . . . . . . . . . . . . . . . . . . . . . . . . . . . . . . . . .
+ Special Guest Chris Gillespie
Chris Gillespie is an independent artist from the Blue Mountains of NSW. His songs are beautiful, bursting with observational yearning. "A fingerpickin', harmonica playing troubadour… 'Sydney's answer to Bob Dylan" (Dave Regos – FBi Radio). Gillespie is renowned by his audience and peers for his song writing craft, especially his lyrics. This music is very Australian, highly original and delivered with refreshing honesty and integrity.
www.facebook.com/chrisgillespiemusicpage
. . . . . . . . . . . . . . . . . . . . . . . . . . . . . . . . . . . . . . . . . . . . .
VENUE:
'METRO SOCIAL' Metropole Guesthouse Lounge Upstairs (lift available)
Cnr of Lurline and Gang Gang Streets, Katoomba, Blue Mountains NSW 2780.
Opposite the Katoomba train station.
The upstairs performance space in the lounge is on the first floor. Access can be made up the stairs if entering from the front or via the lift at the back of the hotel through the atrium.

The Metropole is an all ages venue however minors must be accompanied by a parent or legal guardian and must remain supervised and do require a standard ticket for entry. Please also keep in mind that the performance space is a listening room.
Drinks and light meals will be available from the Metro Retro pop up bar upstairs once doors open.
Doors Open 5pm. Show Starts 6pm.
General Admission. Theatre Style Seating, cocktail lounge and some standing room.
Tickets $20 DISCOUNT pre-sale available from THE METROPOLE GUESTHOUSE (during reception hours) Cnr of Lurline and Gang Gang Streets, Katoomba, Blue Mountains NSW 2780. (Cash Only)
Or + b/f Card /Phone 02) 4782 5544 and Online $21.50 (Including booking fees):
www.stickytickets.com.au/81363
Or $25 on the Door from 5pm (Unless Sold Out)
This is an intimate capacity venue and tickets are strictly limited!

CONTACT DETAILS: Charity Mirow 0409 042 869
For more information visit: www.fusionboutique.com.au