DAVID BRIDIE at Paragon Café, Katoomba, Blue Mountains
(CONCERT + 3 COURSE DINNER + CHAMPAGNE COCKTAIL)
Fri 21st Nov 2014

An intimate evening with the sensational David Bridie at the iconic Paragon Café, Katoomba.

Champagne on arrival followed by a gourmet 3 course dinner.
Arrive 6:30pm for a Champagne Cocktail and dinner.
Show begins at 8pm.
Dessert served during intermission.

Audiences know Bridie from "My Friend The Chocolate Cake" and "Not Drowning, Waving".
Performing solo with piano, this is David in an intimate Art Deco setting.
Stories and song.
Not to be missed!
Strictly limited tickets available.
7 time ARIA award winning songwriter and composer David Bridie comes to Paragon Café Katoomba following a month long tour of Canada's most prestigious folk festivals. Performing songs from his acclaimed 2013 album 'WAKE', as well as a back catalogue of solo releases and scores for film and television, Bridie will present songs from his new release 'Take the Next Illusionary Exit'. Created as a reward to fans who crowd funded 'WAKE', Bridie's new album is a wild concoction of curios, oddities, rarities and b-sides. From humble beginnings to a collector's item, the exclusive release highlights Bridie's live favourites, and has taken on a life of its own. Expect to hear a cover of The Only Ones 'Another Girl Another Planet'; songs from his bands My Friend the Chocolate Cake and Not Drowning Waving; the Nat King Cole ballad 'Morning Star'; and 'Love Really Hurts Without You' – Billy Ocean's golden opus.
Web: www.davidbridie.com
Facebook: www.facebook.com/davidbridie
Youtube Channel: www.youtube.com/channel/UCp_DytfCVPm9WTeDtGBCEtA
THE PARAGON CAFE
65 Katoomba St, Katoomba, Blue Mountains NSW 2780.
More info: www.fusionboutique.com.au
Paragon's Chef David Povelsen spent his first 4 years working at Solitary which saw the restaurant maintain it's coveted position as a 'one hatter' in the Good Food Guide. In 2007 David realised a chef's dream when Solitary attained 2 hats and was one of only 2 two-hatted restaurants in the state.
We are delighted to be able to include David and his talented culinary skills in these unique experience events at the Historic Paragon Café.
The menu will be an alternate drop, unless guests advise the cafe of preferences prior to the evening of the event. Please note that vegetarian options are also available by prior order.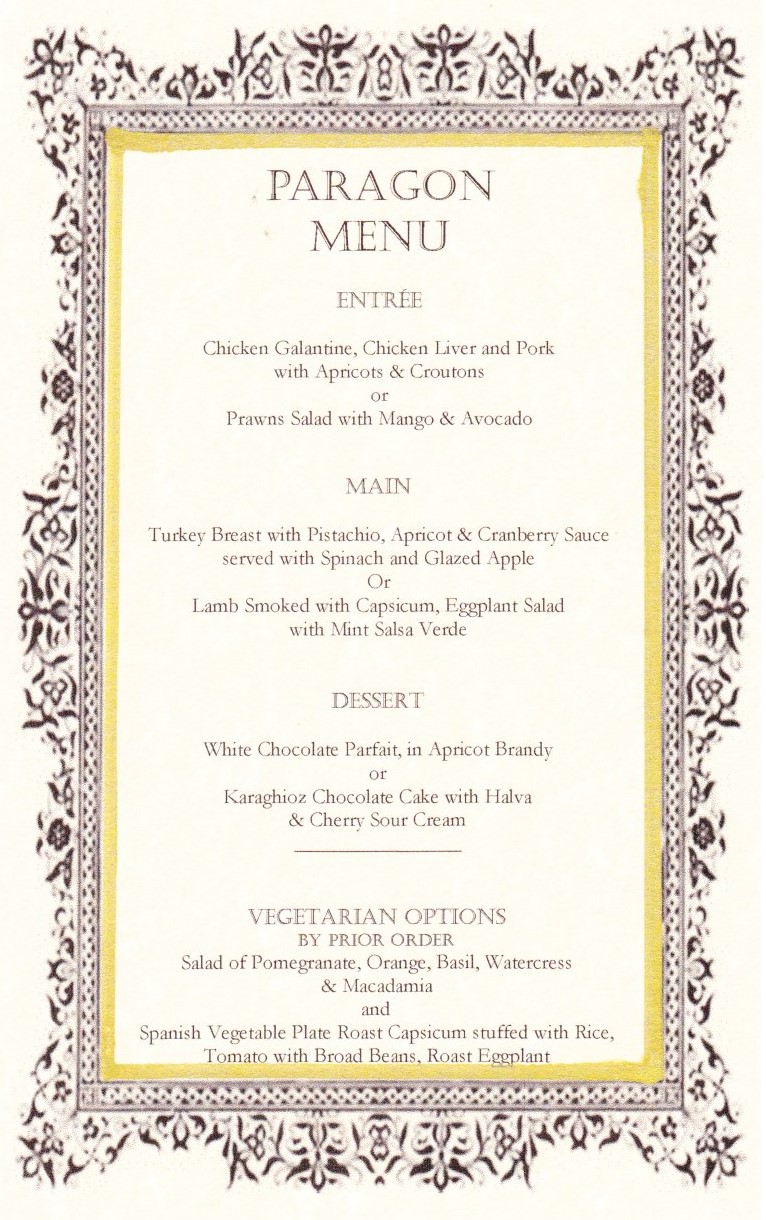 Established in 1916, The Paragon is arguably Australia's oldest Café and certainly one of the most opulent ever built in this country. Situated in the heart of Katoomba the Paragon is an iconic landmark that is an essential stop on any visit to the Blue Mountains. The three rooms that comprise the Paragon: Café, Formal Dining Room and Cocktail Lounge are some the finest and most richly detailed Art Deco interiors anywhere in the world
VENUE:
PARAGON CAFE
65 KATOOMBA ST
KATOOMBA, NSW 2780
Blue Mountains
CONTACT DETAILS: Charity Mirow 0409 042 869
For more information visit: www.fusionboutique.com.au/events
Arrival time 6:30pm for Champagne Cocktail & 3 Course Dinner (Dessert served during intermission).
Show Starts 8pm.
General Admission. Formal dining for the first 2 courses.
Room configuration for the performance in the Cocktail Lounge is theatre style.
Tickets $80 pre-sale available NOW from:
PARAGON CAFE, 65 Katoomba St, Katoomba, NSW 2780
Or online $82.50 (Including booking fees):
www.trybooking.com/GDXX
$80 on the Door from 6:30pm Fri 21st Nov 2014 (Unless Sold Out)
This is an intimate seating and tickets are strictly limited!