Fusion Boutique Presents 'Metro Social' with 
RACHEL BAIMAN BAND (Nashville)
+ Special Guests Piccolo Bear
Live in Concert at the 1930's Metropole Guesthouse.
Sunday 7th January 2018, 6pm. Doors Open 5pm.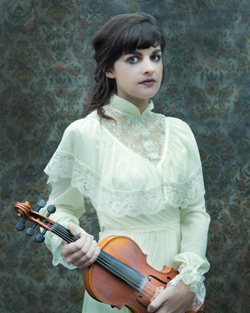 Americana Songwriter & Multi-Instrumentalist Rachel Baiman Tours Stunning New Record "Shame"
"A rootsy wake-up call" — Folk Alley
In many ways for Rachel, Shame, is an exploration of growing up female in America. Despite the serious subject matter, the overall tenor of the album remains light while the arrangements depart from her stripped-down work with progressive folk duo 10 String Symphony. Shame is lush and varied aided by the production and recording talents of Mandolin Orange's Andrew Marlin. Musically inspired in equal parts by John Hartford and Courtney Barnett, Baiman's influences are myriad, however years spent playing traditional music shine through in the album's firmly rooted sound. Over the album's ten tracks, Baiman commands attention with songwriting prowess and a depth of presence well beyond her 27 years.
Shame's musical intensity is rooted within the current American political climate. "I wasn't necessarily trying to write songs that would be easy to listen to," Baiman says of the project. "I wanted to write about reality, in all of it's terror and beauty." From the title track about abortion politics, to love, sex, and abuse in relationships, to classism and inequality in her re-write of Andy Irvine's working class anthem "Never Tire of the Road," the album is ambitious in its scope, yet remains cohesive through Baiman's personal perspective. In addition to the release of her new solo album, Baiman is the co-founder of a new political group called Folk Fights Back, a musician-led national organization that puts together benefit concerts and awareness events in response to the Trump administration.
As a teenager, Baiman found music to be a welcome escape from worrying about global politics. "I often found the constant discussion of seemingly unsolvable problems to be intense and overwhelming, and when I moved to Nashville to pursue music it felt like something positive, beautiful and productive that I could put into the world. Now that I've had some years to devote to music,"—Baiman has been recording and touring internationally for the past 4 years with 10 String Symphony, and has played fiddle for numerous other artists including Kacey Musgraves and Winnipeg folk band Oh My Darling—"I find it hard to escape from the values that I grew up with, and I feel compelled to write politically, to speak out about things that I've experienced or seen. Songwriting is a unique opportunity to do that, because it avails a more emotional vehicle for discussion. I love the political tradition of folk music, from Woody Guthrie to Tupac, and my hope is that this record adds another voice to it."
"a goose-bump-instigating talent that reminded me of a young Gillian Welch or Joy Williams (Civil Wars)." – Z. N. Lupetin, The Bluegrass Situation
. . . . . . . . . . . . . . . . . . . . . . . . . . . . . . . . . . . . . . . . . . . . . .
+ Special Guests Piccolo Bear
Piccolo Bear are a folk bluegrass duo Vanessa Caspersz and Daniel Di Biase from the Blue Mountains. Their unique sound blends dark and sweet harmonies with banjo, ukulele and guitar.

www.facebook.com/pg/piccolobearband
. . . . . . . . . . . . . . . . . . . . . . . . . . . . . . . . . . . . . . . . . . . . . .
VENUE:
'METRO SOCIAL' Metropole Guesthouse Lounge Upstairs (lift available) Cnr of Lurline and Gang Gang Streets, Katoomba, Blue Mountains NSW 2780.
Opposite the Katoomba train station.
There is limited parking available at the rear of the property. Access can be made through the rear and the lift to the lounge is in the atrium.
If entering from the front the cocktail bar/restaurant is on the right and access to the upstairs performance space in the lounge is up the stairs or via the lift towards the back of the hotel.
The Metropole is a family friendly venue!
*Minors must be accompanied by a parent or guardian and supervised.
Children do require a ticket for entry.
There is also a retro cocktail bar downstairs and drinks and light meals will be available from the Metro Retro pop up bar upstairs once doors open.
Doors Open 5pm. Show Starts 6pm.
General Admission. Theatre Style Seating, cocktail lounge and some standing room.
Tickets $15 DISCOUNT pre-sale available from THE METROPOLE GUESTHOUSE (during reception hours) Cnr of Lurline and Gang Gang Streets, Katoomba, Blue Mountains NSW 2780. (Cash Only)
Or + b/f Card /Phone 02) 4782 5544 and Online $16.50 (Including booking fees):
www.stickytickets.com.au/58665
Or $20 on the Door from 5pm (Unless Sold Out)
This is an intimate seating venue and tickets are strictly limited!

CONTACT DETAILS: Charity Mirow 0409 042 869
For more information visit: www.fusionboutique.com.au