RAPT in concert at the iconic Paragon.
(
CONCERT + 3 COURSE GOURMET DINNER + A GLASS OF MULLED WINE + TEA/COFFEE, BISCOTTI & CHOCOLATES!

)

Fri 12th June 2015
Strictly limited tickets!

Jazz, Blues, Folk edged acoustic trio – RAPT.


Sophisticated arrangements, strong vocals & harmonies with guitars, double bass, mandolin, banjo & bouzouki.
…fascinated, enthralled, spellbound, captivated, riveted, gripped, mesmerized, enchanted, entranced, charmed, bewitched, transported, enraptured…

Combining the many musical loves of the band members, their performance is rich in Folk, Celtic, Blues, Jazz and Classical influences which can be heard in their arrangements and their original material.

With diverse instrumentation and great harmonies, their music is uplifting, dynamic, personal, colourful, powerful, exciting and invites you into their world.

MusicOz award winning songwriter Rosie McDonald has a strong rhythmic drive on acoustic guitar, bouzouki and percussion and a rich alto voice to lead us into the stories from the folk and blues traditions as well as providing harmonic interplay with Ann's vocals. Multi – talented songstress Ann Palumbo is a jazz influenced soprano who has been immersed variously in the tango, indie and classical scenes as performer – guitar, mandolin and double bass – and composer with tales to tell but with her roots and stories firmly in folk music.

Classically trained and with a passion for Bach and Handel, Paul Laszlo has played with the SSO, MSO, OABO, and the Australian Festival Orchestra among others but has with a jazz/improv bent and a leaning towards traditional American mountain music. Paul's rich baritone voice, banjo and virtuosic bass playing brings great depth and soul to RAPT.

Among the highlights of their time together so far, are performances in 2013 including Europe – Geneva, Paris and London, Snowy Mountains Fest, Turning Wave Fest, Mudfest International Film Fest, Dungog and Northern Beach's festivals, The Basement in Sydney and the Clarendon in Katoomba. Other highlights have included Camelot and the Basement in 2012, the 2011 Human Rights Awards and various other concerts and festivals including the Cygnet festival in 2014 with their other ensemble project "When Mother Comes To Visit"

November 2014 saw the release of their long awaited recording, which has been received very warmly with ABC airplay to boot.

"RAPT have a repertoire of brilliant tunes and are an enlivening performance trio, crafting a night of magic, which results in an audience that pleads more, more, more" – Shack Management

"RAPT lifted the acoustic roof of The Shack last time they performed here"

"It was brilliant… the audience at the Old Courthouse Glebe was mesmerised… by the performance." – Dr E. David Mcintosh.AM

www.raptmusic.com
www.facebook.com/RAPTmusic

Arrive 6:30pm for a glass of Mulled Wine followed by a gourmet Entrée and Main Course.
Show / event begins at 8pm.
Dessert served during intermission.
Concludes with tea/coffee, Biscotti and chocolates!
General Admission. Room configuration for the Cocktail Lounge is theatre style. Formal seating for the meal portion.

Paragon's Chef David Povelsen spent his first 4 years working at Solitary which saw the restaurant maintain it's coveted position as a 'one hatter' in the Good Food Guide. In 2007 David realised a chef's dream when Solitary attained 2 hats and was one of only 2 two-hatted restaurants in the state.
We are delighted to be able to include David and his talented culinary skills in these unique experience events at the Historic Paragon Café.

The seasonal special event MENU will be an alternate drop, unless guests advise of preferences prior to the evening of the event. Please note that vegetarian options are also available by prior order.

NEW Winter Special Event 3 Course Gourmet MENU below: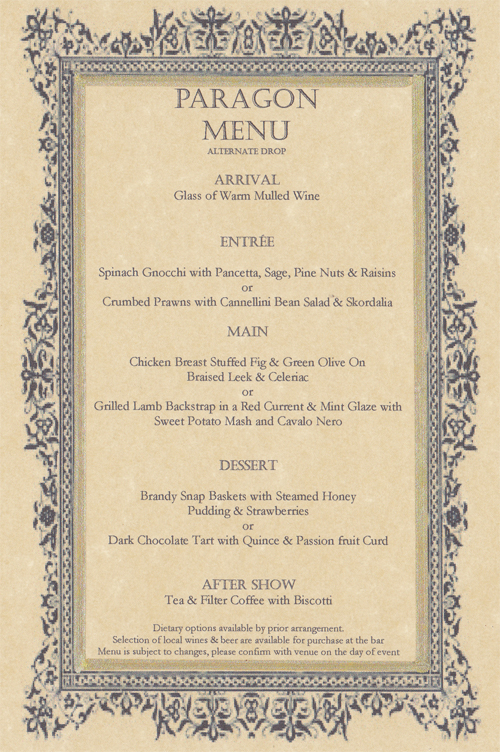 Established in 1916, The Paragon is Australia's oldest running and most original café and certainly one of the most opulent ever built in this country. Situated in the heart of Katoomba the Paragon is an iconic landmark that is an essential stop on any visit to the Blue Mountains. The three rooms that comprise the Paragon: Café, Formal Dining Room and Cocktail Lounge are some the finest and most richly detailed Art Deco interiors anywhere in the world.
VENUE: THE PARAGON CAFE
65 Katoomba St, Katoomba, Blue Mountains NSW 2780.
CONTACT DETAILS: Charity Mirow 0409 042 869
For more information visit: www.fusionboutique.com.au

Tickets $85 pre-sale available from PARAGON CAFE, 65 Katoomba St, Katoomba, NSW 2780, +b/f via phone 02) 4782 2928 (10am-4pm daily)
Or online $87.90 (Including booking fees):
www.trybooking.com/GZSQ
PRE-BOOKING ESSENTIAL.
This is an intimate seating and tickets are strictly limited!