FALSE IDOLS Comedy Cabaret show and dinner package

at the iconic Paragon.
(

CONCERT + CHAMPAGNE COCKTAIL + 3 COURSE GOURMET DINNER + TEA/COFFEE, BISCOTTI & CHOCOLATES!

)

Fri 24th April 2015
Strictly limited tickets!

Mo Award winning Amanda & Ed Wylde present "FALSE IDOLS" a hilarious night with the Stars.

The False Idols Show combines funny song and dance routines, side-splitting stand-up comedy and outrageous send-ups of celebrities.

It's fast, energetic, non-stop entertainment.
False Idols is loads of fun!

See the likes of Julie Andrews, Mick Jagger, Michael Jackson, Freddie Mercury, Neil Diamond, Barry Manilow, Dolly Parton, Roy Orbison, Elvis Presley and more like you have never seen before!

FALSE IDOLS bring to the stage in excess of a combined fifty years experience in the entertainment industry.
False Idols is a fast-paced, must see show that offers the perfect blend of music to have you rockin' in your seats and comedy that will have you rollin' in the aisles.

www.falseidols.com.au
www.facebook.com/pages.FalseIdols

Arrive 6:30pm for a Champagne Cocktail followed by a gourmet Entrée and Main course served in the formal back dining room.
Show / event begins at 8pm.
Dessert served during intermission.
Concludes with tea/coffee, Biscotti and chocolates!
General Admission. Formal dining for the entreé, main course and dessert in the Grand Dining "Blue Room". Room configuration for the Cocktail Lounge is theatre style.

Paragon's Chef David Povelsen spent his first 4 years working at Solitary which saw the restaurant maintain it's coveted position as a 'one hatter' in the Good Food Guide. In 2007 David realised a chef's dream when Solitary attained 2 hats and was one of only 2 two-hatted restaurants in the state.
We are delighted to be able to include David and his talented culinary skills in these unique experience events at the Historic Paragon Café.

The seasonal special event MENU will be an alternate drop, unless guests advise the cafe of preferences prior to the evening of the event. Please note that vegetarian options are also available by prior order.

Autumn Special Event 3 Course Gourmet MENU below: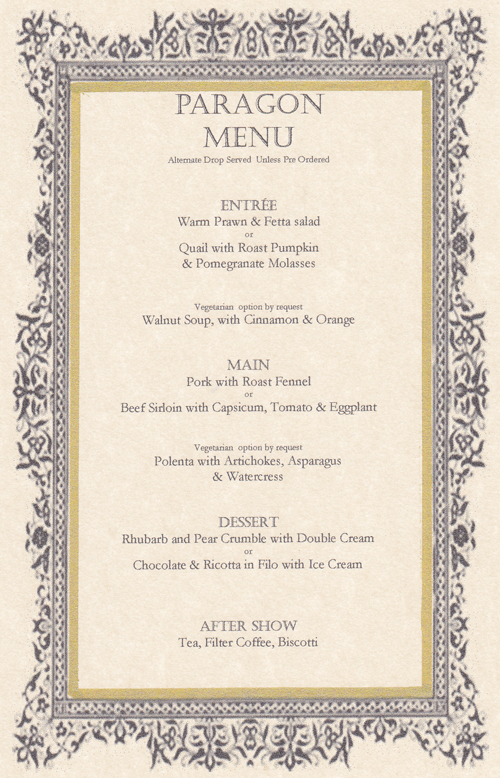 Established in 1916, The Paragon is arguably Australia's oldest Café and certainly one of the most opulent ever built in this country. Situated in the heart of Katoomba the Paragon is an iconic landmark that is an essential stop on any visit to the Blue Mountains. The three rooms that comprise the Paragon: Café, Formal Dining Room and Cocktail Lounge are some the finest and most richly detailed Art Deco interiors anywhere in the world.
VENUE: THE PARAGON CAFE
65 Katoomba St, Katoomba, Blue Mountains NSW 2780.
CONTACT DETAILS: Charity Mirow 0409 042 869
For more information visit: www.fusionboutique.com.au

Tickets $85 pre-sale available physically from:
PARAGON CAFE, 65 Katoomba St, Katoomba, NSW 2780 (10am-4pm daily)
Or online $87.90 (Including booking fees):
www.trybooking.com/GZSF
This is an intimate seating and tickets are strictly limited!