THE CROOKED FIDDLE BAND + SONORI
in concert at Hotel Gearin

Sat 16th December 2017
Venue: HOTEL GEARIN, 273 Great Western Hwy, Katoomba, Blue Mountains NSW 2780.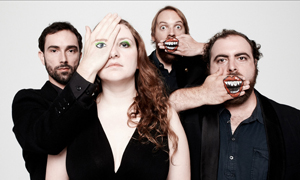 Put on your dancing shoes and don't miss your chance to enjoy this unique musical experience!
THE CROOKED FIDDLE BAND return to the Blue Mountains to showcase some of their new material ahead of recording for their next album.
They will be joined on the night by Blue Mountains locals SONORI for their highly anticipated Mountains EP launch.
The mesmerising and fiery acoustic 4-piece that is THE CROOKED FIDDLE BAND deliver high-energy Chainsaw Future-Folk. Post-Apocalyptic World Music. Celtic Energy. Swamp-Stomping Hoe down. Dance-Inciting Mayhem. Hardcore Gypsy Passion!
The Crooked Fiddle Band formed in 2006 through their mutual love of the energy and intensity of various traditional world music. Whilst writing and arranging, they discovered that this energy was shared by the other music they love: there seems to be a common thread between the frenetic accompaniment of gypsy, klezmer and punk rock; between the twisting rhythms of math-metal and balkan folk; between the clear tonalities of Scandinavian folk, Celtic folk, and cinematic post rock.
All these influences went into the mix, but what came out was The Crooked Fiddle Band. The sound they love is dark and often driving, but also writhing and ecstatic. They have jumped around with whirling crowds at festivals, bars and dirty warehouse parties throughout Europe and Australia and also played their more cinematic sounds in the Opera Theatre of the Sydney Opera House.
From whirling dances to intense battle-scene climaxes, this four-piece spurs the dance floor into a post-apocalyptic hoe down.
This music they have sometimes called 'chainsaw folk' – even though they are pro-conservation – but others have called it "14th century Romanian metal", "thrash folk", "whirlwind gypsy" and even "what Sepultura would sound like if they provided the soundtrack to a hyperactive version of O Brother Where Art Thou." So whilst the search continues for a name for their genre, they are mainly concerned with making music with melody, energy and intensity.
Driven by the beautiful and furious fiddling of Jess Randall (also on Lennart Lovdin Nyckelharpa), and underpinned by a rhythm section featuring Gordon Wallace (Gilet guitar, a Wheeler Customer Lutherie guizouki and a Fylde mandolin and cittern), Mark Stevens (double bass, Appalachian dulcimer, charango) and Joe Gould (drum kit, hand percussion, garbage bin, vocals) the Crooked Fiddle Band sound blasts, rocks and grooves to the point of dementia, compelling listeners into a joyous frenzy.
Their music has been described by Brian Eno as "…completely surprising: the music is original and quixotic. I can't say I've ever heard anything else like it!"
"This band really is a national treasure and testament to the infinite talent that keeps manifesting in our backyard… this group have re-invented folk music as it is known… The Crooked Fiddle Band charmed the audience into submission." – Vanessa Lahey, Australian Stage
"When The Crooked Fiddle Band took to the stage, it was as though someone had put 10,000 volts through the dance floor." – BEAT magazine.
www.crookedfiddleband.com
www.facebook.com/crookedfiddleband
. . . . . . . . . . . . . . . . . . . . . . . . . . . . . . . . . . . . . . . . . . . . .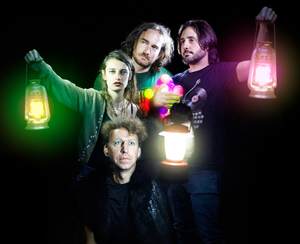 Formed in the music and art rich community of Katoomba, in the Blue Mountains of NSW, SONORI was the result of the unlikely convergence of an effects loving classically trained cellist, a post rock guru and an electronics junkie. Word of this intriguing and unusual combination lead to a gig booking before they had even played a single note together. Beginning life as an instrumental three piece made up of looped cellos, guitars/keys and drum machines, they were then joined by an eclectically influenced singer taking their original compositions to a whole other level with an extensive set of lyrical themes and versatile singing techniques.
They quickly discovered that their individual skills and complimentary differences blended with their shared passions and friendly natures, resulting in a musical style which fulfilled the promise of something special and unique.
Rich with thick layers of sound, pulsing beats and soaring and shadowy vocals, they have been described as "Cinematic orchestral experimental journey music. Post rock you can dance to".
Appealing to both the outgoing dancers and the inward thinkers alike, they immediately captured people's attention and the buzz that was created on the local scene following their first few shows confirmed that they were onto something.
As their sound continued to develop through a string of hometown appearances, the band commenced work on their debut EP, further solidifying the bond between the members as they all worked closely together on the writing, composition, arrangement, recording and mixing.
With a front page feature in local street press 'The Haze Mag', and multiple appearances on community radio, local support continued to grow as they appeared on stage alongside acts as varied as Sydney post rock giants We Lost the Sea, and Melbourne beats oriented world music titans Tijuana Cartel.
A trip to Psyfari festival in 2016 saw them playing a technicolour ‪Saturday night‬ set with a great response from the happy Psyfarians.
More recently the band spent two nights performing on the steps of Katoomba's iconic Carrington Hotel as part of the 'Culturescape' festival event, where their music provided a live soundtrack to the works of local artists projected across the face of the building as the band played.
This romantic origin story is represented beautifully on their debut self titled EP, which is due for release in December‪.‬ The recording serves as both an introduction to the band and a promise of much more to come.
Line up:
Lulu Levins-Skehill – Vocals, Bass
Andre Matkovic – Guitar, Keys
Tim Mahony – Cello
Jasper Russell – 303, 808, 909, TRON, other drum machines, electronics & lights
www.sonorimusic.com
www.facebook.com/sonorimusic
. . . . . . . . . . . . . . . . . . . . . . . . . . . . . . . . . . . . . . . . . . . . .
Venue: HOTEL GEARIN
273 Great Western Hwy, Katoomba
Blue Mountains NSW 2780.
*Please note that this Hotel Gearin show is over 18's only.
Doors Open 8pm. SONORI Start 8:45pm.
General Admission. Room configuration is a mix of cabaret seating and standing/dancing.
Tickets DISCOUNT Early Bird pre-sale $20 available from:
KATOOMBA MUSIC, 140 Katoomba St, Katoomba, NSW 2780 (Tues-Sat. Cash Only) or the Hotel Gearin front Bar during open hours.
Or online $21.50 (Including booking fees): www.stickytickets.com.au/59302
*Please Note – there are a limited number of pre-sale discount tickets available!
Or $25 on the Door from 8pm (Unless Sold Out)